Michelle Williams, For One, Really Wants A Sequel To The Greatest Showman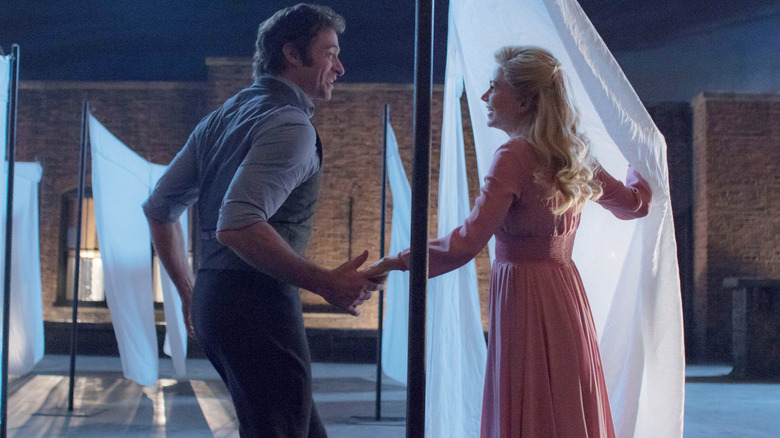 20th Century Studios
Ladies and gents, this is the moment you've waited for. Michelle Williams, the "Dawson's Creek" alum turned film star of "Brokeback Mountain," "Blue Valentine," and, most notably, "Venom: Let There Be Carnage" fame, has made it clear she would love to make a sequel to her hit musical, "The Greatest Showman."
Even if you've never seen it, there was no way to miss the hullabaloo around "The Greatest Showman" when it hit theaters near the very end of 2017. The movie follows notorious huckster and showman P.T. Barnum (played by the notoriously charming and likable Hugh Jackman) as he rises to fame after creating his landmark circus. Directed by Michael Gracey, the big screen musical soon caught on with the masses on its way to grossing $435 million at the box office and topping the charts with its original soundtrack.
"I would make another one of those in a heartbeat. I wish they'd make a sequel," Williams told Variety. The Oscar nominee, who co-stars in "The Greatest Showman" as Barnum's childhood sweetheart turned wife Charity Hallett, talked about the responses to the film as being a big part of why she would love to revisit its world:
"That movie brought so much joy to so many people and to make people that happy, man that is a worthwhile thing to spend your time doing. I really love that movie. My daughter Matilda sang those songs. My mom is still listening to that soundtrack. I love making things for kids that are full of joy and positivity."
Is this the greatest show?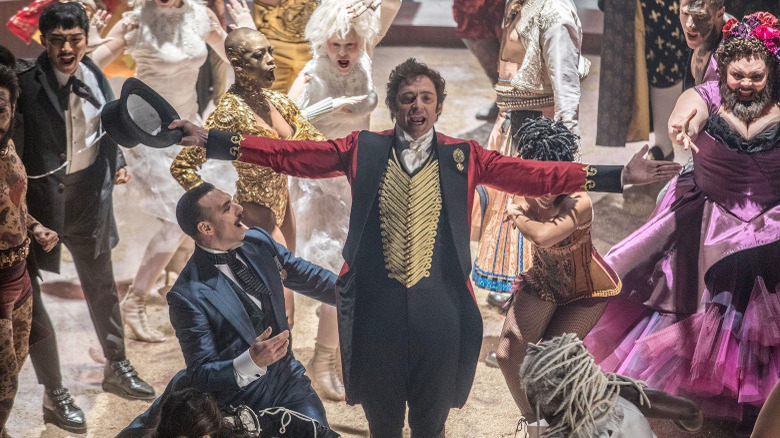 20th Century Studios
Okay, time for me to be a killjoy. Yes, the musical numbers in "The Greatest Showman" are magnificent, from the editing to the actual tunes by Benj Pasek and Justin Paul. And yes, the film, in theory, preaches the value of empathy and tolerance over social climbing, which is a perfectly fine message. But the way it shamelessly sanitizes a real-life scumbag like P.T. Barnum to make him palatable is irresponsible at best, and he still comes across as a bit of a jerk (even with Hugh Jackman bringing the full might of his charms). Not to mention, the non-musical scenes tend to be rather lifeless and the majority of the movie's characters are flat and unmemorable.
Obviously, though, this is just, like, my opinion, man, and there are plenty of ways one could enjoy "The Greatest Showman" while still recognizing it's highly problematic. (On a related note: Pasek and Paul also wrote the music and lyrics for "Dear Evan Hansen," so making problematic musicals that become huge hits is kinda their thing.) Whichever way you feel about the film, the odds seem against a followup happening, given where the first movie left things. But then again, when it comes to Hollywood sequels, one can never truly say never, right?
"The Greatest Showman" is streaming on Disney+.