Pierce Brosnan Took The James Bond Approach To His Black Adam Performance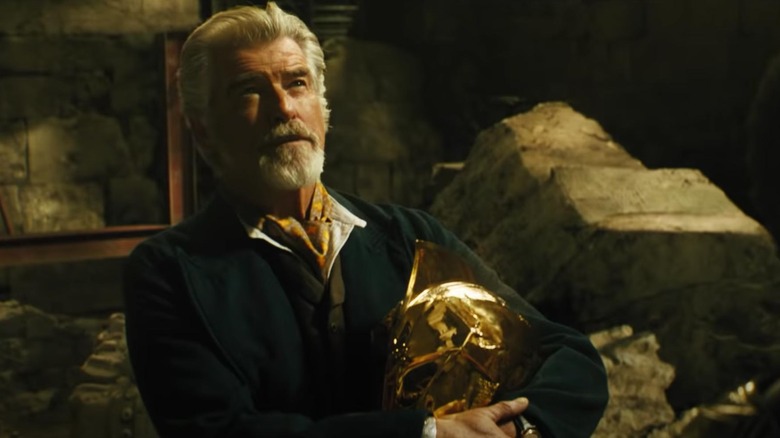 Warner Bros. Pictures
Dwayne Johnson's titular antihero in "Black Adam" is set to shake up the hierarchy of the DC Universe, but the film will also introduce audiences to the Justice Society of America. The first superhero team to grace comic book pages, the JSA is full of characters that have become legacy heroes for the DC Comics brand, including Doctor Fate, a magic-wielding sorcerer played by Pierce Brosnan. The fan-favorite character has appeared in a variety of media, but "Black Adam" marks his big-screen debut.
The former James Bond actor will be lending his commanding presence for a role that will require all the tools he has at his disposal. As the oldest member of JSA, Doctor Fate has the unique quality of being a veteran superhero amongst a fresh crop of young heroes. However, no matter the age, Doctor Fate is a character that requires the sort of gravitas and charisma Brosnan is more than qualified for. There is also another, more unique connection to be made with his portrayal of James Bond, according to the actor himself.
Tapping into larger-than-life heroes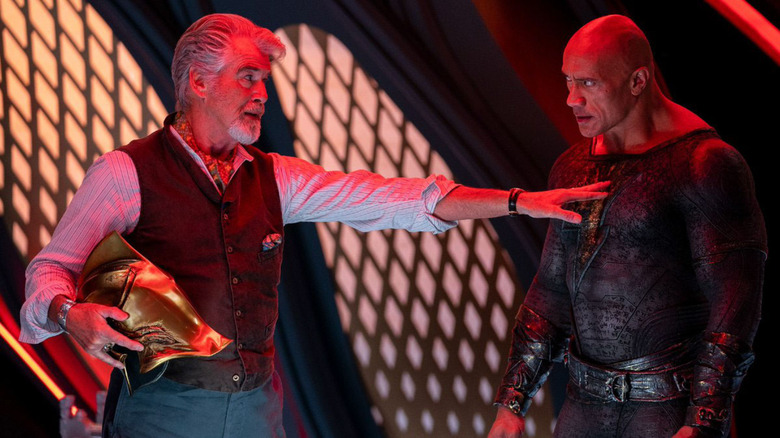 Warner Bros. Pictures
Speaking to GQ, Brosnan broke down his role as Doctor Fate in "Black Adam," emphasizing the importance of this undertaking: "It's a massive character. It's never been portrayed on film before. It's 40 years old in the making." Moreover, he discussed the dramatic weight of the role, which is not unlike that of James Bond:
"Dr. Fate has the Helmet of Nabu, which is a curse and a blessing because he is shackled to the power of the helmet. It's an addiction. It's a curse. It all sounds a lot of frufru when you talk about it like that, but it's stuff that you have to lend your heart to. If you go into the mythology of it, whether it be Doctor Fate or James Bond, you know."
The commitment to the mythology of Doctor Fate, or James Bond, for that matter, necessitates a total deep dive into their headspace. Tapping into these larger-than-life, heroic personalities is no easy feat, but as long as the pieces fit, everything should fall into place. Brosnan explained:
"I'm not very good at articulating the inner dialogue that one has, otherwise people think you're crazy. But if it's really well-written, you follow the score, you bring your own life into it. You bring you, your own heart, your own feelings, your own emotions. Yeah. Just big characters, big heroic characters."
There is also a unique, more personal connection to be made between the two characters.
Two sides of the same helmet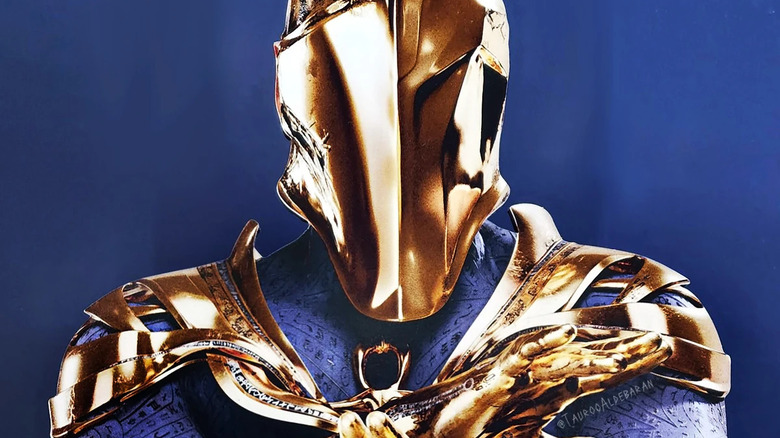 Warner Bros. Pictures
The comparison between his "Black Adam" hero and James Bond is fitting, not only due to the monumental nature of the role, but the attention to detail required to pull it off. Both characters are inherently likable and have a certain type of stoic heroism about them. But Brosnan has to find that balance while digging into their humanity to pull out something that makes us care about them. In the case of "Black Adam," he treats the helmet Doctor Fate uses as a gift and a curse — an addiction that the character can never fend off. Similarly, James Bond will never be happy not being in the middle of the action, no matter how dangerous or fruitless his efforts as a world-class agent may be.
And much like 007, Doctor Fate is a moniker passed down from generation to generation. At some point, Brosnan's character will have to give up the helmet. Until then, the veteran actor does not waste the opportunity he has with the character.