The Mummy Franchise Had A Permanent Impact On Brendan Fraser's Physical Health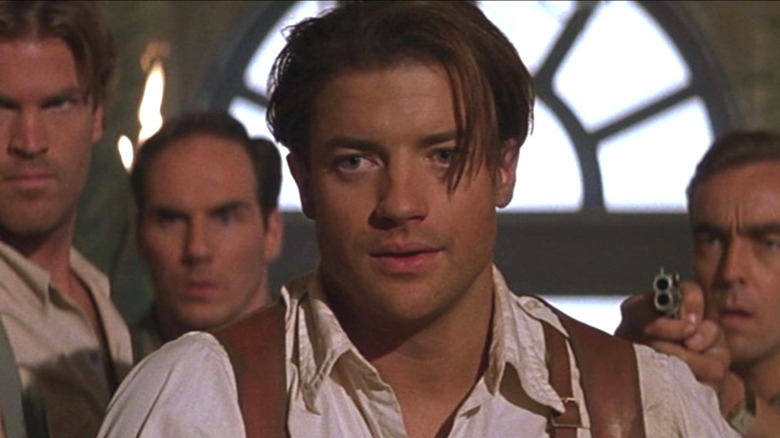 Universal Pictures
Although he had a few roles under his belt already, Brendan Fraser became a massive movie star in 1999 thanks to "The Mummy." The film launched him to superstardom — Fraser portrayed a tough goofball with a glorious mop of hair, a chiseled jaw and had a terrific sense of humor. Plus, he was a genuinely compelling performer. The actor continued to work steadily, but the charm of "The Mummy" was hard to match again. 
A few years later, the actor disappeared from the limelight; he had to put his career on pause due to a series of issues. Among other things, Fraser had to undergo several surgeries due to performing stunts and couldn't work at full pace again (discussed in more detail below).
The beloved actor has finally made his big comeback in filmmaker Darren Aronofsky's "The Whale," and Fraser's performance has received glowing reviews from critics. "The Mummy" franchise did, however, completely change his life in more than one way. In a 2018 interview with GQ, the performer reported that with launching his career, the films had a permanent impact on his physical health.
Brendan Fraser says he was trying too hard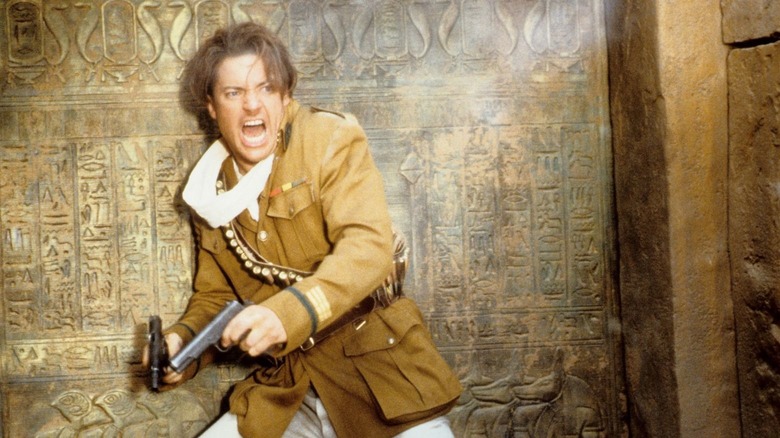 Universal Pictures
Following the success of "The Mummy" in 1999, Fraser starred in three other movies: the "Bedazzled" remake with Elizabeth Hurley in 2000, "MonkeyBone" with Whoopi Goldberg, as well as "The Mummy Returns" sequel in 2001. Looking back at his career, Fraser shared that he believes he was "trying too hard" in a way that was "destructive." By 2008, when the actor was filming the third film in "The Mummy" franchise, Fraser was building "an exoskeleton" for himself every day. Doing stunt after stunt on set after set eventually took a toll on him, causing him to be in and out of hospitals for seven years.
Here's what the actor told GQ:
"By the time I did the third Mummy picture in China, I was put together with tape and ice — just, like, really nerdy and fetishy about ice packs. Screw-cap ice packs and downhill-mountain-biking pads, 'cause they're small and light and they can fit under your clothes. I was building an exoskeleton for myself daily."
Fraser's many injuries ultimately required him to undergo several surgeries — including a laminectomy (a type of back surgery), a partial knee replacement, and other surgeries on the spine. The actor also had to have his vocal cords repaired.
"I needed a laminectomy. And the lumbar didn't take, so they had to do it again a year later."
'I felt like the horse from Animal Farm'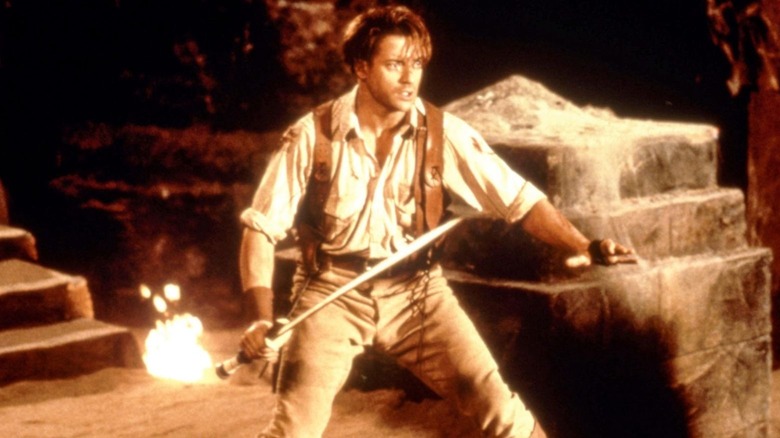 Universal Pictures
The actor further expressed that he thought it was his job to continue working no matter the cost and likened himself to Boxer, a hardworking but naive cart horse from George Orwell's 1945 novel Animal Farm.
"... I felt like the horse from Animal Farm, whose job it was to work and work and work. Orwell wrote a character who was, I think, the proletariat. He worked for the good of the whole, he didn't ask questions, he didn't make trouble until it killed him.... I don't know if I've been sent to the glue factory, but I've felt like I've had to rebuild sh*t that I've built that got knocked down and do it again for the good of everyone. Whether it hurts you or not."
Fraser has gone through a lot over the years, and his fans are thrilled to see him back at the movies. The actor is currently working on multiple projects, including Martin Scorsese's "Killers of the Flower Moon" and Dalibor Stach's "Behind the Curtain of Night." Fraser was also expected to make his DCEU debut in Leslie Grace's canceled "Batgirl" film, where he played the villain Firefly.