Where You've Seen Andor Actor Ebon Moss-Bachrach Before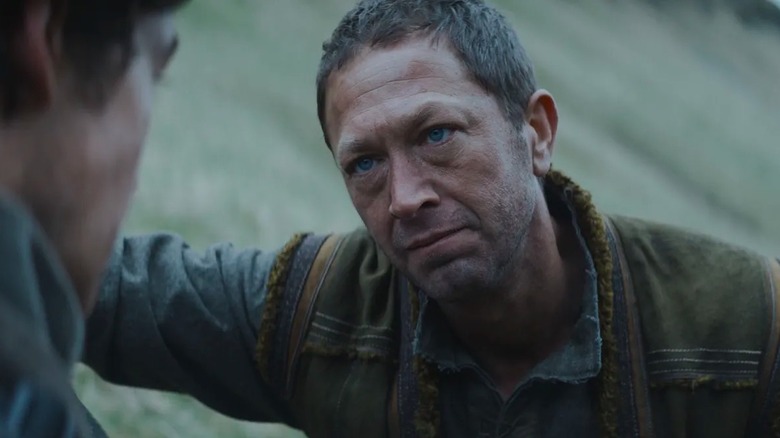 Disney+/Lucasfilm
Distinguished character actors and "Star Wars" have always gone hand-in-hand, dating back to Peter Cushing and Alec Guinness' turns in "Star Wars: A New Hope." Guinness, in particular, was infamously not keen on the way people would overlook his other films in favor of his role as a space wizard, but so it goes when you pick a fight with Darth Vader in one of the biggest hit movies of all time. Moving along...
The latest "Star Wars" show on Disney+, "Andor," is a veritable who's who of well-to-do character actors. There's Diego Luna (the star of acclaimed films like "Y tu mamá también"), who reprises his "Rogue One: A Star Wars Story" role as the titular Rebel spy, Cassian Andor, for the series. He's joined by the likes of "Dune" actor Stellan Skarsgård and "Killing Eve" alum Fiona Shaw, as well as Olivier award-winning film, TV, and stage veteran Kyle Soller ("Poldark").
"Andor" episode 4 only adds to their fine ranks, bringing Denise Gough ("Under the Banner of Heaven") into the mix as driven Imperial officer Dedra Meero, with "Game of Thrones" actor Faye Marsay co-starring as rugged Rebel fighter Vel Sartha.
Then there's the gruff Rebel Arvel Skeen played by Ebon Moss-Bachrach, a fellow you may immediately associate with his recent role as everyone's favorite (?) dirtbag Chicago beef joint manager Richie from "The Bear." But in reality, that's just the tip of the iceberg when it comes to the actor's varied and otherwise noteworthy body of work.
Future presidents, Marvel sidekicks, and more dirtbags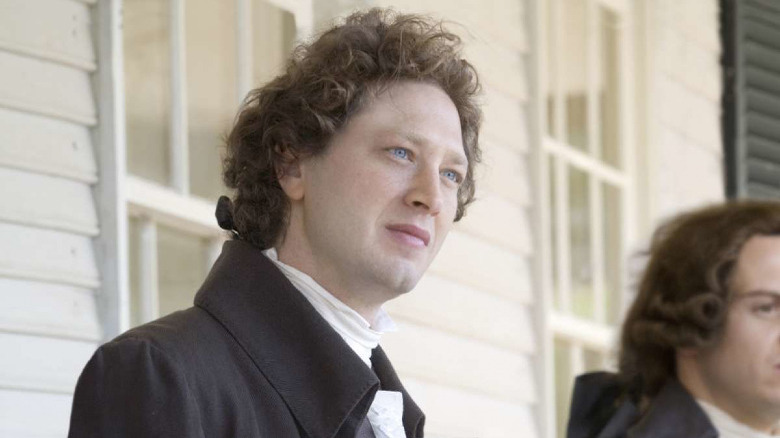 HBO
A movie, TV, and theatre actor with more than 20 years of experience under his belt, there are very few genres Moss-Bachrach has yet to try his hand at. A glimpse over his resume reveals early, minor roles in films by directors as worlds apart as Wes Anderson ("The Royal Tenenbaums") and Rob Cohen ("Stealth"), as well as multiple trips to the "Law & Order" universe. He would later go on to co-star as future U.S. president John Quincy Adams in HBO's celebrated "John Adams," a mini-series that casts the actor as the grown son of his "American Splendor" costar Paul Giamatti.
Moss-Bachrach's turn as the clean-shaven, lawyerly Adams son trying to emerge from his father's shadow makes for an excellent contrast to his role as scruffy, loud-mouthed Richie on "The Bear." In a further testament to his skills, the actor played a very different type of dirtbag in "Girls," in which he co-starred as Marnie's immature, self-indulgent bandmate turned husband Desi Harperin. The same year he wrapped his run on Lena Dunham's HBO dramedy series, Moss-Bachrach would switch things up once again with his role as David Lieberman, aka Micro, a hard-edged former NSA hacker who teams up with Frank Castle on Marvel's "The Punisher" TV show.
If all that wasn't enough, Moss-Bachrach has recently shown up everywhere from Joe Hill horror shows ("NOS4A2") to true story drama series ("The Dropout"), and a whole lot more (see also: the terrific crime dramedy film "Blow the Man Down"). With a little luck, his role on "Andor" will only encourage more people to check out the eclectic and pretty dang interesting body of work he's amassed over the years.
New episodes of "Andor" premiere Wednesdays on Disney+.