The Bear Season 1 Ending Explained: Time To Let It Rip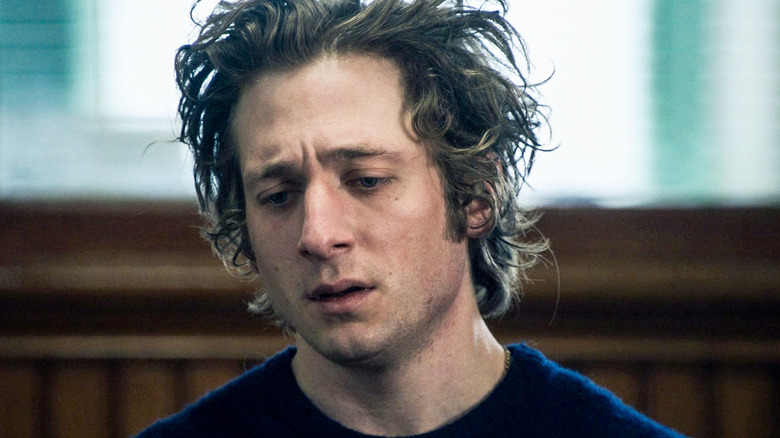 Hulu
Spoiler alert for "The Bear" season 1, but you should know that from the headline so don't cry to me when you've been spoiled, Chef.
As a kid who grew up in the Chicagoland area, I am an easy mark for anything that gives me a taste of home. When I die, cover me in Giardiniera peppers like the Italian beef I am. I was thrilled when I first caught wind of the FX and Hulu series "The Bear" from Christopher Storer: a relentlessly honest story about the chaos of working at a Chicago eatery while navigating anxiety and grief. Well, relentlessly honest about everything other than being an authentic look at Chicago. Comedian and TV writer/podcaster Ashley Ray already read this show's Chicago nonsense to filth, so read this takedown and imagine me nodding my head going "Yup, yes, 100%" over and over again.
That aside, "The Bear" is a fantastic show well worth watching, with the seventh episode being the single most anxiety-inducing episode of television I've seen in a decade. The show follows Jeremy Allen White ("Shameless") as Carmen "Carmy" Berzatto, a young chef from the high class world of fine dining who returns to his home to take over his family's sandwich shop, "The Original Beef of Chicagoland," following the death of his brother, Mikey (Jon Bernthal). Carmy's "cousin" Richie (Ebon Moss-Bachrach) has kept the shop as old school as possible, which is in direct opposition of the plans of Carmy and new hire Sydney (Ayo Edebiri) to make some major upgrades. One of the least popular changes? Carmy's refusal to serve Mikey's red sauce spaghetti for the staff's family meal. Press save in your brain, we'll be coming back to that.
How did we get here?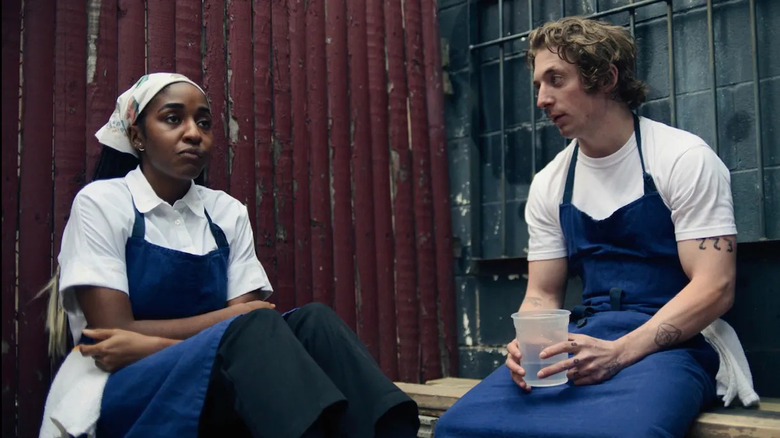 Hulu
Mikey Berzatto used to run The Original Beef with Richie before he died by suicide, leaving Carmy the restaurant, the staff, and years of tradition that the regulars and staff don't want to see changed. The more involved Carmy becomes in the restaurant, the more he realizes Mikey's problems were bigger than he realized. He owes $300,000 to their uncle Cicero (Oliver Platt) and Mikey kept a mysterious ledger making monthly payments to "KBL Electronics," a place Carmy discovers doesn't actually exist. Everything Mikey did seemed to be counterintuitive to success, like buying 28 oz cans of tomatoes when bigger, cheaper cans are available. One day, Richie finds a letter addressed to Carmy from Mikey, but doesn't give it to him because he's mad at him.
During that stress-inducing seventh episode, The Original Beef staff is bombarded with hundreds of lunch orders as a result of an online pre-order takeout system accidentally being left on. There's no possible way to pull off a lunch rush of this size, no matter how badly they need the business, and Carmy finally snaps. He loses it on everyone, even his sous chef Sydney who quits in justifiable anger, "accidentally" stabbing Richie in the butt on her way out. In the season finale, the crew must come to terms with how they mishandled the previous day, and Carmy is faced with a massive decision.
The secret's in the sauce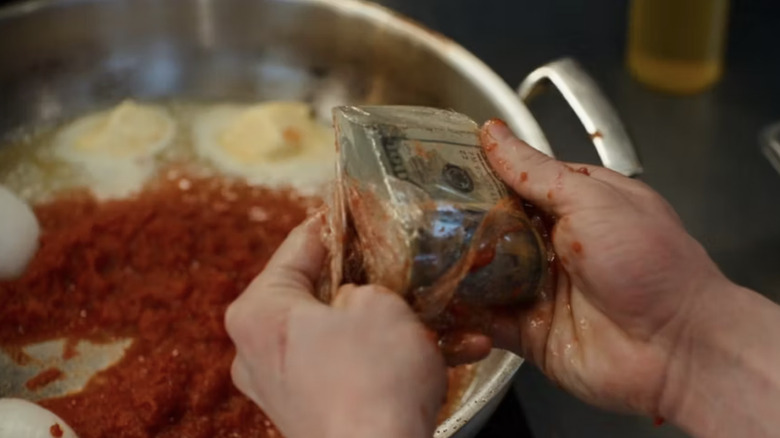 Hulu
Richie finally realizes that with Mikey gone, Carmy is all he has left, and decides to give him the letter from Mikey. Inside is a simple card, with "I love you, dude. Let it rip" written on the front. Mikey did love Carmy, despite him not letting him work at the restaurant with him before, and left a sign that he did want him to take over the family business. The back of the letter contains the recipe to the Family Meal spaghetti red sauce, which specifically calls for those tiny cans of tomatoes because "they taste better." (Can confirm, they do taste better.) 
Carmy decides to make spaghetti for the staff, but notices a print of "KBL" on the cans. Upon opening it, Carmy discovers that Mikey had been stashing wads of cash in the cans, and has the staff of The Original Beef help him open the cans as if they were searching for Willy Wonka's golden ticket.
Mikey didn't squander his money; he was squirreling it away for when it mattered most. Carmy can pay off the Chicago mob and start over fresh. He decides to close The Original Beef, erasing a part of their neighborhood's history with the intention of starting fresh with a new restaurant called, you guessed it, The Bear. Sydney comes back for her final check and Carmy makes amends with the adventurous talent, wanting her and her creative culinary ideas to be at the heart of The Bear.
"The Bear" season 2 has not yet been announced, so watch the show on Hulu to boost the numbers and hopefully we'll be able to see Carmy and Sydney bring their brilliant ideas to life.