The Daily Stream: The Bear Is Comfort Food TV With A Dollop Of Chaos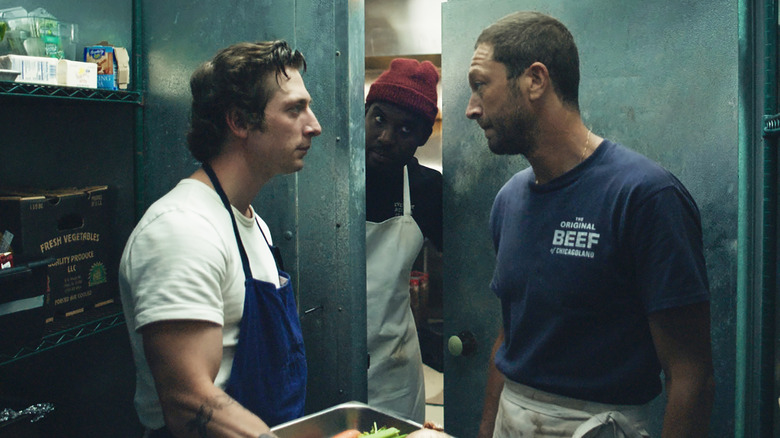 Hulu
(Welcome to The Daily Stream, an ongoing series in which the /Film team shares what they've been watching, why it's worth checking out, and where you can stream it.)
The Series: "The Bear"
Where You Can Stream It: Hulu
The Pitch: After eight frenetic episodes of nonstop cooking chaos, two characters settle in for a comfy home-cooked meal that, even in the calm quiet of a tiny kitchen, exudes elaborate expertise. While recounting the horrors of work, one of them unwittingly summarizes the entire series when she says: "Dude, it would be weird to work in a restaurant and not completely lose your mind." If you've spent a day in food service, you know exactly what this show is on about. And if you've spent longer, then godspeed, my friend.
We're a culture that thrives on dining out, but behind the counter and away from the cozy booths, shiny countertops and warm chatter is a toxic environment rife with stress, ego, and abuse. Ah yes, the kitchen. Nothing will transport you into the war flashbacks of food service quite like those swinging kitchen doors, but you'll have to steel yourself because that's exactly where "The Bear" brings its audience. Except it's not half as harrowing as it sounds.
The series follows successful fine-dining chef Carmen "Carmy" Berzatto (Jeremy Allen White) who returns to his hometown of Chicago to take over his family's dingy beef-sandwich shop. As you can imagine, his Michelin star sensibilities clash with the greasy spoon aesthetic of The Original Beef of Chicagoland and thus we have our story — a fish out of water experience with a dash of tortured genius, a sprinkle of family drama, and the backdrop of chaotic workplace.
Why it's essential viewing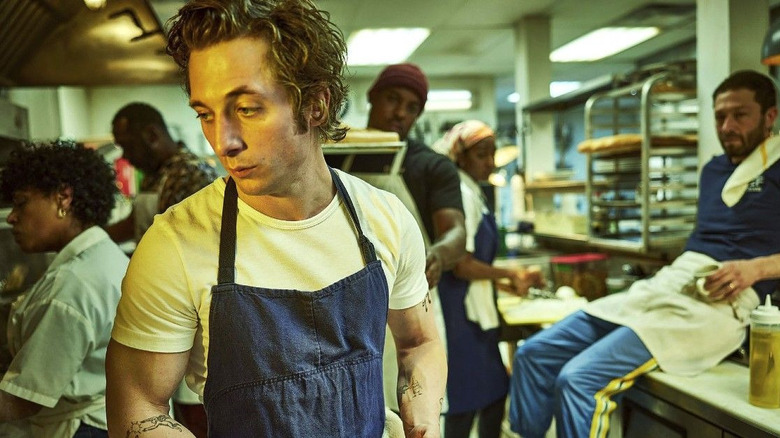 Hulu
In moments of great anxiety, I like to choose between two extremes: the reliable comfort of a well-worn sitcom or the relentless terror of a bone-chilling horror movie. I want my pulse deathly still or racing at record speed, there is no in-between. It's either the cooling comfort of warmth or the unrelenting stress of fear, both offering disparate ways to relieve my inner tensions. In our current reality of everything being alarmingly awful all the time, escaping into fiction is a much-valued luxury so choosing between the two has become a constant inevitability. Except on the rare occasion that there exists a piece of art that allows for both. Imagine my surprise when the new FX show about a dingy eatery is exactly that.
Of course, "The Bear" is neither a horror series nor a sitcom, but it checks the boxes of all the things poised to soothe my soul just by being an effectively intense comedy. The series sweeps us into the kitchen with a lovable team of chefs who make up a diverse ensemble of personalities, shoved together into a tiny space where they bond, bicker and showcase their talents. Warmth and endless banter are aplenty! And instead of one psycho with a knife, there are like eight of them — all spurred on by the ticking time bomb of opening the front door to customers, the pressure to get everything prepped in time, and the unrelenting determination to prove themselves. What could be scarier? "The Bear" is relaxing and invigorating all at once because it pulls us into the small world of these characters and immerses us in all their highs and lows.
Welcome to The Original Beef of Chicagoland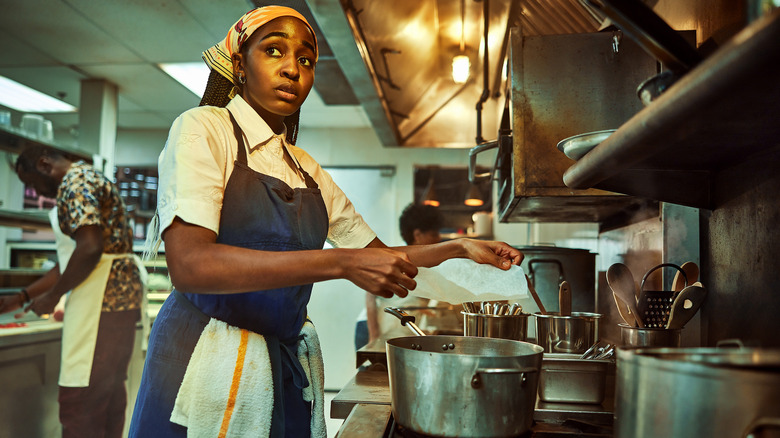 Hulu
Hot off his 11-season-long Shameless run, Jeremy Allen White is back in the gritty corners of Chicago, except instead of surviving with a dysfunctional set of siblings, he's in the trenches with a chaotic found family. Carmy is newly returned home and mourning the loss of his brother by throwing himself into work as the new owner of the family restaurant. We're thrown in with him — saddled in for the breakneck pace of the kitchen as Carmy hustles to hold things together with spit and duct tape, barely keeping up with orders, payments, and his desire to turn the restaurant around by injecting some of that fine dining expertise. There's an emotional elegance to the way his story unfolds: hyper-focused on the grind of running the restaurant while life outside of the kitchen weaves in and out. In the same way that you can never quite sever personal troubles from work (unless you get dystopian), Carmy can't shake the pain that's plaguing him, but he sure does try.
He's joined by a wonderful crew of cooks, including enthusiastic pastry chef Marcus (Lionel Boyce), acid-tongued line cook Tina, long-timer Ebraheim (Edwin Lee Gibson), and new hire Sydney (Ayo Edebiri). There's also Ebon Moss-Bachrach as Richie, Carmy's hotheaded, abrasive non-biological "cousin." If you've seen a single episode of "Kitchen Nightmares," then you know there's always one guy floating around who is inevitably kicked out by Gordon Ramsay because their purpose completely eludes him: Richie is that guy. His job title is a mystery and sometimes, his presence just takes up space. But while he's objectively irritating, you'll find yourself begrudgingly falling in love with Moss-Bachrach's performance. Edebiri is another standout as Syd, an ambitious young cook with fine-dining experience who shares in Carmy's desire to transform the restaurant. But having a vision and executing it are completely different things — which they learn the hard way.
A recipe for success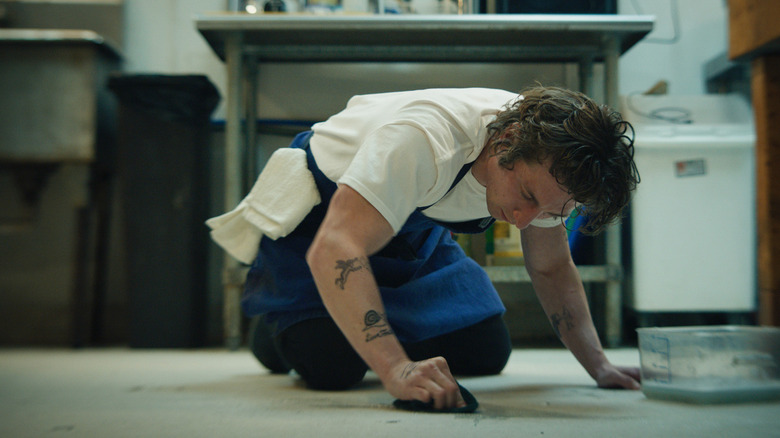 Hulu
"The Bear" is a perfect contender for any comfort TV rewatch list. It's ridiculously easy to slip into Carmy's world and take on his stresses instead of your own: will they get through the dinner rush? Can they afford a new generator? A new mixer? How soon can they change the dinner menu — and does risotto have any palace on it? The finer details of how the restaurant business works are something you pick up along the way — "The Bear" doesn't slow down for us, but unfolds with swift, captivating ease.
It's gorgeously shot, especially when food is involved, but even in the tight confines of the kitchen. The penultimate episode features an astonishing long-take sequence that ups the pressure to an exciting new degree. But the entire series is that level of self-assured, despite how much it takes on: "The Bear" is a meditation on grief, an intimate character study, a love letter to Chicago, and a journey into the nitty-gritty of a restaurant kitchen. Before long, you'll be holding your breath as orders come in, beaming over new menu items and delighting in all the snappy, kitchen banter. For 30 minutes at a time, it's ridiculously easy to push your burdens aside, take on Carmy's and embrace the heat.