Sesame Street: The Musical Review: Our PBS Monsters Finally Have A Stage Musical In Their Original Glory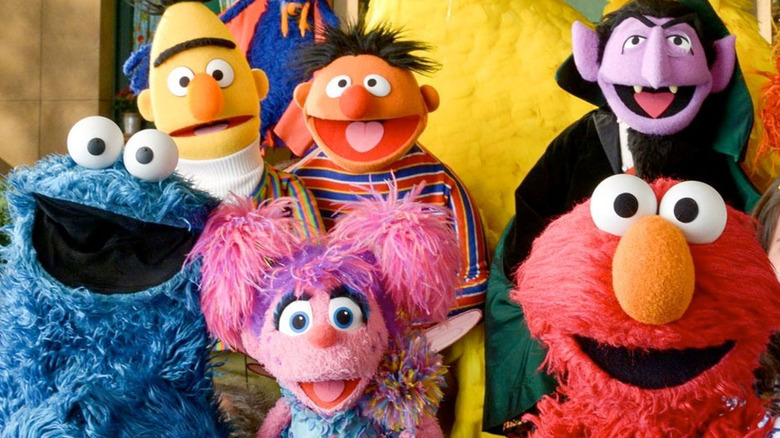 PBS
I scratched my head when I realized that the fuzzy and felt huggable monster gang of "Sesame Street" never really had a live show after five decades. Yes, they've made live appearances outside of PBS (with also a somewhat shaky streaming residency at HBO Max), like the "The Late Show with Stephen Colbert" show. But I realized that they haven't really starred in a live theatrical production. And when I mean the Sesame Street gang, I do not mean the "Sesame Street Live!" shows where our tiny gang is converted into adult-shaped body suits.
Then arrives "Sesame Street: The Musical," written, directed, and produced by Jonathan Rockefeller (who's behind the currently touring "Disney's Winnie the Pooh: The New Musical Stage Adaptation"). It's "Sesame Street" debut attempt to transport their (approximate) original television forms (as designed by Jim Henson's Creature Shop)—with rod-operated arms and wall-concealed puppeteers—to the live theatre scene in New York City (where Sesame Street itself is fictionally situated so it's hopefully a good commute for the gang).
Familiar fuzzies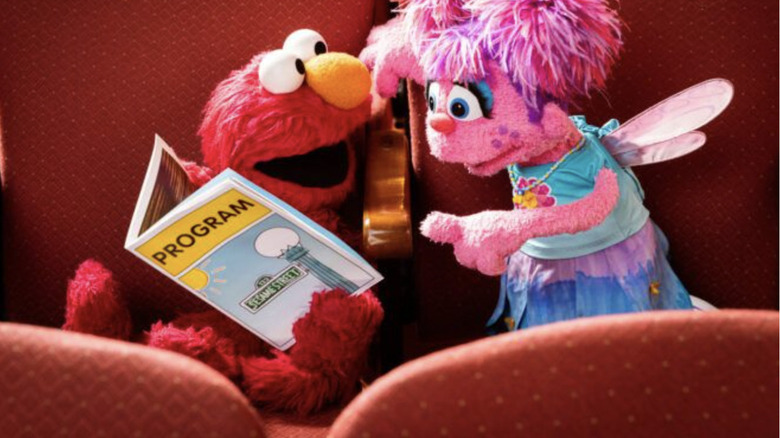 Evan Zimmerman/Rockefeller Productions
"Sesame Street: The Musical" certainly feels like a test run of staging anything Muppet on stage, which isn't necessarily new for the muppet world — or productions that can be ruled as "muppet-derived." The Sesame Street R-rated potty-mouthed counterpart "Avenue Q" musical, which cast puppeteer alumni of "Sesame Street" on its Broadway run, went with having the puppeteers visible on stage. In 2014, Variety reported that Disney Theatrical Productions experimented with putting the Muppets on stage. The Muppet themselves subsequently starred in a 3-day Hollywood Bowl concert in 2017.
In this musical theatre form (arranged by composer Nate Edmondson), "Sesame Street: The Musical" stars the OGs like Bert and Ernie, Grover, and Cookie Monster, the cantankerous Oscar the Grouch, our numbers-obsessed Count, and the later-era principles like Rosita, Elmo (the red fuzz still rouses yelps of delight from children), Gabrielle, and Abby. Other monsters, like our Yip-Yip aliens, make an appearance. Our famous Big Bird (the loss of Caroll Spinney still hurts) is a conspicuous omission, though it's a pragmatic one because the setup could subject the poor seven-year-old bird's feathery crown to clash with the ceiling. Big-ness is not the message it wants to convey anyway.
The human guest star is Stephen (Stephen Fala), a lost "audience member" who happens to wander backstage and then gets shanghaied into becoming their human guest star. He wanders the stage among the puppets as an ingenue, and he suggests so much with his body language, his shyness and his growing excitement with singing alongside the stars. (Having seen its preview stage, hopefully, the sound mixing of Fala singing with the pre-recordings have been adjusted by then.)
The stage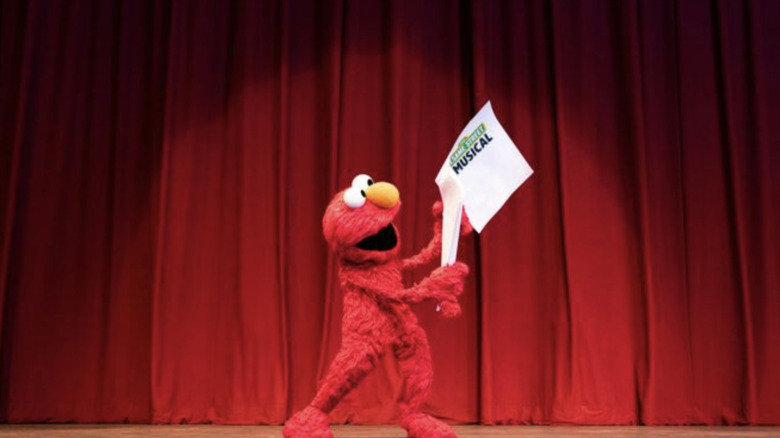 Evan Zimmerman/Rockefeller Productions
Like a diorama, an emerald stage is centered, with stage left and stage right positioned as the backstage where muppets come and go. Walls are raised so kiddies can't see the puppeteers. With its 199-seat capacity, such wouldn't be as embracing in a Broadway-capacity theatre. While the puppets don't physically interact with the audience (not counting that VIP ticket holders can have a picture with Honkers post-show), the closeness to the puppets is the point.
The vocal setup isn't "live" and that's okay. Our furry friends' mouth-flaps are lip-synced to audio tracks provided by the current Sesame Street muppeteers. Our muppets don't feel less real because the 10 puppeteers tactfully sustain the illusion—their tics, their bantering, their signature sprightliness. For his "I Love Trash" number, Oscar the Grouch ducks in and pops out of various areas around the stage, from his garbage can to the stage wings, to the stage, like whack-a-mole. The kids will be fooled into thinking that Oscar is as fast as a cartoon prairie dog, while their parents know that it's the coordination of positioned puppeteers retracting and propelling another Oscar puppet on cue. Either way, it's its own intimate marvel. (Puppeteering credits: Mecca Akbar, Mia Castillo, Chris Coleman, Yanniv Frank, Joe Newman-Getzler, Joshua Peters, Rebecca Russell, Dustin Scully, and Matteo Villanueva.)
That said, due to the pre-recorded setup, don't go to this show expecting improv wriggle room (a quality that yielded its own magic on the show). So "Sesame Street: The Musical" comes off as a prototype entertaining the talent and the technical possibilities for later "Sesame Street" musical theatre experiments.
The greatest hits and new songs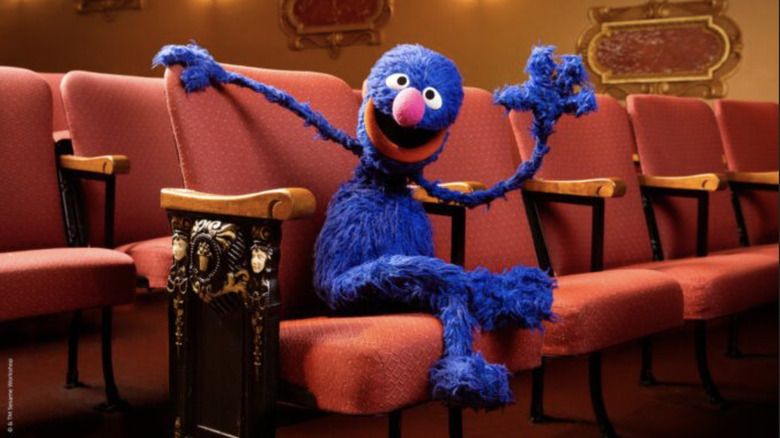 Evan Zimmerman/Rockefeller Productions
"Sesame Street: The Musical" functions as a cabaret variety show with an intermittent arc: the growth of the guest star human, Stephen, as he learns how to sing live and overcome stage fright. If you have watched the "Street Gang" Sundance documentary about the crafting of "Sesame Street" and its landmark impact on the edutainment landscape, you'll know its Writer's Handbook instructions: "After watching the segment, the child should be able to identify [so and so]." Within the 60-min running time of an average "Sesame Street" episode (at least, before 2015 as the show transitioned into the 30-minutes block), the children would absorb preliminary musical theatre essentials, like belly breathing, the imagination of costuming, the inevitability of critics (Oscar is a writer of the New Yuk Times), and the exuberance of showtime.
Expect the greatest hits like "C is for Cookie," "Rubber Duckie," and "Pinball Number" (not a pinball sequence but googly-eyed numbers on rods dancing). Expect loving numbers about celebrating differences, as in "Fuzzy and Blue (and Orange)" between Cookie Monster, Grover, and one of the Yip-Yips. Expect "But I Like You" between Bert and Ernie (yup, they're definitely married). Expect parents with infants and expect kids with their mouths agape when bubbles pour from the ceilings. Expect some new theatre-related songs penned by Tom Kitt and Helen Park.
Expect theatre references. The Theater Row lobby is a poster galore of punny theatre titles: "School of Rocco." Onstage, Cookie Monster sings his anthem, "Me Am What I Am," based on "I Am What I Am" from "La Cage aux Folles." Also, Grover utters a chuckle-worthy quip, "I'm also a waiter." It's a layered joke not just for theatre people but also because die-hards have witnessed Grover's clumsy track record of waitering.
Sing along to the greatest hits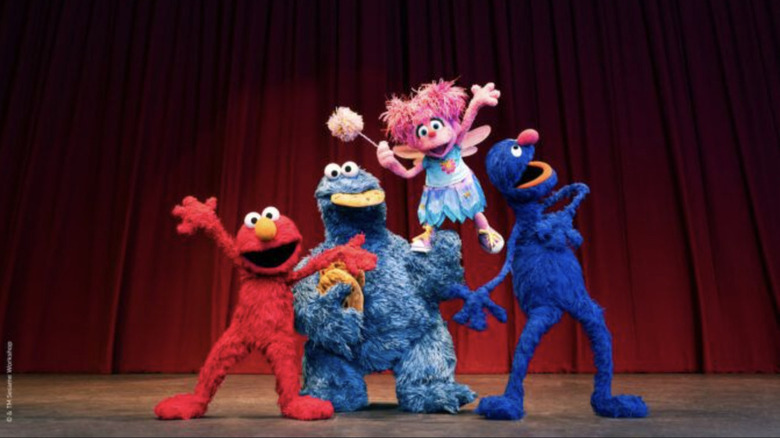 Evan Zimmerman/Rockefeller Productions
For many in their preschooler age, "Sesame Street" was our first learning window, singing to us the tools (the 123s and ABCs) and reminders to be a compassionate neighbor. Its fantasy world of huggable fuzzy friends and supportive human adults gave the digestible comforts and lessons to get through the world as our brains grew to make room for ghastly complexities.
As for me, a childless twentysomething millennial lover of Sesame Street (who watched it in its third and fourth decade where Elmo's World reigned) and all furry things Muppets, I'm more partial to tuning into the Youtube archives for their sketches and theatre spoofs. But it's nice to see them in their faithful fuzzy glory in musical theatre. And it is especially nice that the show permits two instances where we discern the shade of the puppeteers operating the feet rods, because an adult can appreciate the human hands that choreograph the inanimate to life. The human hands are a reminder of why "Sesame Street" felt alive and thus retained its staying power across its ongoing 52 seasons—and within the hearts of kids and adults.
"Sesame Street: The Musical" is playing at Theater Row in New York City until November 27.