Ranking All Eight Muppet Movies On The First Film's 40th Anniversary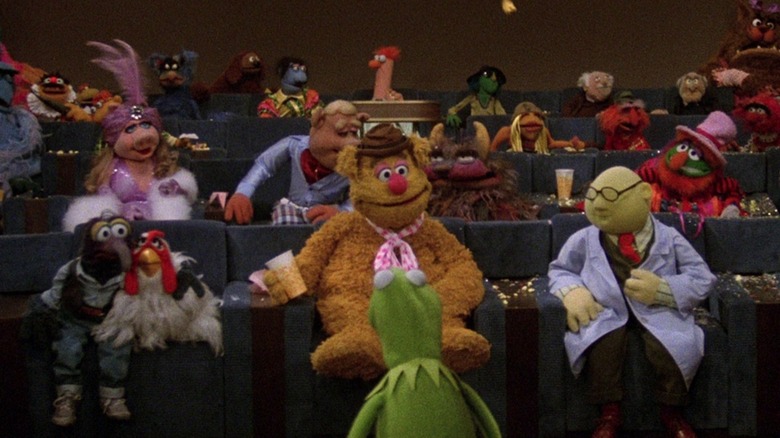 Disney
There was once a time when a film starring a frog, a bear, a pig, and a...whatever could not only be released around the country, but could make hundreds of millions of dollars. Such was the case with The Muppet Movie, the first film starring the Muppet characters created by Jim Henson, Frank Oz, and others. When it was released 40 years ago this week, it was a massive hit and proved the Muppets could survive as much on the big screen as they did in their weekly TV variety show.
Over the last four decades, there have been eight Muppet features — not including side projects from Henson or Oz like The Dark Crystal — so let's dive into the highs and the lows.
8. Muppets from Space (1999)
Hey, A Movie!: Overview
And we start with the very low. The fundamentals of the Muppets are absent in Muppets from Space. On first blush, it might seem like the premise is a can't-miss: what if Gonzo wasn't just a "whatever", but an actual alien? After suffering a miniature existential crisis, Gonzo decides to figure out his own past, learning that he may have arrived on Earth from parts unknown. Gonzo's journey brings him in conflict with a mysterious government organization whose leader is a self-described "paranoid delusional psychopath" who wants to find proof of extraterrestrials to justify his...paranoid delusional psychopathy.
The consensus is that Muppets from Space is a nadir for the Muppets in film, and sometimes, the consensus is right. From the early moments, where we see the characters come together to do a song-and-dance number scored to "Brick House" (Yes, that "Brick House"), it's clear that whoever was making the creative decisions here straight-up did not understand why the Muppets are so charming. There are no original songs in the film, and trying to explore Gonzo's past is inherently uninteresting. The answer to the question "Is Gonzo an alien?" is itself a question: "Who cares?"
Someday, We'll Find It: Signature Moment
One of the few bright spots in Muppets from Space is when Miss Piggy (voiced by Frank Oz, but performed on set by another Muppeteer) has to fight off a black-suited government agent played by Josh Charles, of Sports Night and The Good Wife. It's probably the only genuinely funny setpiece in the film, in part because Charles appears to be having the time of his life getting thrashed by Piggy.
The Standard Rich and Famous Contract: Best Quote
"I think before you answer that question, you'd be better be real clear on the final destination of that finger." Rizzo the Rat lets this rejoinder fly when the head bad guy (Jeffrey Tambor) puts on a white glove, holds up his finger, and asks to put it on Gonzo...somewhere. (Don't worry, he just wants to grab Gonzo's nose.) Rizzo's line is an oasis in this cinematic desert.
Have You Tried Hare Krishna?: Best Running Gag
Just as there aren't any songs in this film, there aren't any good running gags either. A true disappointment.
There's An Informed Opinion: Conclusion
Muppets from Space is, putting it lightly and briefly, the only genuinely bad film on this list. Avoid at all costs.
7. The Muppets Take Manhattan (1984)
Hey, A Movie!: Overview
Though the Muppet crew is reunited for this film, in which they head off to the Big Apple after graduating college, there's something missing here. It's a sweet enough film, but the problem is that the Muppets, at their best, aren't always sweet. Here's a film where, at one point, we see what the characters would have been like as infants. That fantasy scene inspired the eventual Muppet Babies show, and while it suggests this as a more-than-appropriate film for the younger set, it doesn't have the same liveliness as previous Muppet movies.
Where the first two Muppet movies — which are much higher on this list — felt cheeky and anarchic and playful, The Muppets Take Manhattan feels safer. It's not outright bad, in part because hearing Jim Henson and Frank Oz sing songs like "Together Again" is enjoyable enough. But the Muppets excel at being better than just enjoyable enough, making this 1984 film something of a muted affair.
Someday, We'll Find It: Signature Moment
"Together Again" is the kind of song that owes a debt to "Rainbow Connection", but still works. It's earnest and wistful and sincere, and altogether charming because there is something genuinely gratifying about seeing Kermit, Fozzie, Gonzo, and Miss Piggy...well, together again. (This would be the last time Henson, Oz, and Dave Goelz all appeared together in a Muppet movie, making it extra-poignant.)
The Standard Rich and Famous Contract: Best Quote
"No doubt about it, you've got amnesia." Of course, Kermit does have amnesia, but his doctor (Linda Lavin) makes this pronouncement after fiddling with Kermit's arms and legs. It's the right kind of goofy, deadpan line that this film doesn't have enough of.
Have You Tried Hare Krishna?: Best Running Gag
As a sign of trouble, there's really...not a great running gag in this film. The anarchy of the earlier films is absent when it comes to vaudeville-style repeated jokes, which is a shame.
There's An Informed Opinion: Conclusion
On one hand, it's great to see the original Muppet crew together again. But The Muppets Take Manhattan is a lot more saccharine and sentimental than the Muppets ever should be.
6. The Muppets (2011)
Hey, A Movie!: Overview
This 2011 revival of the Muppets was their first film in over a decade, and exists in part as a referendum on the characters. When they band together to save their old theater, the Muppets have to convince a lot of people that anyone will even care enough to watch a celebrity-filled telethon. That core argument ought to have been resolved before the film was released — it exists, thus there's clearly some audience for the Muppets. That said, the real issue with this movie (which is perfectly decent) is that the Muppets are supporting players in their own film.
Jason Segel, who had employed puppetry in the Judd Apatow-produced comedy Forgetting Sarah Marshall, stars as Gary, an ultimate Muppet fanboy with a brother, Walter, who is himself a Muppet. They learn of the Muppet Theater being set for demolition and try to get our heroes back together. But the journey in the film is really about Gary and Walter, who are two halves of a fairly dull straight man. The final act of the film, a kind of recreation of The Muppet Show on the big screen, is the highlight, but it takes a while to get there.
Someday, We'll Find It: Signature Moment
The conflict of this movie is boiled down in one great musical number, "Man or Muppet", in which Gary and Walter sing separate parts of the song, wondering about their own identities. Gary imagines a Muppet version of himself singing back, as Walter sees himself as a human (Jim Parsons in a charming cameo). In offering a fun song that's both straightforward and slyly satirical, "Man or Muppet" is as good as it gets here in terms of focusing on the appeal of the Muppets.
The Standard Rich and Famous Contract: Best Quote
"Maniacal laugh...maniacal laugh!" Casting Chris Cooper as the odious oil man trying to rob the Muppets of their theater feels especially inspired when he unveils his evil plan and isn't even able to actually laugh maniacally. Having the character basically read stage directions, but do so in an evil-sounding way, is all the funnier with the craggy-faced Cooper doing it.
Have You Tried Hare Krishna?: Best Running Gag
The weirdest new addition to the film is the Moopets. No, not the Muppets. The Moopets, AKA a group of second-run characters who look an awful lot like the Muppets but are just a rip-off. As Fozzie says, "They terrify me."
There's An Informed Opinion: Conclusion
The Muppets is moderately charming, though with hindsight, it spends more time than is necessary or appropriate on its human characters than on...y'know, the Muppets.
5. The Muppet Christmas Carol (1992)
Hey, A Movie!: Overview
The death of Jim Henson in 1990 was a gut-punch for just about everyone: fans of Henson's as well as the people who worked alongside him. It's not really surprising, then, that the indelible, Henson-performed Kermit the Frog isn't close to being a main character in the Muppets' first Disney film, The Muppet Christmas Carol. The 1992 adaptation of Charles Dickens' iconic novel is, in its own way, quite faithful to the written word, with Michael Caine stepping in as the penny-pinching miser Ebenezer Scrooge, who learns a valuable lesson or two courtesy of some ghosts on Christmas Eve.
The best way to distill the problem of this movie is simple: Michael Caine is legitimately incredible as Scrooge. It's one of the best Scrooge performances ever (even if his dancing isn't so hot). And...that's the main takeaway from a movie ostensibly featuring the Muppets. The best part of it is a human. The inherent sadness of the story permeates the whole film; there's some charm to be had in casting the Great Gonzo as Charles Dickens, and Rizzo the Rat as his sidekick, and Caine really is quite great. That much, at least, would have to do.
Someday, We'll Find It: Signature Moment
One of the few moments where this movie gets to be fun is a scene that could arguably be cut entirely: after leaving the office on Christmas Eve, Kermit (as Bob Cratchit) plays around with some Muppets sliding through ice and snow. It's a standout moment because the Muppet performers got to challenge themselves with impossible-seeming stunts, even if it's slight.
The Standard Rich and Famous Contract: Best Quote
"Nah, it's all right. This is culture!" Every so often in the film, Rizzo points out that...well, A Christmas Carol is kind of creepy for kids. Gonzo shakes it off here; Dave Goelz, here and throughout, is the standout performer among the Muppet cast, because of how pleased he seems to be to get a starring part.
Have You Tried Hare Krishna?: Best Running Gag
Similarly, the closest you get to a running gag in this film is in Gonzo and Rizzo's Greek-chorus-style commentary. Sometimes, Gonzo's narration is almost lifted out of Dickens' text. Sometimes, they're trying to spy on Scrooge to get a closer look at the action. It's the most consistent levity in the otherwise straightforwardly dramatic retelling.
There's An Informed Opinion: Conclusion
If you're looking for a good Christmas Carol adaptation, The Muppet Christmas Carol has you covered. If you're looking for a good Muppet movie, well...maybe not so much.
4. Muppets Most Wanted (2014)
Hey, A Movie!: Overview
It's sad to think that, at least for now, this might be the last Muppet movie. Muppets Most Wanted wisely shifted its focus away from human characters to...the Muppets. The 2014 sequel begins immediately after its predecessor, with the Muppets triumphant after having won back their old theater. As they realize that Disney has greenlit a sequel (until, as Gonzo says, "Tom Hanks agrees to do Toy Story 4," a very prescient comment indeed), the Muppets embark upon a world tour with a shady new agent played by Ricky Gervais.
Soon, Kermit has been replaced by the world's most devious criminal mastermind, Constantine, who is the spitting image of our hero with the exception of a well-placed mole. Kermit is carted off to a grim Siberian prison overseen by a warden (Tina Fey) with a soft spot for the frog, as Constantine tries to steal the Crown Jewels of the United Kingdom. Muppets Most Wanted is not a perfect film — the storyline with Constantine requires the other Muppets to not realize Kermit's gone, which is a bit of a stretch — but it's a vastly funnier, weirder film than its predecessor. Plus, Bret McKenzie's songs are loopier, and there's only one film on this list that will give you the image of Ray Liotta as a grizzled prisoner singing to "Working in the Coal Mine".
Someday, We'll Find It: Signature Moment
The core relationship between Kermit and Miss Piggy is upended here, as Constantine realizes that a sure sign to get Miss Piggy away from being suspicious is doing everything Kermit never would. In the song "I'll Get You What You Want (Cockatoo in Malibu)", Constantine croons his way through all the things he'll do for Piggy, which delight her initially. The song is a goofy delight, and feels like the new Muppets finally getting to cut loose.
The Standard Rich and Famous Contract: Best Quote
"Walter left the Muppets? But we just did a whole film about him joining the Muppets!" That's courtesy of Rowlf, inadvertently (or maybe not) pointing out the oddness of a new character so willingly separating from the Muppets after joining him. The meta humor in this film is strong, as exemplified by this one-liner.
Have You Tried Hare Krishna?: Best Running Gag
Constantine's botched attempts to sound and act like Kermit makes for the film's best running gag. While it, again, raises the question of why the Muppets don't realize this guy isn't Kermit, his poor tries to be as good as Kermit are very funny, as when he introduces "a heartwarming lesson on sharing or waiting your turn or the number three".
There's An Informed Opinion: Conclusion
Muppets Most Wanted feels like the first Muppet movie in a long time to understand what makes these movies so special. It's maybe not the best finale to the group, but a much more enjoyable film than its predecessor.
3. The Great Muppet Caper (1981)
Hey, A Movie!: Overview
Unlike the 1979 film The Muppet Movie, the follow-up film The Great Muppet Caper is a European-set adventure wherein the Muppets play characters, but do so knowingly enough to introduce the whole setup during the opening credits. This 1981 film is as happy to break the fourth wall as its predecessor was, toeing the line between being an outright parody of a romantic thriller and trying to be halfway romantic itself.
That said, The Great Muppet Caper is still very funny, poking fun at itself and the tropes of modern Hitchcockian thrillers. The two main human performers, Diana Rigg and Charles Grodin, acquit themselves more than adequately. (After delivering a lot of plot description, Rigg says to a baffled Miss Piggy, "It's plot exposition, it has to go somewhere.") The overall effect of the film is akin to when The Muppet Show would have an extended story-based sketch; it's daring and impressive, but sometimes, shorter bursts of humor are better.
Someday, We'll Find It: Signature Moment
There's a delightfully loopy love triangle here, between Kermit, Miss Piggy, and Grodin's odious jewel-thief bad guy. It comes to an apex during a waterlogged fantasy Piggy has in the style of 50s-era swimming star Esther Williams. As both an example of how the Muppeteers had pushed themselves, and how funny the Muppets could be, this is just about perfect.
The Standard Rich and Famous Contract: Best Quote
"Listen, nothing's going to happen. These are just the opening credits." When Kermit, Fozzie, and the Great Gonzo kick off the film in a hot-air balloon, it seems like a callback to the 1979 film. But then we get Kermit breaking the fourth wall to acknowledge that we're all about to watch a movie, and it'll be great. At least, once the credits are done.
Have You Tried Hare Krishna?: Best Running Gag
The best gag in this movie is the inexplicable but daffy suggestion that Kermit and Fozzie aren't just brothers, but they're twin brothers. There's only one way to tell the difference, and that's when Fozzie wears a hat. It's the kind of joke that's straight out of Airplane!: ridiculous, straight-faced and goofy.
There's An Informed Opinion: Conclusion
The Great Muppet Caper, like its predecessor, balances between being a parody of familiar movie tropes and indulging in those same tropes. It's slightly less successful, but still a lot of fun.
2. Muppet Treasure Island (1996)
Hey, A Movie!: Overview
This 1996 film ostensibly operates within the same basic template as The Muppet Christmas Carol four years earlier. It's an adaptation of a well-known British novel, featuring one recognizable British actor in a key role, and also featuring a lot of Muppets doing their thing. But what The Muppet Christmas Carol is missing is what Muppet Treasure Island has in spades: anarchy.
In the same vein as the more delightfully chaotic sketches on The Muppet Show, Muppet Treasure Island is a lot goofier, more meta, and gleefully silly than any cinematic Muppets project in years. The premise is familiar enough to anyone who's read Robert Louis Stevenson's novel: a boy named Jim Hawkins embarks upon a big adventure to find buried treasure while running afoul of a nefarious pirate named Long John Silver. Here, Silver is played with over-the-top brio by Tim Curry; he's as outsized as the Muppets themselves are.
Curry's performance is matched by lots of goofy humor from the Muppets, from the warped version of a financier played by Fozzie Bear, whose character speaks to an invisible man that lives in his finger; to Jim's friends Gonzo and Rizzo the Rat, the former of whom at one point is stretched out as a form of torture that he delights in. Muppet Treasure Island does also feature a romantic subplot for Kermit and Miss Piggy, but this film's strengths are in its wacky, idiotically funny tone.
Someday, We'll Find It: Signature Moment
The Muppets are at their best when they're at their weirdest. And the straight-up oddest setpiece in this film is a musical number entitled "Cabin Fever". As the name would suggest, the pirates stuck on the Hispaniola are exhausted and feeling odd, so they bust into a number full of Carmen Miranda-style headdresses, dancing, spotlights, and more. It's a full-on show-stopping production number on the middle of a stranded ship, and peak goofy Muppets.
The Standard Rich and Famous Contract: Best Quote
This film's humor is at its height when it's loopiest. To wit: many of the pirates on the ship are quite fearsome, based on their names. But some are just...weird, like Dead Tom. Late in the film, Long John, in the midst of an uprising, shoots and kills Dead Tom. One of his friends is anguished, but another pirate reminds him, "Dead Tom's always been dead. That's why he's called Dead Tom." It's such a strange non sequitur, but no less delightful.
Have You Tried Hare Krishna?: Best Running Gag
One of the other humans in the film is Kevin Bishop as Jim Hawkins. Bishop's performance is fine — he's the straight man in the story, so he doesn't have a whole lot to do — but it's also the foundation for the film's best, surprisingly nasty running gag. Jim has to correct Muppets, multiple times, that he's not a girl, despite his high-ish voice and long hair. One of Bishop's best line readings is early, when a blind Muppet says "Ah, a pretty little girl!" His reply: "There's no one here, and I'm not a girl". It sounds very pointed, almost as if he...maybe didn't like the joke at his expense. But for the audience, it's gold.
There's An Informed Opinion: Conclusion
Muppet Treasure Island is the most underrated film featuring Jim Henson's felt creations. It's as funny as anything the characters did back on TV in the 1970s, and is boosted by an incredibly lively performance from Tim Curry. If you haven't seen it, you ought to.
1. The Muppet Movie (1979)
Hey, A Movie!: Overview
There's an incredible balance that the men and women behind the Muppets are able to strike in their first feature, the 1979 film The Muppet Movie. Like the variety show that inspired the film, and led to it becoming one of the year's most successful films at the box office, The Muppet Movie has to be wild, chaotic and anarchic. But Jim Henson and his team of Muppeteers also wanted to be earnest in their depiction of how Kermit the Frog met Fozzie Bear, Miss Piggy, and the Great Gonzo, and eventually became rich and famous.
The result is one of the most charming and hilarious family films ever made, and the kind of movie that's impossible for the people who made it to ever top. You can find anarchy and whimsy in other Muppet movies, but never to this degree, and never with this level of humor or the incredible music from Paul Williams and Kenny Ascher. You know "Rainbow Connection", but it's not just that wistful ballad that's toe-tapping or tuneful. "Movin' Right Along", "Can You Picture That?", and "I'm Going To Go Back There Someday" are all excellent pieces of music, giving the vast ensemble of Muppets a chance to shine.
And to be clear: this movie is extremely funny, whether or not the references all land in 2019 the way they might have in 1979. (When I watched this as a kid on VHS, I laughed my head off at every Hare Krishna reference despite not knowing what that even was.) The Muppets themselves have plenty of good gags, as do many of the celebrity cameo performers. The blend of hilarity and sincerity is the Muppets at their finest.
Someday, We'll Find It: Signature Moment
A movie with the Muppets wouldn't be a movie without breaking the fourth wall, and doing it with gusto. The framing device of The Muppet Movie is that it's being premiered in a studio screening room for the Muppets themselves. And, at a key dramatic moment, the film...burns up. Instead of ruining the tension, this big laugh is a great way to deflate any seriousness, as we watch the hapless Swedish Chef try to figure out how to fix the literal film strip so the show can go on.
The Standard Rich and Famous Contract: Best Quote
"Don't you want to smell the bottle cap?" Yes, the Muppets are hilarious. But maybe the single funniest scene in the film is all thanks to one of its cameo stars, Steve Martin. As an annoyed waiter helping Kermit and Miss Piggy on their romantic date, he all but steals the show. This question, as he offers the two lovers a bottle of "sparkling Muscatel, the finest wine in Idaho", is so huffily posed that it's impossible to not laugh.
Have You Tried Hare Krishna?: Best Running Gag
Perhaps the most inexplicable and brief running gag here features the wonderfully funny Carol Kane saying "Yes?" with a lisp. In an early scene at a sleazy bar, Kermit runs afoul of a nasty sailor (Telly Savalas) and his date (Madeline Kahn); when the sailor says frogs have warts, Kermit says that's a myth. To which Kane pops out of nowhere and says, "Yeth?" The gag repeats later on, making it both baffling and hilarious.
There's An Informed Opinion: Conclusion
There is no better Muppet movie than The Muppet Movie. It features the original cast of Muppeteers, it's not too sentimental, it's exceptionally funny, and its songs are unbeatable. Accept no substitutes.