Margot Robbie Created Real Art And Super 8 Footage For Amsterdam, And She Might Have Gone Too Far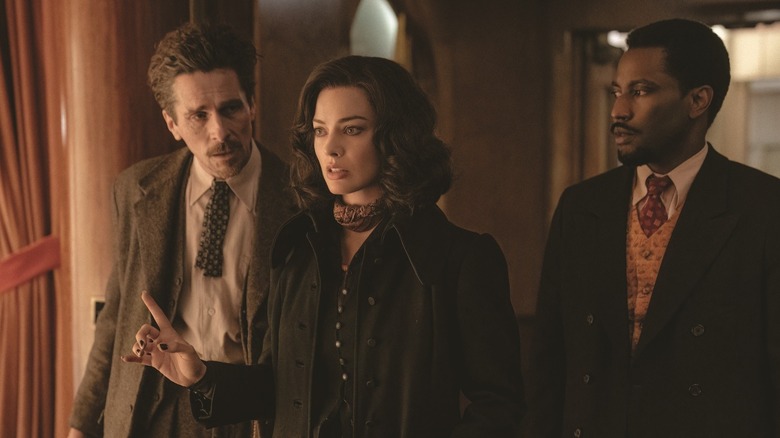 20th Century Studios
David O. Russell's latest film, "Amsterdam," features an ensemble chockablock full of amazing talent. The all-star line up consists of Christian Bale, Margot Robbie, John David Washington, Rami Malek, Chris Rock, Zoe Saldaña, Anya Taylor-Joy, Michael Shannon, Taylor Swift, Timothy Olyphant, Alessandro Nivola, Matthias Schoenaerts, Andrea Riseborough, Mike Myers, and Robert De Niro.  
Set in the 1930s, "Amsterdam" focuses on three friends who witness a murder and, as is generally the case in these crime drama-type of scenarios, then become suspects themselves. In the process of trying to clear their names, they accidentally uncover one of the most outrageous plots in American history. Teasing the fact that the film is based on true events, one doesn't need to know the actual history to know that "Amsterdam" will be a whirlwind of a ride. Just based on trailers released, the chemistry between Bale, Robbie, and Washington is enough to make a person entirely invested. 
The process of developing their characters as well as the subsequent bond between the three of them would need to be solidified in stone in pre-production. Knowing their collective body of work, from an outsider's standpoint, this wouldn't be a problem. The one concern that none of them could have planned for was going too Method in their approach and, as we would learn at the recent press conference for "Amsterdam," one of the stars might have gone too far in the preparation process for their role.
All for the art!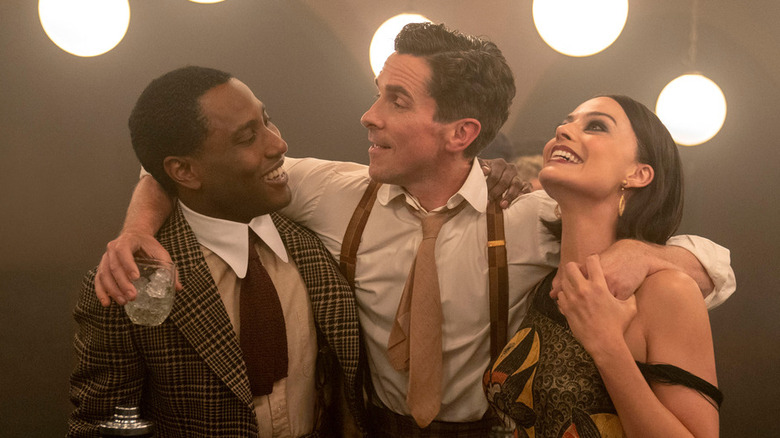 20th Century Studios
While at the press conference for "Amsterdam," Margot Robbie revealed how deep she went into the headspace of her character, Valerie Voze. Voze is a multi-faceted character. An heiress with a love for the arts, she makes art out of trauma and it was in this art-making process that Robbie found herself having gone too far. While in lockdown, Robbie had a long time to prepare her approach to Valerie. "I started making a lot of art," she explained and admitted it got very weird. But that was the character in a nutshell. "She's kooky, and artistic, and nuts."
These three key elements along with the prolonged lockdown influenced Robbie more than anyone probably would have liked. It created a tunnel vision of sorts as she dove deeper into her artistic experimentations. The immersion became so intense that even her husband pointed out her change in behavior:
"I think at one point, my husband walked in, and I had bits of metal and fake blood, and I had my Super 8 out and a mask on. I had all this crazy stuff, like X-rays. He was like, 'I think you're taking this too far. You need to calm down.' And I was like, 'Okay, well, I fell in love with her.'"
As it turns out, the art didn't go to waste. Some of the art pieces she made during her prep period ended up being utilized in the final cut of "Amsterdam."
Lights, camera, action!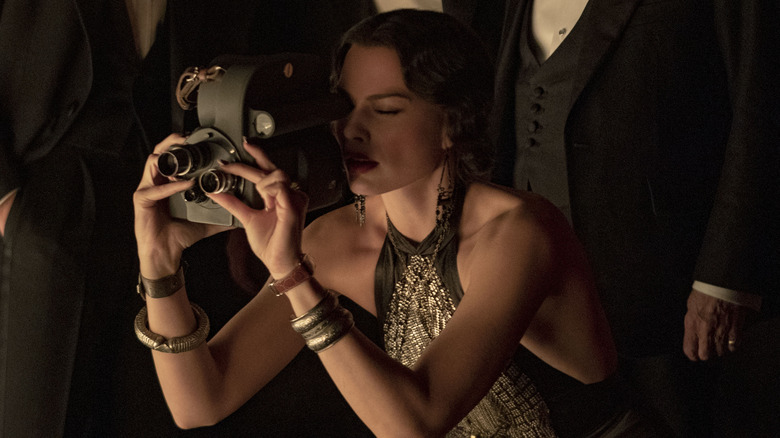 20th Century Studios
While she might not have intended to create artwork that could be used in the film, some of Robbie's artwork makes an appearance in "Amsterdam," which proved to be a real treat for many working on set, including director David O. Russell. Russell's excitement bubbled up to the surface as he shared that the team's excitement with what Robbie brought to the table with her artwork:
"She made it in her own house, and Chivo [Lubezki], the cinematographer and I and Linda Sterling, and actual visual artists in England who made some of the art with Judy Becker, our designer, said 'Wow, this is as good as it gets, what Margot made in her house,' and it's in the movie."
From lockdown-induced madness to the big screen, Robbie's efforts to get into the headspace of her character certainly seems to have paid off. But don't let the artwork be the key takeaway from all that her character Valerie has to give. "She really marches to the beat of her own drum," Robbie explained as a major draw for taking on the character, but also one more final bow-tying component: "The friendship pact that she makes with Harold and Burton. I mean, it's everything to her."
Without the core friendship between the trio of characters in "Amsterdam," there would be no "Amsterdam." It's the friendship that keeps things grounded in the midst of all the chaos, despite the awesome artwork.
"Amsterdam" hits theaters on October 7, 2022.