Amsterdam Trailer: Christian Bale, Margot Robbie, John David Washington And Murder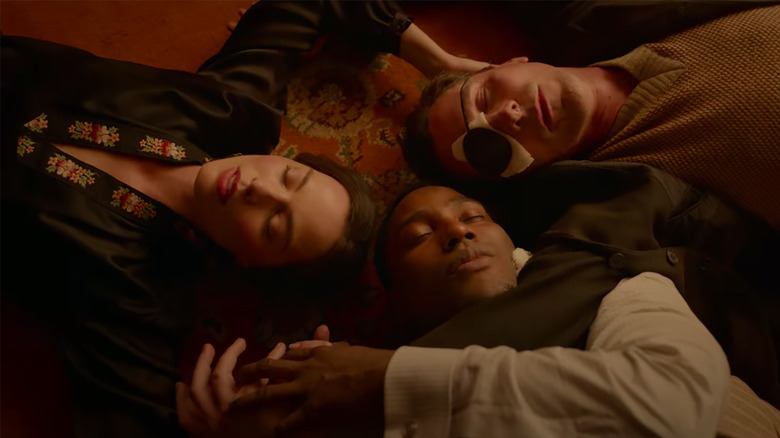 20th Century Studios
I genuinely have no clue as to what's going down in David O. Russell's upcoming film, "Amsterdam," but the newly-released trailer looks rather intriguing. Weaving in history with fictional dramatization, "Amsterdam" follows three friends — Valerie (Margot Robbie), Burt (Christian Bale), and Harold (John David Washington) — who witness a brutal murder and immediately become suspects.
Everything about the film is insane, right from its huge ensemble cast to a one-eyed Christian Bale starring alongside comedian Chris Rock. The trailer hints at a series of murders that preceded the one featured at the center of the story. Set in the '30s, "Amsterdam" teases an unbelievable story unfurling into some kind of event in American history, although it is not quite specified what exactly they're referring to. But that only makes me love it more.
Check out the trailer for "Amsterdam" below.
Two soldiers and a nurse find themselves in a pickle
The trailer for "Amsterdam" suggests the death of a seemingly-prominent figure, and the three central characters trace back to how the trio met and ended up working together while swearing to protect each other. While in Amsterdam, they find themselves being considered prime suspects in a murder after Burt and Harold are seen fleeing the crime scene minutes after the murder is committed.
For some odd reason, Burt has a fake eye that keeps falling out (he casually shoves it back into the socket, no biggie), and is later offered a medicinal eye drop that works its magic within minutes. That's just one of the perplexing scenarios laid out in the trailer.
Billed as a romantic crime epic, "Amsterdam" features eccentric characters of all kinds, including Robert De Niro's Gil, who the trio approach for help in finding out the truth about the murder. The rest of the ensemble cast includes Alessandro Nivola, Andrea Riseborough, Anya Taylor-Joy, Matthias Schoenaerts, Mike Myers, Timothy Olyphant, Zoe Saldana, Rami Malek, Michael Shannon, and even Taylor Swift.
"Amsterdam" marks David O. Russell's first film in seven years, following "Joy" in 2015. Russell and Bale are acting as producers for the film, alongside Arnon Milchan, Matthew Budman, and Anthony Katagas. Meanwhile, Yariv Milchan, Michael Schaefer, and Sam Hanson are executive producing.
"Amsterdam" arrives in theaters on November 4, 2022.