On-Set Chemistry Made It 'Tough' For Jamie Clayton To Terrify Her Hellraiser Co-Stars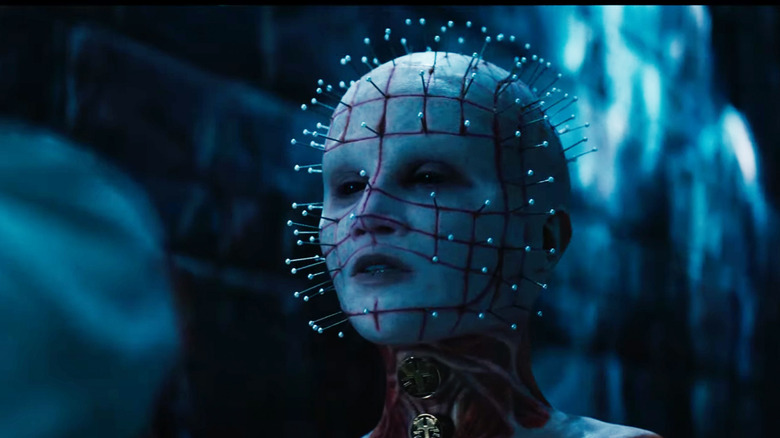 Disney
David Bruckner's feature adaptation of Clive Barker's 1986 novella "The Hellbound Heart" brings forth a new Pinhead, the leatherbound nail-studded horror icon formerly popularized by Doug Bradley. Written by "The Night House" scribes Ben Collins and Luke Piotrowski from a story developed with David S. Goyer, "Hellraiser" stays true to themes raised in Barker's original 1987 adaptation while offering a new iteration of the soul-harvesting Pinhead, played by Jamie Clayton.
Clayton struck friendships on and off the set, often hanging out with co-star Aoife Hinds, previously known for her role on BBC Three/Hulu drama miniseries "Normal People." In "Hellraiser" Hinds is one of several loved ones in the crosshairs of the Cenobites due to her proximity to Riley, who fiddles with the shiny death box and wreaks havoc on everyone. When she meets Clayton's Priest, it's as pleasant as a meeting with Pinhead can go; still, Clayton had difficulty accessing the bloodlust of her character. Entertainment reporter Jake Hamilton brings up villain actors on horror film sets who kept their distance from those that play their targets, like Bill Skarsgard keeping his Pennywise hidden from the Loser's Club kids until it was time to step before the camera – such tactics can pay off in authentic thrills. Clayton responds to Hamilton:
 "I mean, Aoife [Hinds] and I became great friends. We were always going to dinner and, you know, having wine and Aperol spritzes, and so it actually was really tough though, when I have the scene with Aoife where she gets flipped upside down. It was very hard for me, because I was like, "Oh I really like her! Like, why am I doing this?" So yeah, it was – maybe that was a mistake. But I became very close with Aoife and with Brandon [Flynn], so it was tough."
No spoilers, but it's a great scene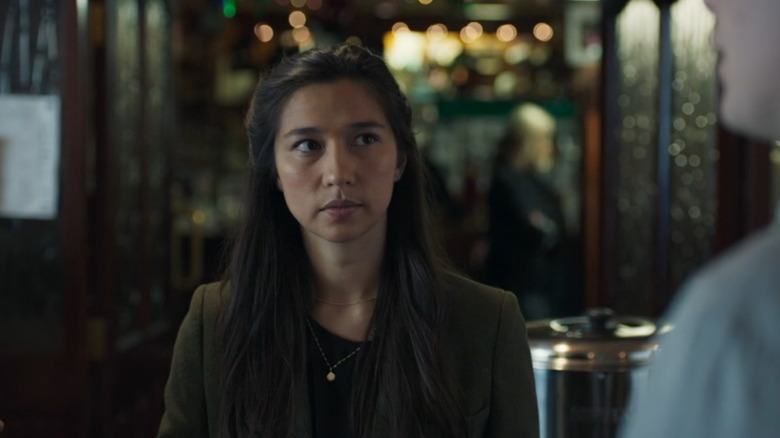 BBC Studios
Not much can be said about Hinds' scene with Clayton without spoilers for the 2022 movie, which drops on Hulu just in time for Halloween season and its corresponding watchlists. But it begins and ends as most of the Cenobite appearances do, with the reality-dissolving feel of entering Freddy Krueger's dream realms in the Nightmare on Elm Street movies.
Barker's original film and some sequels would usher in their hellsprung mutilated Cenobites — "demons to some, angels to others," depending on who summons them — with furious wind and lightning, appearing to those who find and solve the Lemarchand puzzle box. Those elements are still present in "Hellraiser" '22, with the immersive use of collapsing set pieces that precede their festival of suffering as the Cenobites come to collect on the debt incurred by conjuring them into our world. The walls of a nursing care facility become a labyrinth where the chittering, throbbing abominations stand at every turn. 
The hull of a van gives way to plant its doomed soul in a dungeon-like hallway straight off of a Hammer horror backlot and, like an Elm Street kid watching his girlfriend being carved up by an invisible assailant, all that returns to the van's other occupants is a bloody skid of viscera where that doomed soul sat. It's a spatial trick Bruckner's employed before in his 2017 hiking horror "The Ritual." Oscillating from the thick woodland of northern Sweden to a British liquor store within seconds, Bruckner drops the viewer into shame-fueled dream sequences. The self-tormenting masochistic streak throughout Bruckner's oeuvre continues with this Barker reboot, where its central protagonist wrestles with sobriety and guilt. But don't expect Jamie Clayton to relish it the whole time.