'The Ritual' Trailer: Just Stop Going Into The Woods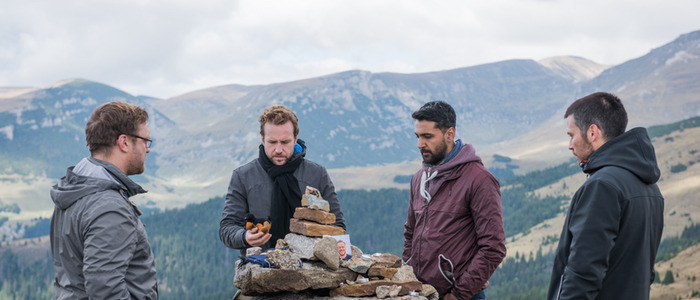 Folks, can we all agree to stop going into the woods? Nothing good comes of it – especially in horror movies. Take The Ritual, for example. This new horror movie, premiering on Netflix next month, follows a group of friends who venture into the woods and almost immediately regret it. Watch The Ritual trailer below.
Do you like camping? If so, can I just ask: what the hell is wrong with you? No offense to those who think camping is the bee's knees – I've just never quite seen the appeal of of it, and horror movies certainly haven't helped. It seems any time there's a movie about a group of friends venturing into the woods, one or more of them ends up being horribly murdered by a monster, witch and/or redneck. See: The Blair Witch Project, Deliverance, and literally every single movie ever made featuring characters who end up in the woods. In the new film The Ritual, a group of buddies on a hiking trip in the Scandinavian wilderness decide to take a short cut through the woods. Bad things happen. Watch The Ritual trailer and see for yourself.
The Ritual trailer 
I've already seen The Ritual, and let me tell you: it's pretty darn spooky. This is an effective, slow-burn thriller that really knows how to build tension while featuring more than a few genuinely creepy moments. It's like a cross between The Blair Witch Project, The Descent, and Kill List. Best of all, like most good horror movies, it has more on its mind than just creating jump-scares. There's an underlying theme of grief and guilt running through the whole story that makes it all the more effective. Here's the synopsis:
Reuniting after the tragic death of their best mate, four old friends from university set out to hike through the Scandinavian wilderness. But a wrong turn leads them into the dark and mysterious forests of Norse legend, where an ancient evil still exists and stalks them at every turn.
The Ritual is based on a 2011 British horror novel by Adam Nevill and stars Rafe Spall, Arsher Ali, Robert James-Collier, and Sam Troughton, and comes courtesy of director David Bruckner, who helmed a segment in the very good horror anthology film Southbound. Maria Erwolter, Paul Reid, Francesca Mula and Jacob James Beswick round out the cast.The Ritual arrives on Netflix February 9, 2018, which means you can watch it at home in the dark and be free to yell "Don't go in there!" as loudly as you want from the privacy of your home.