Original Hellraiser Star Doug Bradley Weighs In On Jamie Clayton's Pinhead Casting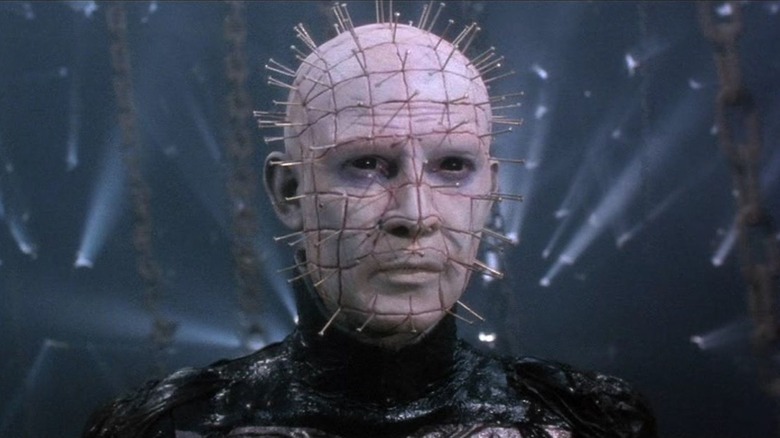 New World Pictures
David Brucker's new film "Hellraiser," based on Clive Barker's 1986 novella "The Hellbound Heart," will be released on Hulu on October 7, 2022. It will be the eleventh film in the "Hellraiser" series.
One of the more striking elements of "Hellraiser" is its particular mythology. In the original 1987 "Hellraiser" feature film, written and directed by Barker, Hell was not depicted as the sin-based, punitive, Christian version of the realm as seen in Dante's "Inferno," but as something more akin to a particularly hard-edged S&M club. In Barker's estimation, the body and the soul are intertwined, and Hell is designed for seekers of the ultimate physical and sexual experience. When a seeker opens up a mysterious puzzle box, it summons a quartet of immortal, leather-clad Cenobites whose bodies are in a constant state of mutilation. The Cenobites, using chains, hooks, and other scary cutting devices, rend their victim to shreds, showing that pain and pleasure are one and the same. "Hellraiser" might prove to be a dark mirror of Walt Whitman's "I Sing the Body Electric." 
The leader of the Cenobites was a pale-skinned, deep-voiced ghoul with nails hammered into his face and head. In the original film, the character was only credited as "Lead Cenobite," although in subsequent sequels, he took on the nickname of Pinhead. In the first eight "Hellraiser" movies, Pinhead was played by Doug Bradley, a school friend of Barker's. Pinhead was played by new actors in "Hellraiser: Revelations" and "Hellraiser: Judgment." Bradley's reasons for staying out are a miniature drama of their own. And now, Bradley has weighed in on the newest take on the character, to be played by Jamie Clayton. 
The Hellbound Heart
As mentioned above, the new "Hellraiser," a remake of the original, will star Jamie Clayton ("Sense8," "The L Word: Generation Q") as Pinhead. This will be the first time a woman will play the role. As printed in Bloody Disgusting, Bradley was asked about Clayton's casting at Silver Scream Con in Danvers, MA. Bradley, after all, is the foremost expert in the character, and holds the rare distinction of playing a single role in over six consecutive films within a film franchise (others include Christopher Lee playing Dracula, Robert Englund playing Freddy Krueger, and Brad Dourif playing Chucky). Bradley, 67, seemed intrigued by Clayton, but was only familiar with some of her work. He said: 
"It seemed like [a female Pinhead] was coming. It's an interesting piece of casting. I don't know Jamie. Of course, they've taken even a little bit of a wrinkle in that, because Jamie is transgender. I'm not familiar with her recent work, but there was a science fiction series on Netflix several years ago called 'Sense8,' which I was quite a fan of. Jamie was in that, and I really, really liked her performance in that."
Bradley also pointed out that other familiar Cenobites will appear in the new "Hellraiser," as he was introduced to the actor playing the new Chatterer Cenobite — a faceless, lipless, teeth-forward monster — at another horror convention just prior. He didn't mention the actor by name, only to say that he is 6'9" tall. The actor playing the Chatterer, then, would be Jason Liles, who has played multiple creatures in his career including the giant, middle-finger-happy ape George in "Rampage." 
Suvbversive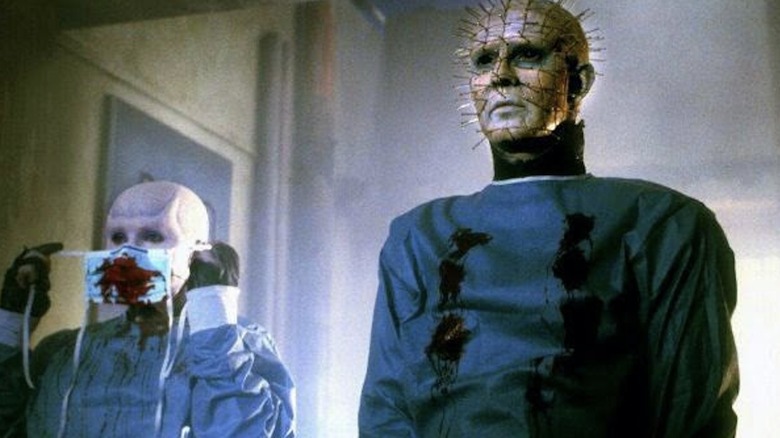 New World Pictures
Bradley, at the Silver Scream Con, pointed out that recasting Pinhead is most certainly no cause for controversy. Indeed, if one goes back to the original film, one might find a sexually transgressive film that's meant to confront. It is a film very explicitly about sadomasochism, blood, gore, and, and sexual appetites. The plot of "Hellraiser" involves an unhappily married woman (Claire Higgins) who is confronted with the skinless, half-formed, still-living body of her husband's brother Frank, a man she once had an intensely sexual affair with. She will end up luring men to Frank who will drain them of their fluids. Once he's hollowed out enough men, Frank will have skin again, and his affair with his brother's wife can continue. The motivating factors throughout "Hellraiser" are expressly sexual. 
If any viewers felt that Clayton's gender should become an issue, Bradley was quick to remind people of the "Hellraiser" origins and legacy, saying: 
"Everything about Hellraiser has always been transgressive. Everything, always, from start to finish. It's not a new idea in that sense, but I'm intrigued. I'm in the same position as all the rest of you, I guess, to see where that goes." 
The Lament Configuration will open again on October 7, 2022 on Hulu. The film will also star Odessa A'zion, Haim Abbas, and Goran Visnjic. If preparing a "Hellraiser" marathon in preparation, trust someone who has watched all the "Hellraiser" sequels when he says that the first two are the only ones worth revisiting.