New Tulsa King Behind-The-Scenes Featurette Shows Sylvester Stallone Acting It Up In Oklahoma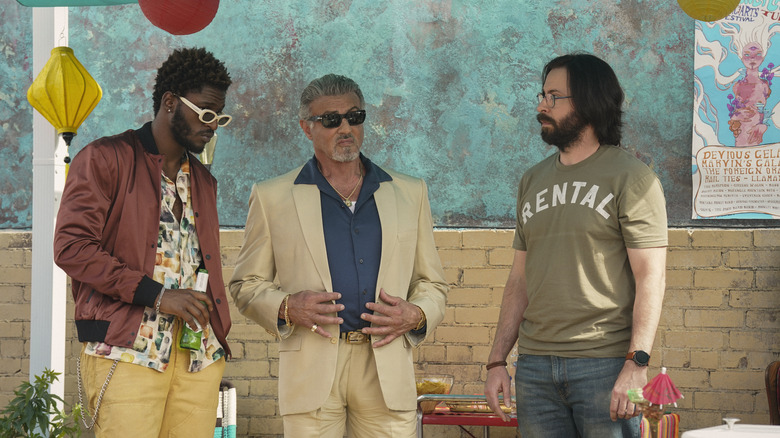 Paramount+
Taylor Sheridan is bringing yet another show to Paramount+, and this one features Sylvester Stallone in his first scripted television role. While we've already gotten a teaser trailer of Stallone looking properly flummoxed about being sent to Tulsa after serving 25 years in jail for the mob, we haven't gotten much more than that.
All that changed during Paramount+'s Television Critics Association (TCA) presentation today, where Stallone along with executive producers Terence Winter, David C. Glasser, and cast members Andrea Savage ("I'm Sorry"), Martin Starr ("Silicon Valley"), Jay Will ("The Marvelous Mrs. Maisel"), and Garrett Hedlund ("The United States vs. Billie Holiday") talked up the new show.
During the presentation, the cast and creative team talked about "Tulsa King." 
We also saw a sequence from the first episode, which has Stallone heading to Tulsa for the first time, and very quickly getting into an argument with his cab driver (Will) who jokingly calls him a gangster. Stallone's character doesn't find that so funny (though their exchange on the matter is quite funny), but he's soon distracted by a (legal) marijuana dispensary he's interested in becoming business associates with. 
They also shared a behind-the-scenes featurette about what it was like shooting in Oklahoma, which you can check out below. 
Tulsa King behind-the-scenes featurette
The featurette has Stallone and his fellow cast members talking about shooting in Oklahoma, and it also has Sheridan explaining how the idea for the show the premise of the show — a mafioso being sent to middle America to build a criminal empire there — was ripe for a "comedy of errors." 
Here's the show's official synopsis:
TULSA KING follows New York mafia capo Dwight "The General" Manfredi (Stallone) just after he is released from prison after 25 years and unceremoniously exiled by his boss to setup shop in Tulsa, Okla. Realizing that his mob family may not have his best interests in mind, Dwight slowly builds a crew from a group of unlikely characters, to help him establish a new criminal empire in a place that to him might as well be another planet.
In addition to the folks on the TCA panel, "Tulsa King" also stars Max Casella ("The Tender Bar"), Domenick Lombardozzi ("The Irishman"), Vincent Piazza ("Boardwalk Empire"), A.C. Peterson ("Superman & Lois"), and Dana Delany ("Body of Proof").
Paramount Network will air the first two episodes of "Tulsa King" on Sunday, November 20th, immediately following a new episode of "Yellowstone." All remaining episodes will be available to stream weekly on Sundays on Paramount+.