What Separates House Of The Dragon From Game Of Thrones Is The One Thing It's Missing, According To George R.R. Martin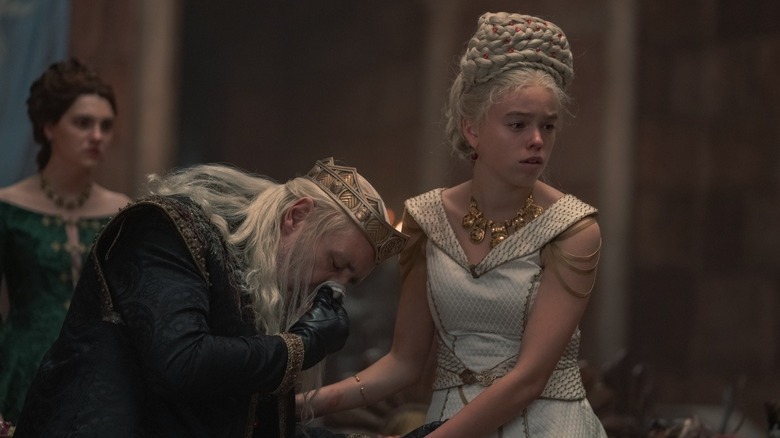 Ollie Upton/HBO
Spoilers for episode 5 of "House of the Dragon."
The HBO series "House of the Dragon" is halfway through its first season now. We've been introduced to many of the major players in five episodes. The show is, of course, a prequel to the juggernaut "Game of Thrones," based on the novel series "A Song of Ice and Fire" by George R.R. Martin. It's set 147 years before the birth of Daenerys (Emilia Clarke), the last Targaryen who sought to regain her throne. 
In the prequel, we're witnessing the beginning of the Dance of the Dragons, also known as the Targaryen civil war for succession for the Iron Throne. Everyone with a claim to it — or anyone who could draw power from their access to the person sitting on it — will do just about anything to plant their rear in the middle of that spiky chair.
Even before we get next week's significant time jump (and several actors replaced by older ones), there have been some dark maneuverings by everyone and their uncle. Even characters who do their best to be fair and kind (looking at you, your majesty) do bad things. Martin spoke to The Hollywood Reporter in their report from the set about what separates this series (based on Martin's prequel "Fire and Blood") from "Game of Thrones."
'Lust for power'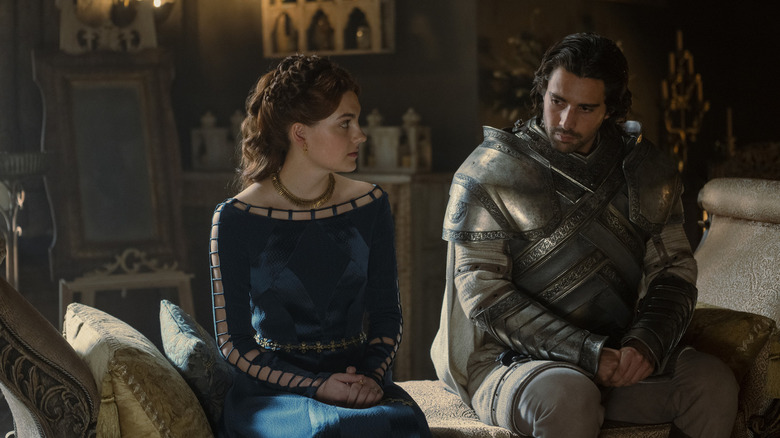 Ollie Upton/HBO
According to the outlet, showrunners Ryan Condal and Miguel Sapochnik sent Martin a private viewing link for the first episode early on. He wrote them back with praise and, as Condal said, "more exclamation points than I've ever seen in one place from that man." Martin, who had at the time of the article's publication, seen nine of the 10 episodes, said: 
"It's powerful, it's visceral, it's dark, it's like a Shakespearean tragedy. There's no Arya — a character everybody's going to love. They're all flawed. They're all human. They do good things. They do bad things. They're driven by lust for power, jealousy, old wounds — just like human beings. Just like I wrote them."
Everyone is very flawed, as Martin says, and yet you can root for some of them. Perhaps it would be better to say that you can root for some of them to do better or make different decisions. I think the strength of the characters lies in the fact that even the ones we think will do the right thing often make impulsive and terrible choices when pushed.
Look at Ser Criston (Fabien Frankel), who says lovely things and seems kind and sweet. Then he bashes someone's face in for spilling a little gossipy tea. King Viserys (Paddy Considine) really tries to do the right thing and make everyone happy, which is a great quality in a person, but irresponsible in a ruler.
To be fair, however, while most fans certainly loved Arya (Maisie Williams), she was a cold-blooded murderer. Justified or not, she fits easily into the category of a human who does good and bad things and is driven by issues. 
"House of the Dragon" is currently airing on HBO and streaming on HBO Max.