This Was Slippin' Kimmy's Greatest Moment Of Chicanery On Better Call Saul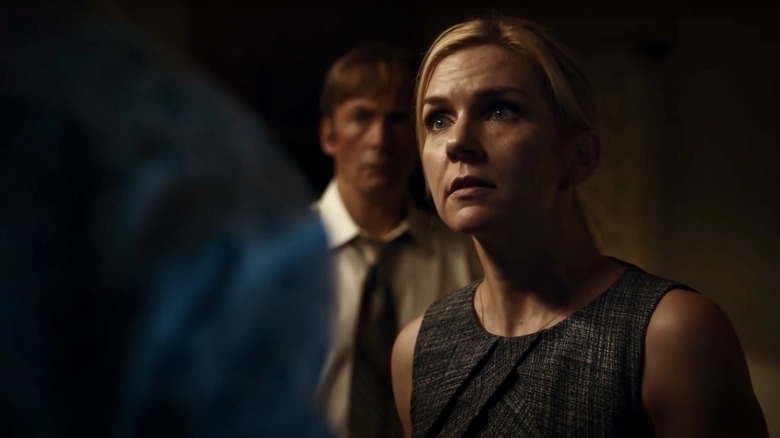 Sony Pictures Television
This article contains potential spoilers up to the end of "Better Call Saul."
Throughout the show's six-season run, there was always a question mark hanging over the fate of Kim Wexler (Rhea Seehorn) on "Better Call Saul." Though a prequel to "Breaking Bad," "Better Call Saul" introduced Kim and other characters we had never met like Nacho Varga (Michael Mando). Not all of those characters would make it out of the series alive. Some fans feared the worst: namely, that "Better Call Saul" might go truly dark and make Jimmy McGill/Saul Goodman (Bob Odenkirk) totally irredeemable by having Kim become a casualty of his criminal actions.
When "Better Call Saul" first started, it seemed to position Mike Ehrmantraut (Jonathan Banks) as the show's co-lead. By the end, Kim had established herself as the show's real MVP, even if the Emmy Awards somehow didn't get the memo, choosing instead to give Julia Garner her third award for "Ozark" while Seehorn and "Better Call Saul" went home empty-handed of anything but nominations.
Jimmy and Kim could be a bad influence on each other, with his "Slippin' Jimmy" con artist persona rubbing off on her and bringing out the "Slippin' Kimmy" side of her, as it were. Their love story, however, was a key component of "Better Call Saul," and co-creator Vince Gilligan said that they never planned to kill Kim off.  The threat of that, though, helped inform one of the show's most definitive Kim moments, when she found herself bluffing through a tense encounter with the affable yet dangerous drug cartel lieutenant Lalo Salamanca (Tony Dalton), all while Mike perched on the roof of the opposite building with a sniper rifle.
'You need to get your house in order'
Above, you can see the scene from the penultimate episode of "Better Call Saul" season 5, where Lalo confronts Kim and Jimmy inside their apartment. Earlier in the episode, Lalo had found bullet holes in the car Jimmy used when he was picking up Lalo's bail money. This conflicted with Jimmy's cover story about the car breaking down and him walking across the desert with the money alone.
Lalo wants to know what really happened, and Jimmy tries to talk his way out of it. He's usually very good at that, capable of charming anyone into doing what he wants — or just saving his own skin — but Lalo is having none of that.
This is when Kim steps up, using an altogether different tactic. She stands up to Lalo and makes him think the bullet holes could have easily come from someone using the abandoned car for random shooting practice. Under the guise of simply telling him what he needs to hear, she then feigns incredulity and berates Lalo about how he needs to get his house in order because he has no one he can trust other than Jimmy, a civilian lawyer outside the cartel.
It's an effective scene where Jimmy literally fades to the background, becoming a blur behind Kim, while she takes center stage. We know Kim is putting her life on the line, lying straight to Lalo's face and making him doubt his own (correct) intuition. Yet we've also seen her visit Lalo in prison prior to this and put herself at risk for Jimmy there. When Lalo finally leaves the apartment, manipulated effectively by Kim, she lets out a little gasp and we realize she was just as scared the whole time as we were for her.