Better Call Saul Star Rhea Seehorn Didn't Win The Emmy, But She Still Won Our Hearts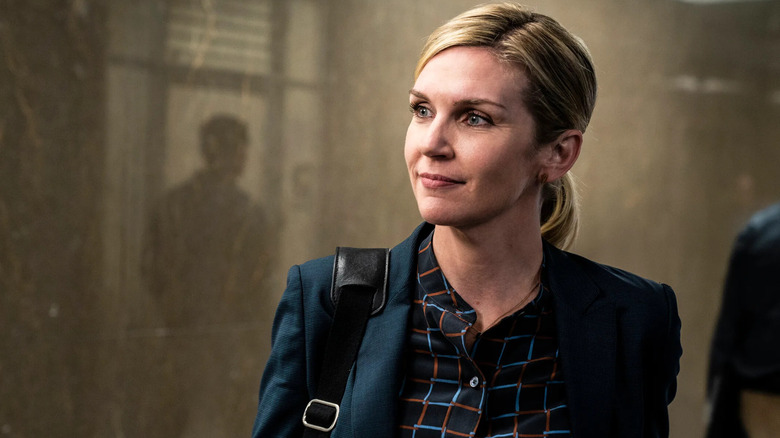 AMC
After five seasons' worth of egregious snubs, Kim Wexler finally got some well-deserved recognition this year in the form of Rhea Seehorn's long-overdue Emmy nomination. The actor, who stars opposite Bob Odenkirk in "Better Call Saul," put in a fantastic performance over seven years in AMC's "Breaking Bad" prequel series, yet her name never came up on the Best Supporting Actress in a Drama Series ballot — until now. Tonight, she competed against a crowded field of performers that also included actors from popular shows like "Euphoria," "Succession" and "Squid Game."
"Ozark" star Julia Garner ultimately won the Best Supporting Actress trophy, in a result that wasn't too surprising ("Ozark" is an Emmy darling; in fact, this is the third time Garner has won in this category for the show). But fans of Seehorn's work on "Better Call Saul" shouldn't feel too disheartened.
While every awards show has its share of snubs and surprises (it would be impossible not to, especially with the explosion of content in recent years), the Emmys are particularly notorious for being out of touch, with some truly baffling selections and omissions every year. Emmy voters tend to have their favorites that they stick to, and while the first five seasons of "Better Call Saul" were collectively nominated for 19 Primetime Emmys, they've yet to notch a single win. 
But even if Emmy voters haven't been paying attention, TV viewers certainly have. And Seehorn doesn't need an Emmy to prove that she has delivered one of the greatest performances as one of the best TV characters in recent memory.
'You don't save me. I save me.'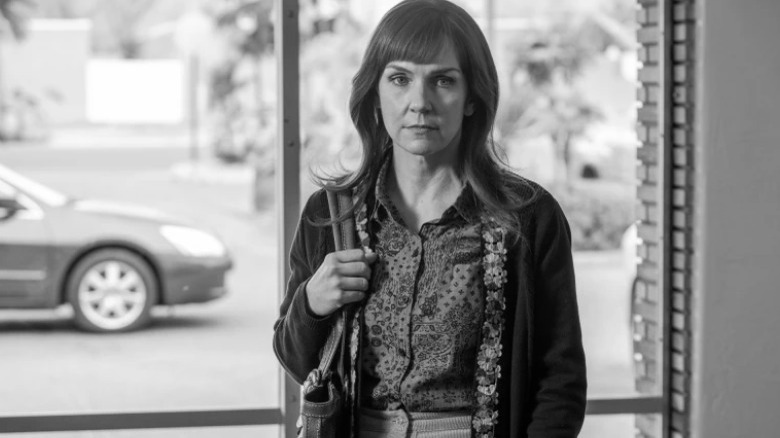 AMC
Seehorn's powerhouse performance as Kim Wexler crept up on audiences over the course of "Better Call Saul." She started as lawyer and con man Jimmy McGill's work friend, but by series' end, became his wife, partner in crime, and cunning, clever better half. Seehorn honestly deserves a Best Lead Actress trophy rather than a Best Supporting Actress win, as the final season's emotional plot drove home just how completely this show has always been about Jimmy and Kim together.
The basically perfect, surprisingly romantic "Better Call Saul" finale took place post-"Breaking Bad," and saw Jimmy denounce his Saul alter ego in one last dramatic courtroom moment that was designed to win back Kim despite trapping him in what could amount to a lifetime prison sentence in the process. The series' phenomenal final scenes, shot in black and white that somehow still feels warm, leave a flicker of hope for the star-crossed antiheroes, as Seehorn's subtle, fantastic performance guides the show through to the closing credits one last time. 
It's worth noting that the second half of season 6 aired during the eligibility window for next year's Emmys, so Seehorn does still have one more chance to take home the trophy for her standout performance in the penultimate episode, "Waterworks," and in the finale. And while it would be nice to finally see her get that long-overdue recognition, she already won our hearts a long time ago.
Chronically underrated and consistently incredible, Seehorn's work over the last six seasons of "Better Call Saul" has made her a star. And now that the show is complete, we can't wait to see what she does next.