Mission Impossible 8 Production Halted Due To A Very Sheepish Nemesis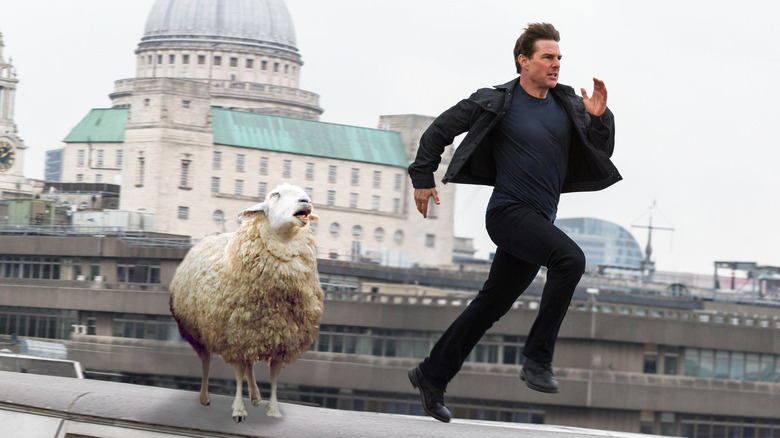 Paramount Pictures / Universal Pictures
The next two "Mission: Impossible" movies have suffered their fair share of setbacks. Writer/director Christopher McQuarrie and star/producer Tom Cruise have had to weather the pandemic, lots of crazy stunts, and other issues while attempting to get "Mission: Impossible – Dead Reckoning Part One" and "Part Two" in the can. Now, "MI8" has suffered another, albeit minor and kind of hilarious, setback.
As reported by Fox, filming on "Dead Reckoning Part Two" was briefly held up by a stray flock of sheep. Yes, a multi-million dollar Hollywood production with one of the biggest movie stars in the world, in one of the most successful franchises ever, had to hit the pause button because of some sheep. The animals were said to be passing through while McQuarrie and the team were attempting to get some much-needed shots done in the Lake District in England. Cruise reportedly just stood by and watched the animals do their thing, making room for them to pass on through.
It's not clear how long production was held up. Still, shutting down a film of that size for any amount of time can be costly, given the size of the crews on the cost of having to adjust a schedule. And, quite frankly, adding any more cost to these movies right now seems like a headache.
Another day, another problem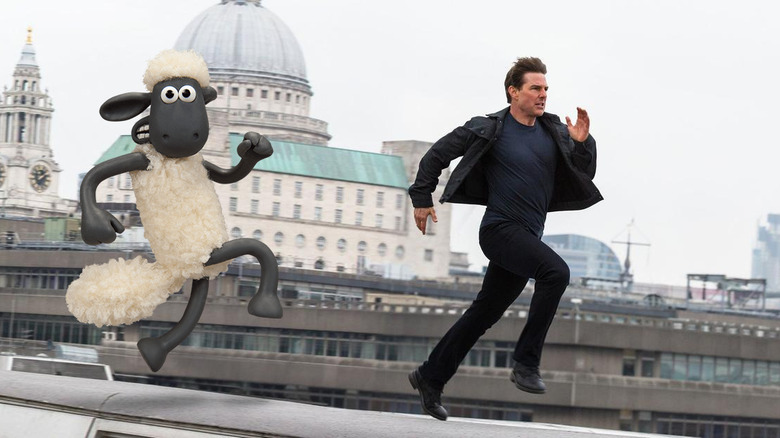 Paramount Pictures / Aardman Animation
Thanks to costly pandemic delays and what was already going to be an expensive, blockbuster undertaking, next summer's seventh "Mission: Impossible" movie saw its budget balloon to nearly $300 million. Given that the budgets for these movies had previously capped out at $180 million, that is one heck of a steep increase. And we should note that number does not account for marketing. That being the case, Paramount is already going to have an uphill battle in making money here. So, it would make sense to try and get the follow-up, likely the last installment to star Cruise's Ethan Hunt, in for a lot less money if at all possible. These sheep weren't helping.
The cast for the next installment includes Simon Pegg (Benji), Rebecca Ferguson (Ilsa), Ving Rhames (Luther), Vanessa Kirby, and Henry Czerny (Kitridge). Newcomers include Hayley Atwell ("Captain America: The First Avenger"), Pom Klementieff ("Avengers: Infinity War"), Cary Elwes ("Saw"), Indira Varma ("Obi-Wan Kenobi"), Shea Whigham ("Boardwalk Empire"), Esai Morales ("Arrow"), and Rob Delaney ("Deadpool 2"), with Nick Offerman ("Parks and Recreation") recently signing on for "Dead Reckoning Part Two."
"Mission: Impossible – Dead Reckoning Part One" is set to hit theaters on July 14, 2023, with "Part Two" set to follow on June 28, 2024.