Some NSFW Improv Earned Robert Iler His Role As The Sopranos' AJ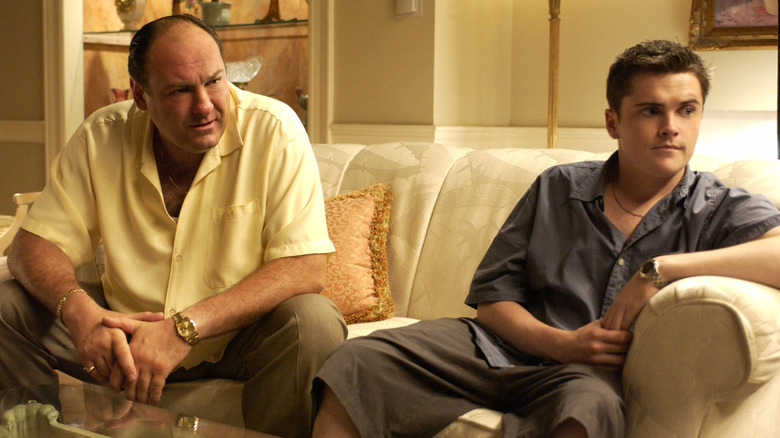 HBO
If you ever wondered how such a blatantly Irish kid landed the part of AJ in "The Sopranos," you aren't alone. The HBO series broke television convention in a lot of ways, particularly for its cinematic exploration of a mafioso's subconscious, but it was also known for its unexpected casting choices. Robert Iler never thought he would get a call back after his "Sopranos" audition, but his hilarious improvisation made him stand out from the other candidates. It didn't matter that Iler didn't look the part — he was a perfect fit.
When Iler's mother saw the other actors auditioning for AJ, she was sure that her son would never land the part. "It was a roomful of a hundred Italian kids, and they all had the slicked-back hair, leather jacket, and they were trying to be like 'The Sopranos.' Little Italian mob guys," Iler recalled (via Woke Up This Morning). Iler stuck out like a sore thumb among the other applicants. "I was like, two hundred pounds with freckles, as Irish as can be," he explained.
Luckily, Iler had a trick up his sleeve. During his line reading, he whipped out some improvisation that impressed series creator David Chase. "Every time I said 'f***' in the audition, David laughed," the actor remembered.
His cursing also made an impression on casting director Georgianne Walken. "How could you not hire a kid that says, 'F** it,' in the casting room, unannounced?" Walken said.
Every time Iler cursed, David Chase laughed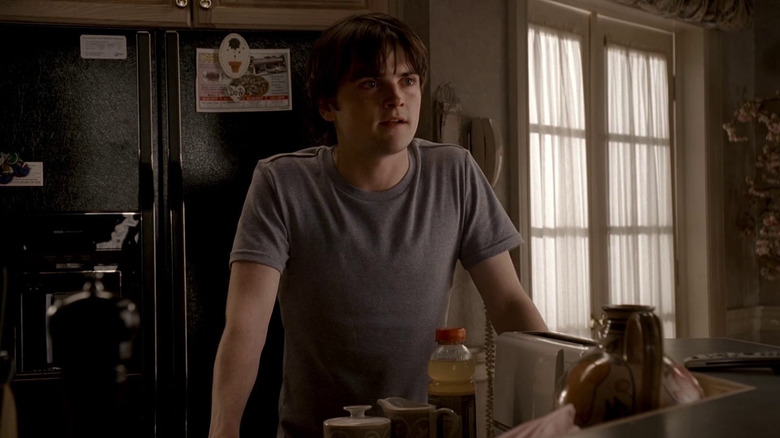 HBO
By cursing at his "Sopranos" audition, Iler proved that he would be a perfect fit for the harsh tone of the series. His authenticity was exactly what the casting director was looking for. "He wasn't an actor-actor. He wasn't trying to be a child star," Walken explained. "That was what was so important... I didn't want anybody cute or adorable. I didn't want anybody you want to go pinch their cheek."
Iler never went to acting school, so he maintained a real and rugged charm that other child actors were trained out of. "I never studied any kind of acting," he admitted on the Talking Sopranos podcast. However, he did learn a lot from watching his incredible scene partners and on-screen parents, Edie Falco and James Gandolfini. "You see how they do it, and that's all you know," Iler said.
AJ was not the only role that "The Sopranos" cast unconventionally. Lorraine Bracco, who had famously played a mob wife in "Goodfellas," was cast not as Tony's wife Carmela, but as his therapist, Dr. Melfi. Conversely, Edie Falco was best known for portraying a corrections officer in "Oz" when she was cast in the hyper-feminine role of a Jersey housewife. In fact, Falco was just as sure as Iler that she would not land the role. "I know who gets cast in these Italian-American woman roles, and it's not me," she said (via Vanity Fair).
Iler took a major risk by diverting from the script at his "Sopranos" audition, but his improv is exactly what earned him the part. He may have been a strange choice at first glance, but Walken and Chase saw past appearances and formed one of the strongest television casts to date — Iler included.