Selling The Sopranos To HBO Just Took A Little Bit Of Murder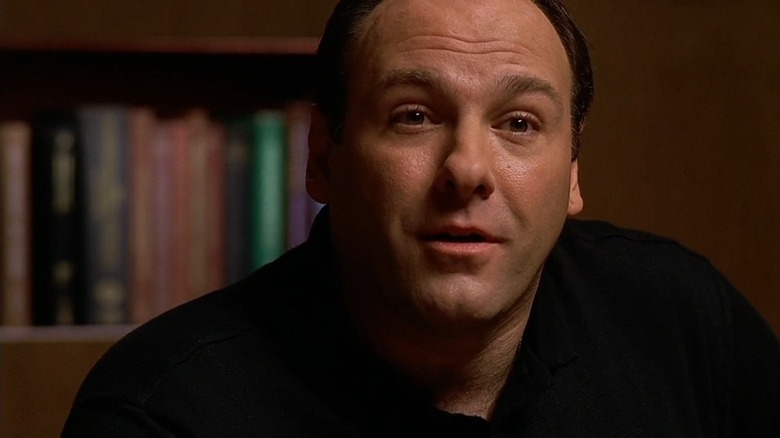 HBO
"The Sopranos" isn't the first gangster show on television and it won't be the last, but it certainly made the biggest splash. Over six sprawling seasons from 1999 to 2007, David Chase's HBO series told the story of his own warped family dynamic, infused into a mobster's mid-life crisis. A decade and a half after its finale, the show has become one of the most celebrated of all time.
In a chat with The Hollywood Reporter, Chase talked about the show and the lessons that came of it. The "Not Fade Away" director was no stranger to writing for episodic tv; prior credits include "Kolchak: The Night Stalker" and private eye series "The Rockford Files." It was on these shows that Chase learned the boundaries of network television writing – "Rockford" taught that he could make his hero do all sorts of awful acts as long as he's competent at what he does. That moral relativism would emerge later in Tony Soprano and the anti-heroes he influenced.
"The Sopranos" saw James Gandolfini playing the role of Tony, a capo in a crime family, struggling to navigate his work-life balance. Originally conceived as "a feature about a mobster and his problematic mother," the Soprano story was a relatively bloodless one, passed on by several networks including Fox, for whom Chase wrote a pilot. He tells THR the tweak that got the greenlight:
"In that pilot, there were no murders. It was a mob show, but nobody got killed. And after they turned it down, it took me a while, maybe a couple of months, before I thought, 'Wait a minute, it was a mob show, but they didn't get what they were expecting.' So I added a murder and [producer] Brad Grey took it to HBO."
A mobster and his problematic mother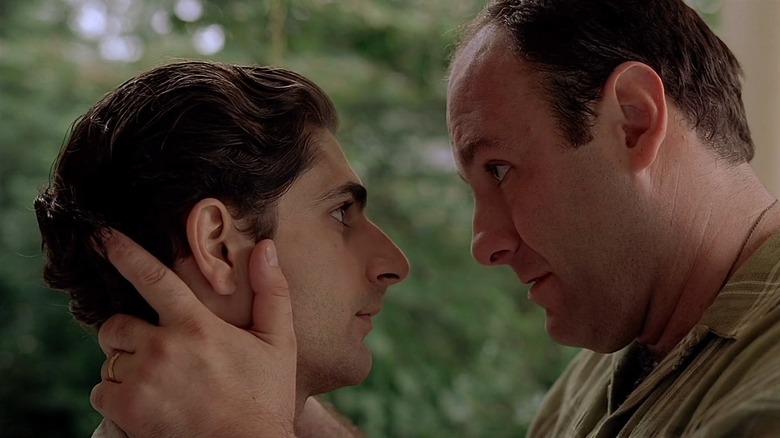 HBO
The murder that put the episode over the top was that of Emil "Email" Kolar, shot in the head by Tony's nephew Christopher Moltisanti. Kolar's Czech-American criminal organization was competing with Tony's Barone Sanitation for a contract – a big get for those in the waste management business – and Christopher jumps at the chance to resolve the "trash problem." He lures Kolar to the mob-owned Satriale's Pork Store under the pretense of a drug deal and, after disrespecting Emil multiple times by mispronouncing his first name, casually shoots him.
It strikes just the tonal chord that creator David Chase was looking for — anything but "'The Godfather' for television." He told THR:
"I thought, "There already is a 'Godfather.' Why are we going to do that, guys with long coats and hats?" Now, I had conceived of a feature about a mobster and his problematic mother, and I had pitched it to my new agents, and they said, 'Mob comedies? They're dead.' So I let it go. And then when this came up, I thought, 'I wonder if that would work on TV.'"
The pilot proves that the concept could work well. The first murder of the show essays the energy of a Scorsese gangster movie: the shooting is intercut with images of Satriale's stockroom, where framed monochrome photographs of Bogart and Sinatra observe the criminal proceedings. The voice of Bo Diddley accompanies the gunfire, asserting "I'm a man, I'm a man" alongside Christopher's attempt to prove himself to the family. It's a disturbing scene out of the gate, but over the next 86 episodes there would be over 60 more onscreen kills – this was no mob comedy.