Halo Season 2: Everything We Know So Far About The Return Of The Video Game Adaptation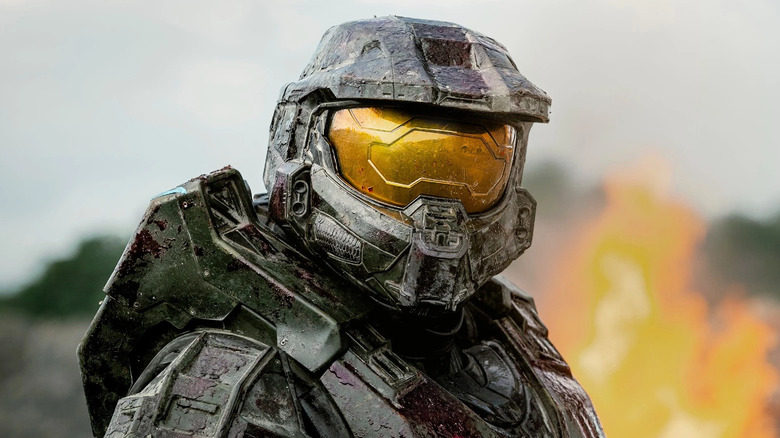 Paramount+
The Master Chief is back and — stop me if you've heard this before — he's ready to finish the fight. After a sprawling opening season introduced diehard gamers and casual viewers alike to the Paramount+ live-action take on "Halo," the sci-fi series is set to make its return for a second go-around depicting the epic war between 26th century humanity and the fearsome conglomerate of alien species known as the Covenant.
Originally brought to life in the critically-acclaimed and immensely popular "Halo" video game series, and the subject of decades of fevered demands to translate such material to the big screen, the valuable IP has instead found its home on streaming with a much more indirect approach than fans may have expected. Far from an exact, beat-for-beat adaptation of "Combat Evolved" or any other story set in the "Halo" universe, the Paramount+ series has largely forged its own original, winding path to telling the story of how the Master Chief John-117 ends up on the otherworldly Halo installation that gives the property its name.
Incredibly enough, the characters never quite made it there by the end of season 1 (physically, at least!), so that leaves plenty of material for subsequent seasons to follow up on and explore. The journey will continue for at least one more exciting batch of episodes, so read on to find out everything we know about "Halo" season 2 so far.
When and where to watch Halo season 2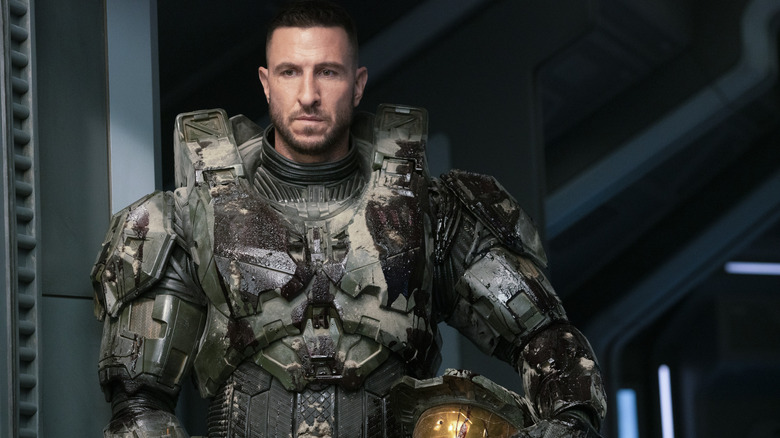 Paramount+
We've known that season 2 of "Halo" would be in the offing for quite some time now, officially announced even before the very first episode ever premiered in a move that spoke to the confidence that Paramount+ had (or wished to project and ensure higher viewing numbers, at least) in the buzzy series. Last we heard, production was tentatively scheduled to begin sometime in the summer of 2022. We finally received more concrete news on that front when the streaming service revealed that production had commenced on September 14, 2022 in Iceland with additional shooting set to take place Budapest, Hungary, "later this year."
No details were revealed as to any official premiere date or how many episodes season 2 will be made up of, but it's reasonable to assume that "Halo" will return to a Paramount+ account near you sometime in the last quarter of 2023, if not the first half of 2024.
What we know about Halo season 2's story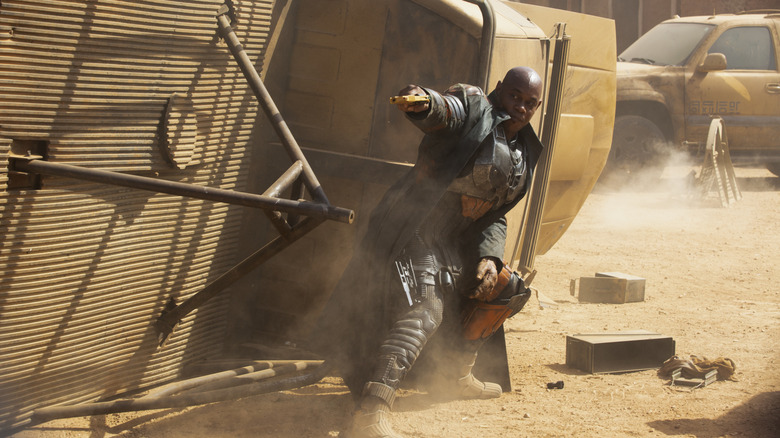 Paramount+
Thanks to some nifty lore management, the first season of "Halo" was established as taking place in an alternate timeline that exists separately from the popular video game series, allowing both mediums to thrive alongside one another without one contradicting the other. 
Throughout the course of the story, the action took the Master Chief from the rigid power structure of United Nations Space Command (UNSC) headquarters on the planet of Reach to the far-flung desert colony world of Madrigal to the asteroid habitat known as the Rubble to the heart of Covenant-controlled space. Despite frequent teases, however, the season ended without any of the characters making it to the actual Halo array (other than brief psychic links that temporarily brought the Master Chief's consciousness to the ring, at least).
Thanks to a wholly original story that merely repurposes imagery, characters, and locations from the games and various novels, "Halo" season 2 truly has a blank slate to go in any possible direction that the creative team can think up. Presumably, there will be an actual Halo ring involved at some point ... but other than that, at this early stage, your guess is as good as ours.
What we know about the cast and crew of Halo season 2
Paramount+
Physically imposing Pablo Schreiber, best known for his appearances as Nick Sobotka on "The Wire" and his turn in "American Gods" (and for being the half-brother of fellow actor Liev Schreiber), was cast to put on the famous helmet and Mjolnir armor of the genetically enhanced Spartan super-soldier Master Chief. He'll return for season 2 along with Natascha McElhone as the troublemaking Dr. Catherine Halsey, Jen Taylor as the voice of the artificial intelligence Cortana (reprising her same voice acting role from the games, notably), Bokeem Woodbine as washed-out Spartan Soren, Shabana Azmi as Admiral Margaret Parangosky, Natasha Culzac as Spartan squadmate Riz, Bentley Kalu as Spartan Vannak, Kate Kennedy as Spartan Kai, Olive Gray as Miranda Keyes, Yerin Ha as original character Kwan Ha, Charlie Murphy as the villainous Covenant-sympathizing human Makee, and Danny Sapani as Captain Jacob Keyes.
As for new additions, Joseph Morgan has been cast as James Ackerson, described as "a formidable intelligence operative who has spent his career climbing the ranks of the UNSC's secretive Office of Naval Intelligence," and Cristina Rodlo as Talia Perez, "a corporal specializing in linguistics for a UNSC Marine Corp communications unit and a relatively new recruit who has yet to see any real combat."
After season 1 endured a bit of a creative shakeup behind the scenes after losing its showrunners, "Halo" season 2 will bring on a whole new creative team of its own to replace creators Steven Kane and Kyle Killen. David Wiener ("Brave New World") takes over as showrunner and will executive produce. Though there's no information out just yet on who will take the reins behind the camera, season 1 directors included Otto Bathurst, Jonathan Liebesman, Roel Reiné, and Jessica Lowrey.