Quinta Brunson Gets Her Revenge For Jimmy Kimmel's 'Dumb Comedy Bit' During Her Emmy Acceptance Speech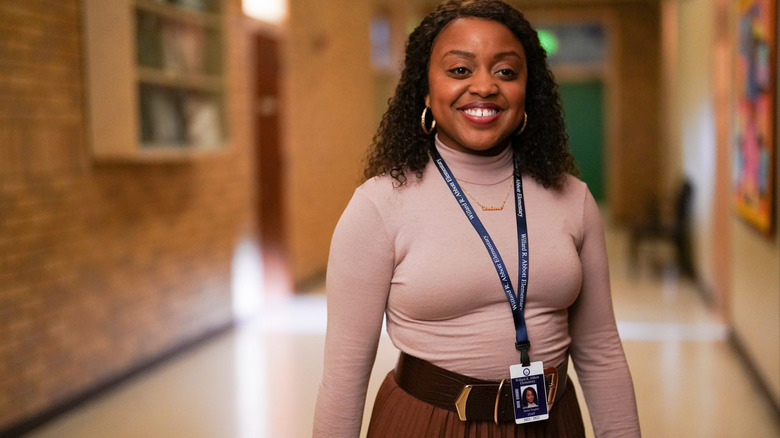 ABC
Earlier this week, "Abbott Elementary" creator, writer, and star Quinta Brunson became the second Black woman in 74 years of Emmy history to take home an award for Best Comedy Writing. Even before she was presented with a trophy, Brunson had already made history as the first Black woman to receive three comedy Emmy nominations — an accomplishment that won't surprise anyone who has already experienced the joy of watching Brunson's hit sitcom. The ABC series took audiences by storm when it first premiered in 2021, quickly winning hearts and gaining steam as one of the most talked about freshman comedies of the season.
"Abbott Elementary" follows a group of passionate teachers at an underfunded Philadelphia public school, telling their story in mockumentary style with sharp insights on education and hilarious commentary on the chaos of their everyday lives. Leading the charge is Brunson as Janine Teagues, an over-eager second-grade teacher who has yet to be worn down by the system and has a penchant for inspiring her co-workers with her optimism. Dominating in seven Emmy categories, the team behind "Abbott" walked away with three joyous wins — one of which was unfortunately marred by a comedy bit that went on way too long.
During Monday's Emmy Awards telecast, Jimmy Kimmel and Will Arnett presented the award for best writing in a comedy series, kicking off their onstage moment with Arnett dragging Kimmel by the feet. Basically, their bit was premised on the idea that Kimmel had passed out after drinking one too many margaritas when he lost in his previously announced category. But what started out as a hardly-amusing but mostly inoffensive bit quickly careened into irritating territory because while Arnett announced Brunson's win, Kimmel remained onstage.
Get off the stage, Jimmy!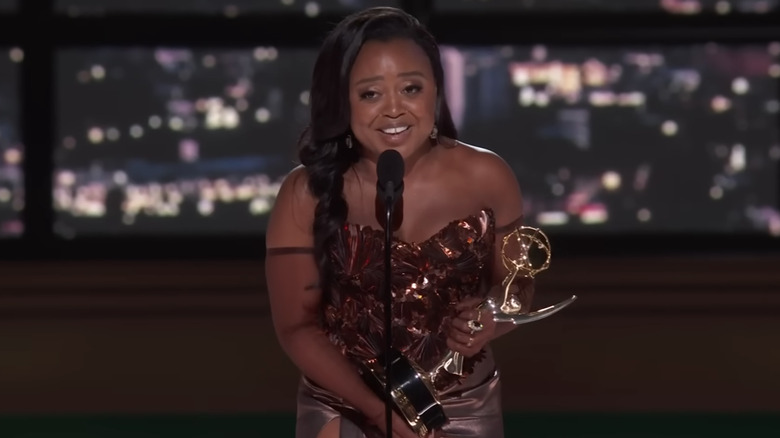 NBC
Strangely, it never occurred to the late-night host that actually announcing a winner would be a good place to end the bit and he remained on the ground as Brunson accepted her award. This means that she had to step over him to get to the microphone and in the rush of the moment, even spent a few seconds trying to wake him up ("Jimmy, wake up, I won!")
Afterward, Brunson was pretty unbothered about the whole ordeal telling reporters backstage that Kimmel's bit "didn't bother me that much." Meanwhile, her "Abbott Elementary" co-star and fellow Emmy winner Sheryl Lee Ralph was a lot less pleased and during ABC's TCA presentations said that she found Kimmel's actions disrespectful (via THR).
"I didn't know what was going on. I was like, 'I wish he'd just get up off the ground.' Then I realized it was Jimmy, and I was like, 'Ooh, the disrespect.' I love Jimmy Kimmel, but I'm sorry. I told him to his face, and he understood."
While social media continued to unleash their rage upon Kimmel's name, Brunson joked that she would get her revenge later in the week: "Tomorrow maybe I'll be mad at him," Brunson said at the award show press conference. "I'm going to be on his show on Wednesday, so I might punch him in the face." Well, folks, Wednesday night's show has come and gone — is there video footage of Brunson getting said revenge? Indeed, but with less punching and more interrupting.
Quinta Brunson gets revenge
An eye for an eye, they say. Brunson got her revenge for stolen stage time by crashing Kimmel's Wednesday night monologue. The audience applauded when Brunson stepped out holding her Emmy and asked Kimmel: "You know how, when you win an Emmy, you only have 45 seconds to do an acceptance speech, which is not that much time? And then you get less time because someone does a dumb comedy bit that goes on a bit too long?"
As Kimmel stepped into the background, Brunson took the opportunity to give a full acceptance speech, without fear of being interrupted by music or distracted by a bad joke. Later in the show, during her sit-down interview with the host, Kimmel took a moment to apologize for his "dumb comedy bit," saying: "I'm sorry I did do that, actually. And also, the last thing I would ever want to do was upset you because I think so much of you. And I think you know that — I hope you know that."
Brunson very graciously accepted, explaining that regardless of what happened, she won her first Emmy and was wrapped up in the joy of the moment: "I had a great night." The rest of her late-night appearance is just as bubbly and hilarious as you'd expect. Plus, it includes a sneak peek at the upcoming season premiere of "Abbott Elementary."
The second season of "Abbott Elementary" premieres on September 21, 2022.