The Poster For Chucky Season 2 Is Loaded With Easter Eggs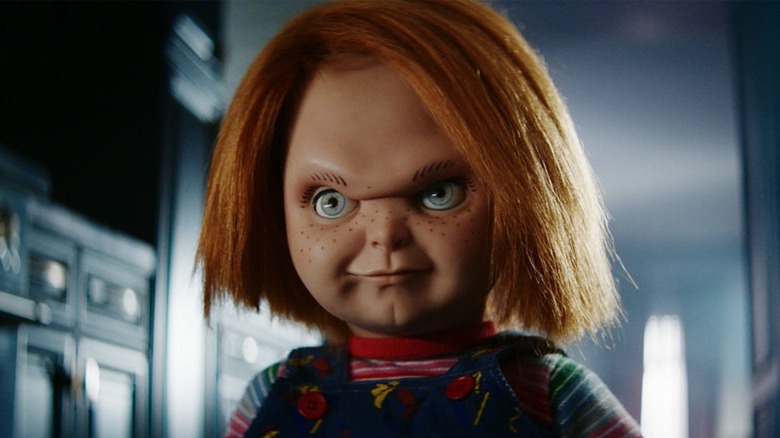 SyFy
You just can't keep a Good Guy down. Though momentarily interrupted by molten plastic, shotgun blasts, and an OSHA-violating carnival fan, Chucky has managed to survive seven feature films, a surprisingly awesome remake, and a television series entering its second season. The USA and SyFy co-production from "Chucky" creator Don Mancini has been pulling double duty as it follows a new set of characters, while also building upon the momentous events from "Cult of Chucky."
With a full season under its belt, "Chucky" has done a great job of sticking to its decades-long continuity, which has undergone a number of tone shifts. Brad Dourif has voiced the little psycho puppet since the '80s, with only the kind of foul-mouthed flair that he brings to this character. "A true classic never goes out of style," as Chucky would say.
With season 2 only weeks away, IGN has released an exclusive trailer showing Chucky terrorizing the kids from last season, in addition to some new blood. But the development that I want to focus on is the poster, which features a cavalcade of easter eggs from the many slayings of Chucky's past.
Chucky sits atop a throne to die for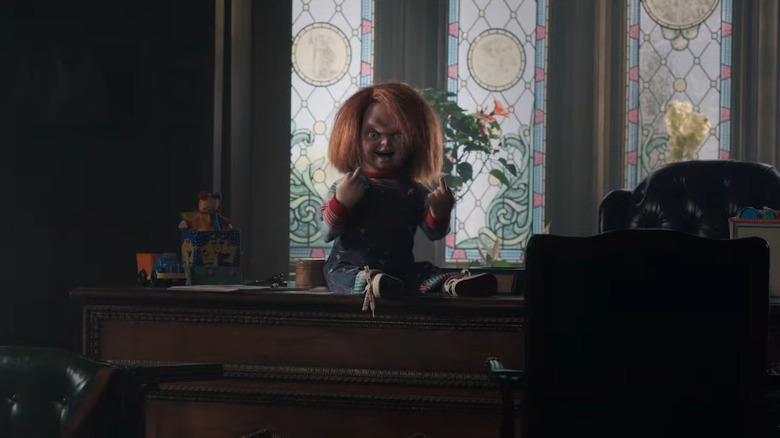 SyFy
While the Targaryens vie for the Iron Throne, it appears that Chucky has been dealt one of his own. Annabelle and the goodest guy Brahms can fight all they want but the supreme killer doll to end killer dolls (Tommy never stood a chance) has rightfully taken his unholy mantle. It's a golden monument meant for a slasher titan, which is literally built upon the catastrophic foundation of Chucky's infamous reign.
What grabbed my attention right away is the wall-to-wall easter eggs surrounding Chucky as he scowls at all of us. I have to give serious commendation to the graphic design artist who populated the one-sheet with all of these goodies without making the whole thing feel cluttered and busy.
Right away you'll notice some standouts, such as the Heart of Damballa medallion, which works as the throne's centerpiece of sorts, in addition to the doll Tiffany and Glen/Glenda busts on the end of the armrests. You'll even observe that there are two Jack-in-the-Box clowns behind Chucky, each with the same horrified faces as the one featured on that awesome poster for "Child's Play 2."
But what really makes this poster special are all of the cool little hidden nods to Chucky's victims that you have to really look for in order to catch.
Trophies of past victims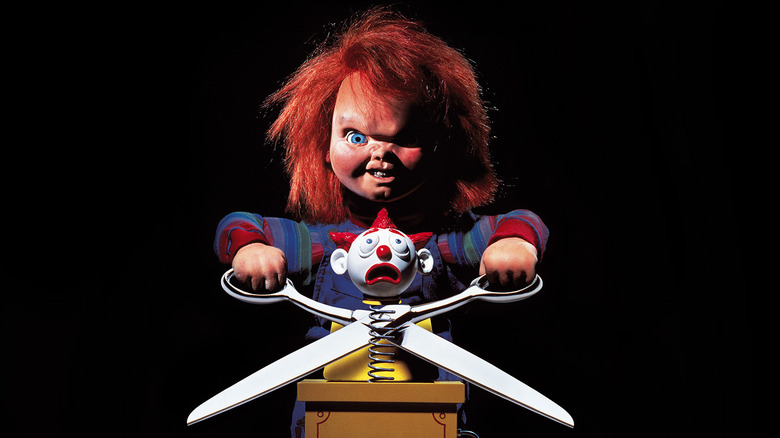 Universal Pictures
If there's a way to wield it, there's a likely chance Chucky has used it to claim one of his many victims across the past three decades, and his throne is littered with them. While it didn't kill him, the chair's support looks like the bat Chucky used to knock out Det. Norris way back in "Child's Play."
If you look at the use of repetition, you'll see the ax he used to lop off Ian's jaw ("Curse of Chucky"), the used syringes that took out Det. Peyton ("Chucky"), the scalpel that he commandeered to get Jake in trouble in science class ("Chucky"), and the hammer that started it all when Maggie was launched from the high-rise window of Andy's childhood apartment ("Child's Play"). But that's not all, folks. Some of my favorite little nods involve the can of hairspray Glenda used to set Joan on fire ("Seed of Chucky"), the rat poison used for deadly chili roulette ("Curse of Chucky"), the yardstick used to kill Ms. Kettlewell ("Child's Play 2"), and to top it all off, the butcher knife that the pint-sized slasher would likely feel lost without.
Mancini has always found a way to move forward while acknowledging the legacy of the past. All this poster was missing was the flour on the soles of Chucky's shoes ("Child's Play"). I can't quite place the meat cleaver, which only leads me to believe that Chucky will make use of it at some point this season.
One thing is for sure, "Chucky" is back! He always comes back!
The season premiere of "Chucky" will air on both USA and SyFy on October 5, 2022.