Chucky Season 2 Trailer: The Good Guy Doll Takes His Killer Instincts To Church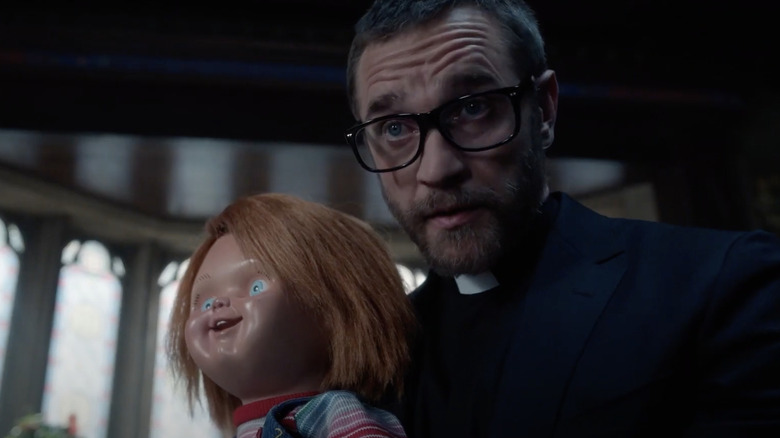 SyFy
A new "Chucky" season 2 trailer just dropped, revealing more evil antics from the Good Guy doll who has now haunted multiple generations of innocent kids thanks to several movies and the series from SyFy and USA. At some point, the people of this fictional universe should really band together to burn all of these dolls because the body count is getting ridiculous. Poor Jake Wheeler (Zackary Arthur) had no idea what he signing up for when he took home a random garage sale doll. Jake planned to use Chucky as part of an art project — little did he know that the vintage toy was possessed by the spirit of the long-dead serial killer, Charles Lee Ray. Within a matter of days, Jake's entire life was falling apart: his father was murdered, the authorities were eying him suspiciously and he was shipped off to live with family members who resented him.
From there, the first season took some sharp turns: Chucky committed more murders as Jake struggled with the pressures of controlling the doll and fending off homophobic bullying from his peers. And while Jake considered the idea of lashing out with violence, Chucky got busy creating an army of dolls for world domination. Thankfully, his scheme didn't quite come together thanks to the work of some troublesome teens — Jake, Devon (Björgvin Arnarson), and Lexy (Alyvia Alyn Lind) — along with Chucky's ex Tiffany (Tiffany Valentine). So where does the series go from there in season 2? The answer is, obviously, church.
Watch the Chucky season 2 trailer
The kids are heading to catholic school and Chucky isn't too far behind! Perhaps it's time for his corrupted soul to chat with a priest or pop into a confessional. Or perhaps catholic school is just a great site for even more murders. Crude, rude, and murderous as ever, Chucky may have a lot of backup (thanks to his army of dolls) but he's also got some formidable opponents now that the teens understand who they're up against.
For those up to date on all the "Chucky" lore, the trailer has plenty too get excited about — not only are there countless easter eggs but plenty of returning characters from throughout the franchise's history. Notably, non-binary actor Lachlan Watson (who previously starred in "Chilling Adventures of Sabrina") has been cast as human versions of Glen/Glenda, the genderfluid offspring of Chucky and Tiffany who seemingly died in 2004's "Seed of Chucky." But resurrections are nothing new here, as you can probably guess from Chucky's entire existence.
"Chucky" returns to SYFY and USA Network on October 5, 2022. Below is the official synopsis and season poster.
CHUCKY is a continuation of the iconic film franchise chronicling the murderous escapades of the notorious killer doll. In the TV series, Chucky crosses paths with archenemies, old allies and new prey, as he seeks to inspire fear and mayhem wherever he goes. After his diabolical plan to invade America's children's hospitals was foiled in season one, Chucky now seeks revenge on those he holds responsible: surviving teens Jake (Zackary Arthur), Devon (Björgvin Arnarson) and Lexy (Alyvia Alyn Lind), along with his ex Tiffany, now his sworn enemy. Meanwhile, can "Jevon" make it as a couple in the face of adversity at their new Catholic school, not to mention a brand-new onslaught of terror from the demon doll.