Ti West Sees Pearl As A Darker Version Of A Disney Classic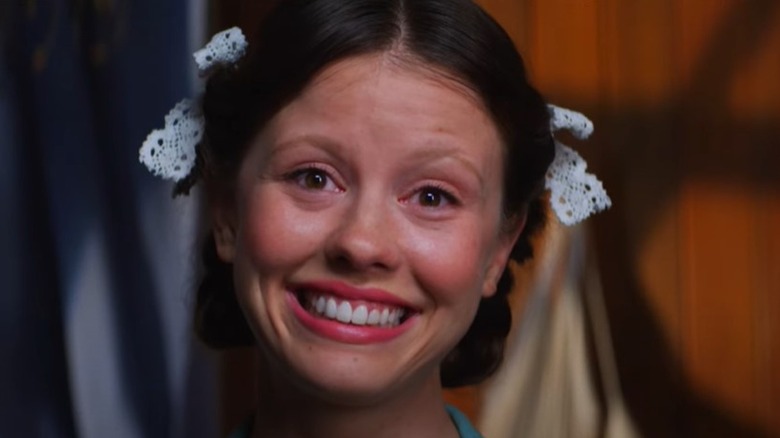 A24
While we're all rightfully raving about the unpredictable bent of Zach Cregger's "Barbarian," it seems no one has proved to be more of a chameleon in the world of horror this year than Ti West. It was well known that "X" was going to be West's return behind the camera after "In a Valley of Violence," but I don't think any of us were prepared for an entire universe of his making.
At the SXSW premiere for "X," West revealed that he utilized the film's sets to shoot an entire prequel film named "Pearl" in secret. It's crazy that we already have a follow-up to one of the best films of the year within less than six months. If that wasn't already cool enough, as of last night's screening of "Pearl" at the Toronto International Film Festival, West unleashed a teaser promo for "MaXXXine," the third film in the series, which will follow Mia Goth's titular "X" character as she navigates the Hollywood scene of the mid '80s.
While "X" was West's gloriously smutty ode to '70s exploitation and "The Texas Chain Saw Massacre," the aesthetic of "Pearl" appears more indebted to the vivid technicolor dreamscape of a twisted "Wizard of Oz." However, West sees the daylight nightmare resembling a beloved Disney classic, albeit probably not the one you're expecting.
Mia Goth is practically pearl-fect in every way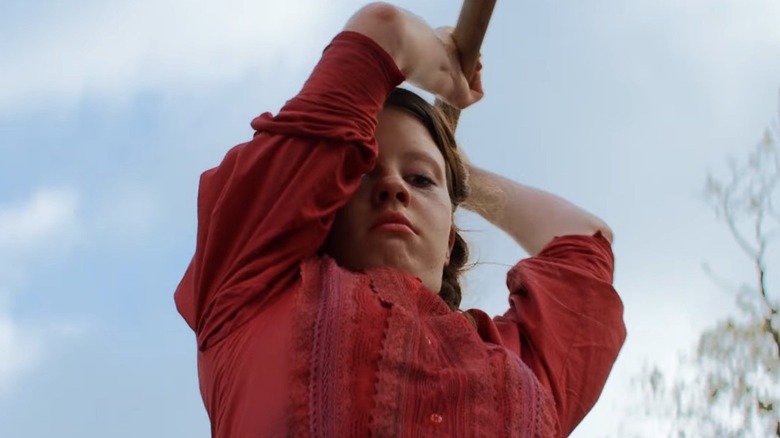 A24
In an interview with Opentapes, West cites Disney's "Mary Poppins" as a companion piece of sorts to "Pearl," given how they both radiate a celebratory nature toward the lucid imagination of Hollywood's golden age. West also spoke about using the titular character as a means to explore the impact stardom can have on folks:
"There is a certain ambition that comes after seeing something on screen. Then Pearl is isolated, and so that has resulted in the whole film[...] I have seen many parallels between me, Pearl and cinema. I have found experiences with which I grew up in the world of cinema"
While "Mary Poppins" isn't exactly the first Disney film I would think to make a comparison to, in addition to the aesthetic radiance, I can see what else West could be alluding to here.
In tandem with screen characters like Julie Andrews' Mary Poppins and Gene Wilder's Willy Wonka, Goth's Pearl appears as a mysterious gatekeeper of a rich, colorful world, both off and on screen. There's an air of mystery about her as she smiles for everyone to see. What exactly does a character like Pearl do when they don't have a front to put on?
If there's any Disney movie that the themes of "Pearl" appear to resemble, it's "Pinocchio," where the glitz and glamour of show business is a facade for the ugliness embedded within. Pearl may not descend from the skies with a magical umbrella in hand like the flying nanny, but she'll likely descend from her moment in the spotlight with an ax in hand.
"Pearl" is set to hit theaters on September 16, 2022.