Antonio Banderas Risked His Life For A Slapdash Desperado Stunt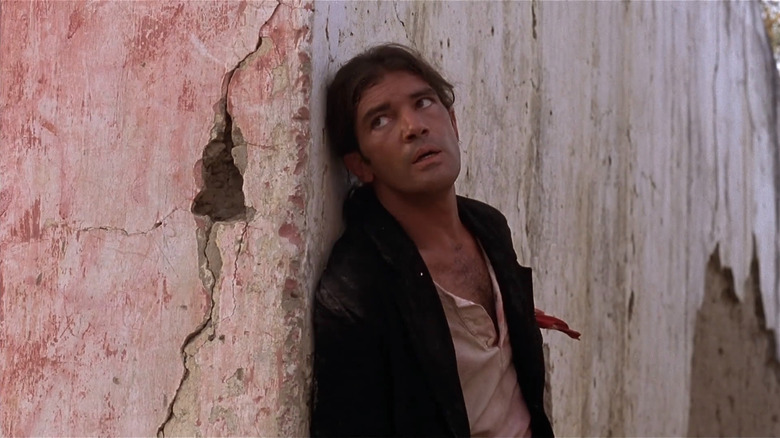 Columbia Pictures
Many a Robert Rodriguez flick has featured Antonio Banderas or some such actor walking away from an explosion without looking back. Banderas first teamed with Rodriguez on the 1995 Western actioner "Desperado," which also introduced the world to Salma Hayek and formed the second installment in Rodriguez's "Mexico Trilogy" after his feature-length directorial debut, "El Mariachi." The title role in "El Mariachi" was played by Carlos Gallardo, but Banderas took over in "Desperado," the year after he appeared in "Interview with the Vampire" with Brad Pitt and Tom Cruise.
Though he may have brought a movie star quality to the new and improved El Mariachi character, Banderas still found himself in a position where he was doing dangerous stunts. In one "Desperado" scene, El Mariachi dangles off the edge of a building, then falls backward while shooting his guns, landing on the next building. He retrieves some grenades from his guitar case and tosses them down into the alley between buildings at the men who are shooting at him and Hayek's character, Carolina.
Then, comes the explosion. Banderas and Hayek make it look effortless onscreen as they walk toward the camera with a fireball behind them — all without flinching. It just shows what good actors they are, because Banderas himself felt that heat.
While watching and reacting to clips from some of his old films in 2018 (via Entertainment Weekly), Banderas offered running commentary on the rooftop scene in "Desperado," painting a picture of a series of stunts where he and Hayek where doing some things unprepared.
'We were playing there with our lives, literally'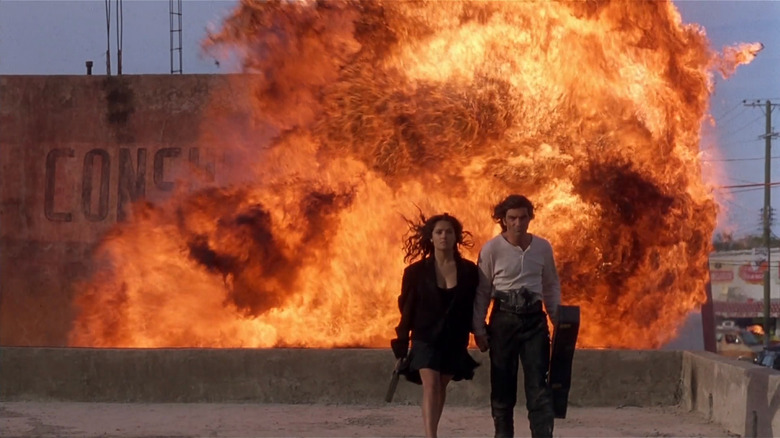 Columbia Pictures
Sporting a shorter, grayer head of hair than when he starred in "Desperado" in the mid-1990s, Banderas told EW:
"Here, we were playing there with our lives, literally. You know, we were at the top of this building, they were just holding me with a rope that then they erased. I don't know if we're gonna get to that point. They explode behind us — look at this. We are jumping here. Now, that's her holding from a crane, off a guy who was doing construction around the area. This is nothing prepared. You know, somebody was holding me with a rope there. And then I jump backwards in the same crane to just crash against the other building [laughs]. So, and now there is an explosion, and I don't know how — I mean, the heat behind us was so intense that it burned a little bit of my hair."
Robert Rodriguez is known for sometimes working with non-union film crews, as seen in the documentary "Full Tilt Boogie," which chronicled the making of "From Dusk Till Dawn" and the protests it encountered from the IATSE (International Alliance of Theatrical Stage Employees). This is the same union that almost went on strike in 2021 over working conditions on the set of film and television productions.
Needless to say, a somewhat hazardous situation like the one Banderas describes probably wouldn't happen on a union film set, but fortunately, they got the shots they needed and he survived to tell the tale of his time on "Desperado."