You Might Not Realize Desperado Is Part Of This Trilogy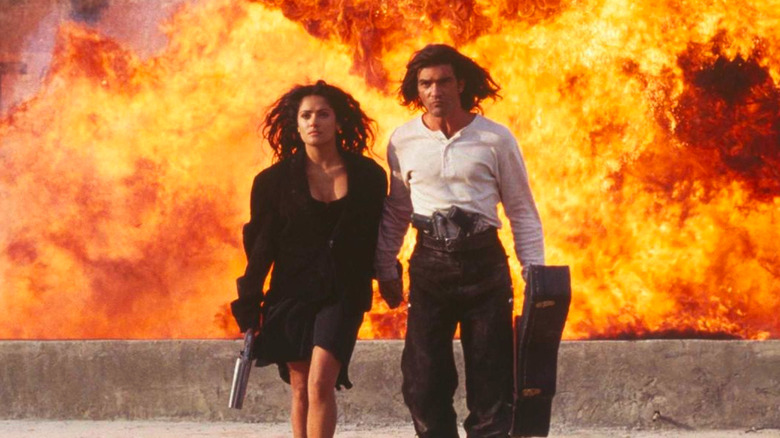 Sony Pictures
A good film trilogy is a double-edged sword: It can define a director's career, and alternatively limit a filmmaker if it becomes the only thing they're known for. That's why it can be so interesting when a series of films pivots after its first installment. Sometimes this is the result of shifting influences behind the scenes, but other times — like with the pulpy director Robert Rodriguez — it's a matter of trying to provide something that he wasn't seeing in other movies.
Rodriguez is one of the most agile directors around, and though some of his films have been misses, his sophomore feature "Desperado" was pretty much a hit across the board. Its high-octane, pulpy take on the spaghetti western established him on near-equal footing with his friend and contemporary Quentin Tarantino. The film serves as a wholly original entry in Rodriguez's body of work, but despite its standalone energy, "Desperado" is actually the second film in Rodriguez's unsung Mexico Trilogy.
Desperado Was a Departure from Rodriguez's First Film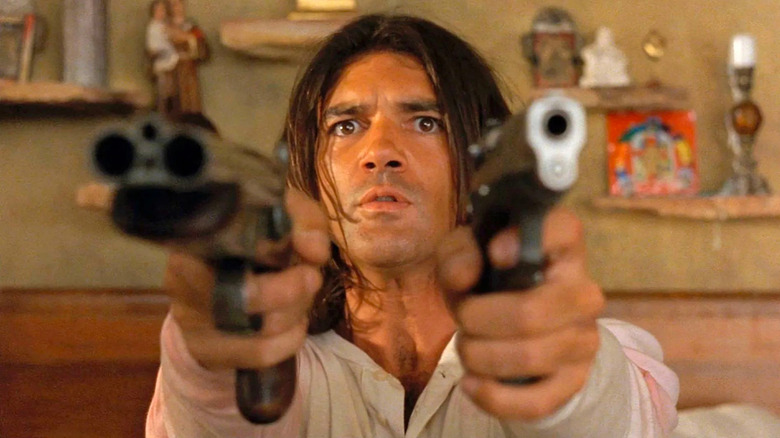 Sony Pictures
Rodriguez's first film, "El Mariachi," was groundbreaking for its shoestring budget alone. The director delivered the explosive violence and well-timed humor that would come to define his filmmaking style, all for just $7,000 (via The Washington Post). Rodriguez's process was well-documented both in the film's behind-the-scenes commentary and in his book "Rebel Without a Crew," which has become a sort of bible for filmmakers looking to pull off those same micro-budget feats.
"El Mariachi" showed what Rodriguez could accomplish with next to nothing. Still, the director was determined to push the envelope and avoid a sophomore slump, that dreaded dip in success that can sometimes follow a particularly stellar debut. So he put his post-"Mariachi" clout to good use and secured a $7 million budget for "Desperado," which was part remake, part sequel to his first feature. The story continues in a way, but Rodriguez makes a few changes that help "Desperado" stand apart from its predecessor.
Unlike "El Mariachi," a film shot entirely in Spanish, "Desperado" switches to English. Antonio Banderas taps in to play the title character, a role that Rodriguez's childhood friend Carlos Gallardo originated. "Desperado" also retreads the plot of "El Mariachi" in a pre-titles opening that acquaints him with a new audience, and allows a new adventure to begin pretty effortlessly.
"I made 'Desperado' because there really wasn't a Latin action hero," he told Creative Screenwriting. "I wanted my action movie to be just as strong as regular action movies, but with Latins in it."
The Creativity Continued After the Mexico Trilogy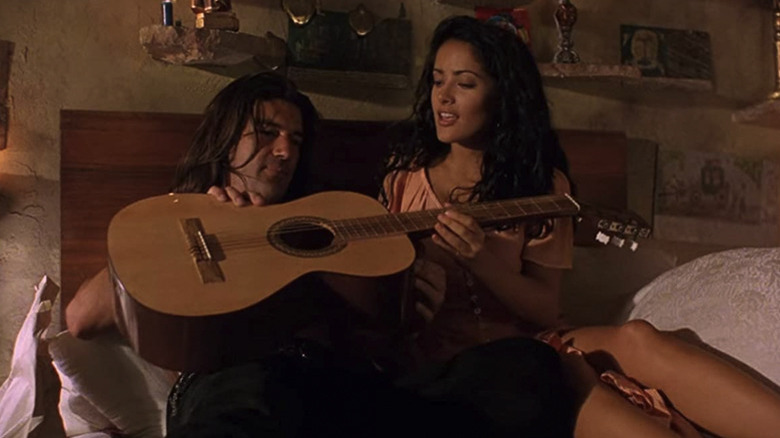 Sony Pictures
Rodriguez has a reputation for being frugal, but with "Desperado," he was no longer beholden to his tight "El Mariachi" budget. This meant explosions, sprawling set pieces, and fake blood galore. "Desperado" serves as the perfect playground for the director, and he proved his chops with all the campy flair that we recognize in his films today. It wasn't a huge box office smash, but it established Rodriguez and his stars –- Banderas and then-newcomer Salma Hayek – as international forces to be reckoned with.
Banderas and Hayek would return eight years later for "Once Upon a Time in Mexico," the third and final film in the Mexico Trilogy. Rodriguez's economical problem-solving skills were once again put to good use: As with many of his films to this day, Rodriguez directed, wrote, photographed, edited, and scored the film himself. Though the final chapter of the trilogy was panned for its convoluted story, it was still considered a feat to pack so many big-budget thrills into a more "modest" release.
Each film in the Mexico Trilogy pushed the envelope of what could be done within the indie genre. "Desperado" might have saved Rodriguez from a sophomore slump, but it also saved us from a future of formulaic films. Even for those who cringe at the director's love of campy gore, or the sometimes-corny gags that define his work, it's hard to overlook the film's cultural significance. Rodriguez's audacious eye is a welcome influence in Hollywood, and he has encouraged filmmakers to experiment in brazen ways, no matter their films' budgets.