How Each Black Adam Character Relates To Dwayne John's Antihero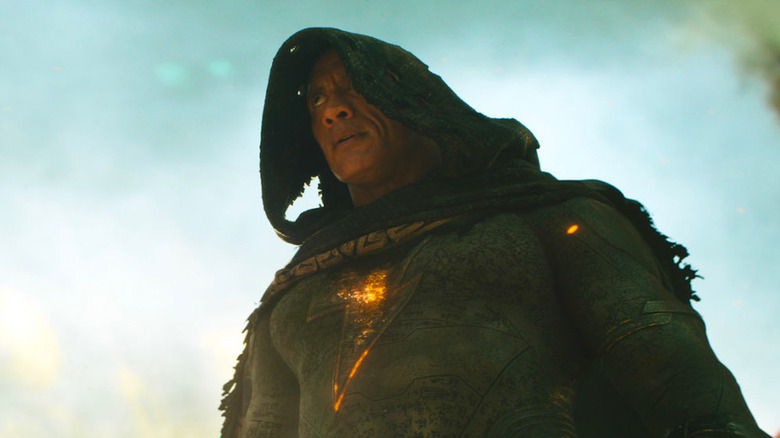 Warner Bros
Dwayne Johnson's "Black Adam" is about to shake up the DC Extended Universe. Based on the character created by Otto Binder and C.C. Beck, Black Adam is an agent of extreme chaos. In the comic books, he is typically the archenemy of Shazam. In Jaume Collett-Serra's film, he will be portrayed as an antihero, one who has the potential to be a powerful ally of the Justice Society of America or one of its most dreaded foes.
As written by Adam Sztykiel, Rory Haines and Sohrab Noshirvani, the movie will introduce both Adam and the JSA into the DCEU. Given that the beleaguered brand is attempting to right itself after years of aimless development, it's vitally important that "Black Adam" palpably connects with mainstream audiences. It won't be easy. There's a ton of backstory to cover in this film, which, if not cleanly conveyed, could prove to be a major setback for a company struggling to scramble out from under the Marvel Cinematic Universe's shadow.
Warner Bros and DC have a little over a month to convince moviegoers that this is a character and a long-term story arc worth buying into.
An uneasy alliance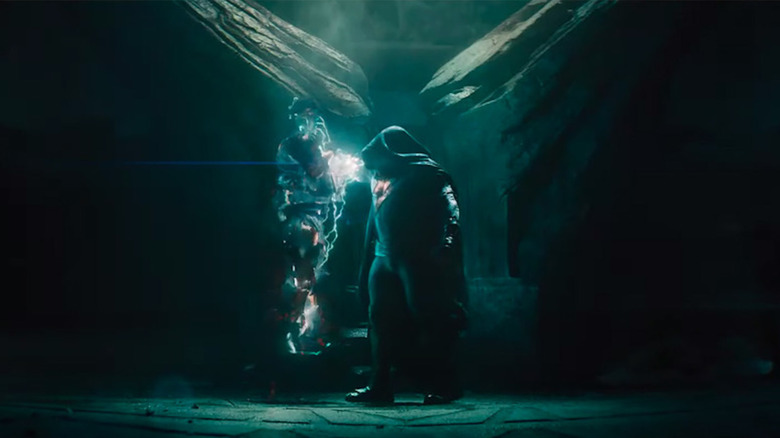 Warner Bros
To aid in this process, WB held a press conference that was attended by /Film's own Jenna Busch, where four of Johnson's co-stars — Mo Amer, Sarah Shahi, Aldis Hodge and Quintessa Swindell — explained their characters' complex relationships with the mercurial Adam.
Amer, a stand-up comic best known for his work with the trailblazing troupe Allah Made Me Funny, plays Karim, the brother of Sarah Shahi's superhero Isis. Karim harbors a healthy fear of Adam. "I'm terrified of him," says Amer. "He's scary, but you also feel very connected to him, in some weird way. You feel safe, specifically, for our characters."
Shahi concurs. She describes her character (aka Adrianna Tomaz) as "the leader of a resistance movement." Along with her JSA cohorts, she finds herself charged with defeating an oppressive force hellbent on enslaving the entire country. Isis is intrigued by Adam. "Adrianna, she's very excited, the fact that he's there, and, like Mo was saying, meets him with a lot of trepidation at the same time. But she kind of becomes the Black-Adam wrangler in a sense."
Swindell, who plays the literal force of nature Cyclone, has her sense of good and evil challenged by the arrival of Adam:
"I think, when she's introduced to Black Adam, over the course of the film, there's this bubbling question that happens of 'Are we on the right side, and is good and bad so black and white? Or is there this gray area that you can function within that isn't necessarily indicative of how we see justice? Are there other means that we can receive justice that works for this community and this group that's faced such hardship?'"
Hawkman and Black Adam are not the best of friends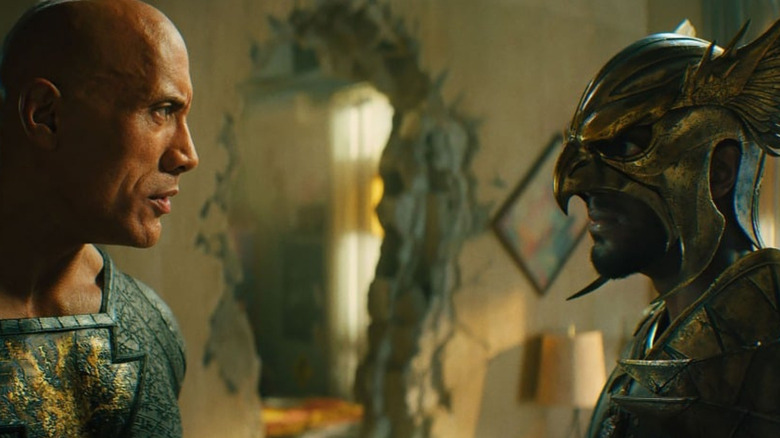 Warner Bros
Hodge, a fabulous actor currently riding the wave of two sensational performances in "Clemency" and "One Night in Miami," locks horns with Adam as Hawkman. The winged hero is the reincarnation of the Egyptian prince who consigned Johnson's character to 5,000 years of confinement, so there's a bit of animosity between the two. Hawkman is also the leader of the JSA. He's guided by a strict moral code, and expects those under his command to adhere to his exacting ethics. He understands that Adam is driven by an equally strong sense of justice, but he does not approve of his methods. At all. Per Hodge:
"That's where Black Adam and Hawkman really clash, is, 'I get you. I see where you're at. I understand what you're trying to do. I don't agree with how you're doing it.' But, because they are both very much feral warriors, there's an understanding. I don't know if there's exactly a kinship yet, in the beginning, but there's a respect for, 'I see you. You see me. Now, what are we going to do about this?' That's where you get the fun. That's where you get the tussle."
Johnson and company will take this tussle to the big screen on October 21, 2022. Here's hoping it's a raucous, bruising brawl that gets the DCEU back on track. There's so much promise here. They just need to yoke it to a singular vision.