Dead Poets Society Was A Battle Between The Two Sides Of Robin Williams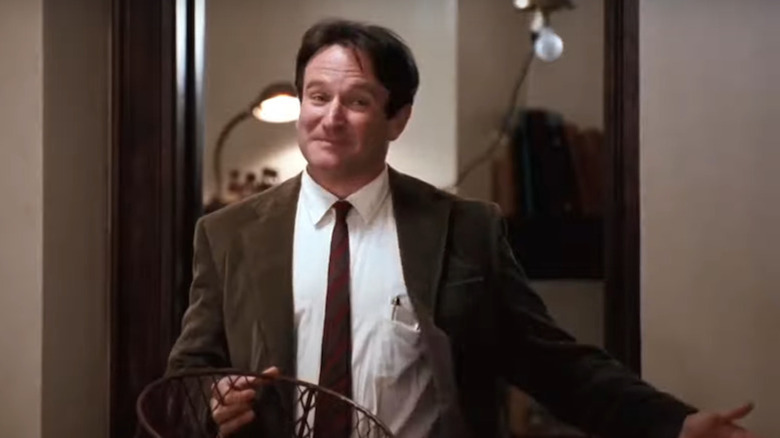 Touchstone
With 1987's "Good Morning, Vietnam," Robin Williams had effectively conquered the long-held belief by many critics that his stream-of-consciousness brand of comedy was ill-suited to movies. In doing so, he'd also proven that he was capable of contrasting his dizzying flights of improvisation with moments of genuine gravitas. The question now was could he pull off a major dramatic role that wasn't tailored specifically for him?
This challenge arrived in 1989 with Peter Weir's "Dead Poets Society." Tom Schulman's tale of John Keating, a private school English teacher who encourages his teenage pupils to engage in verse-fueled non-conformity left no room for Williams's hyper-referential talents. He couldn't suddenly dip into a Jack Nicholson impersonation or goof on Michael Jackson. Even if he stuck to references within the era as he did on "Good Morning, Vietnam," it'd still be jarring. He'd cease to be Keating. This turned out to be quite the challenge for Williams.
Let Robin be Robin, if only for one day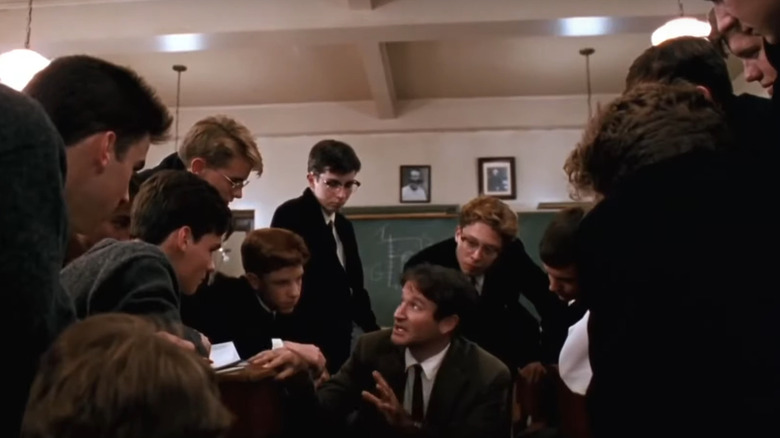 Touchstone
According to Dave Itzkoff's terrific biography "Robin," Williams struggled mightily in the early part of the shoot. Technically, he was doing fine work. He was fully prepared. But Weir and Schulman sensed something was off. He was stiff.
To loosen Williams up, Weir elected to indulge the actor's ad-libbing genius. Perhaps if he felt like himself on set for a day, he'd establish a more organic engagement with the material. Much of this might not be usable, but they were a half-day ahead of schedule, so Weir felt comfortable blowing an afternoon to help out his star.
Though everyone on set enjoyed a half-day's worth of Williams stand-up, the actor emerged a tad shaken. Per Itzkoff's book:
To Robin, the exercise was a brief, blunt lesson that his ad-libs were largely incompatible with the spirit of the film. "It just didn't work," he said. "It was teaching, teaching, teaching, shtick, teaching, teaching. It was like Saran Wrap on Velcro. Didn't stick.... And it was sad. I got very hurt. It was a battle, sometimes, between the comedian and the actor. Dr. Jessel and Mr. Jolson. This strange thing of wanting it to be funny and realizing that this ain't going to be that."
Williams found Keating by briefly being Williams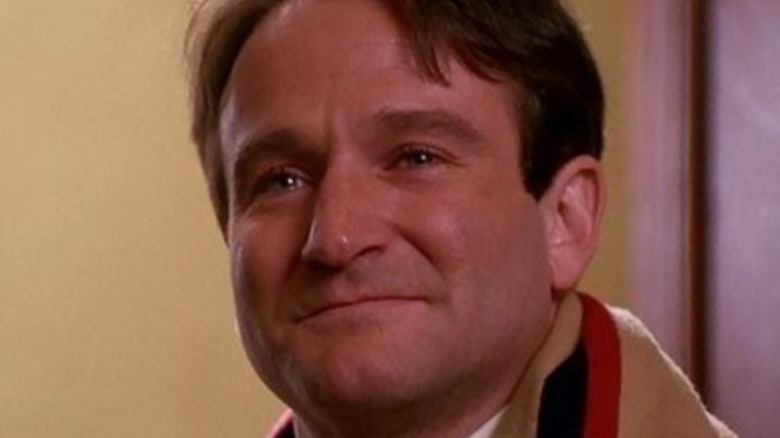 Touchstone
"Dead Poets Society" is a wonderful movie, and Williams is spectacular in it, but those few bursts of hilarity that made it to the final cut — e.g. Keating performing Shakespeare as Marlon Brando and John Wayne — feel incongruous. The spell cast by Williams' acting is briefly broken.
As for the value of Weir's experiment, Williams did sink a bit deeper into the role in the weeks ahead. The tone on the set was relaxed, which allowed the star to effortlessly exude an inspiring warmth that binds him to the students all the way through the movie's emotionally charged final scene. Those few extraneous comedy bits aside, this is easily one of Williams' finest performances.