Robin Williams' Reluctance Nearly Doomed Dead Poets Society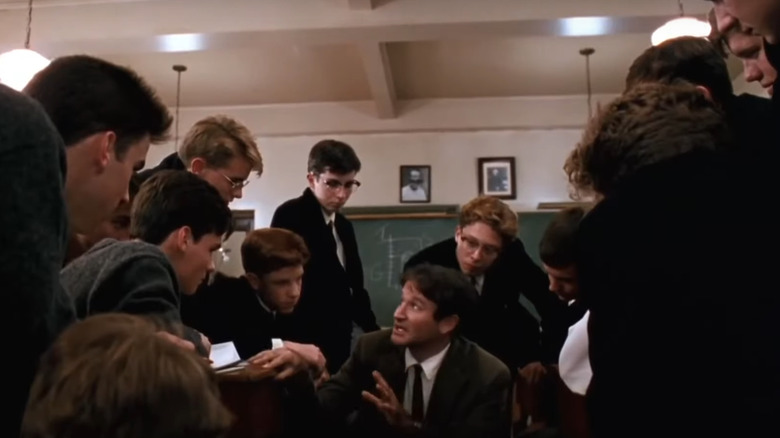 Buena Vista Pictures Distribution
1989's "Dead Poets Society" is one of those tearjerker movies where the protagonist dies a tragic and very preventable death, a message that speaks to any teenager struggling to resist their parents' hardline expectations. In fact, the entire movie is a call to action to "seize the day" (carpe diem) and take your life into your own hands. Movies like "Dead Poets Society" will hold up in any lifetime.
Set in 1959, the story follows a group of friends at an elite all-boys prep school. John Keating (Robin Williams), their new, eccentric English literature teacher with unconventional teaching methods, uses poetry not only in his lesson plans, but also as a tool to challenge the students to seek extraordinary lives, which requires self-exploration. Williams' performance earned him an Oscar nomination for Best Actor and further proved the comedian's range extended far beyond comedy. But Williams almost ended the entire production before it even began.
Robin Williams no-showed on the first day of production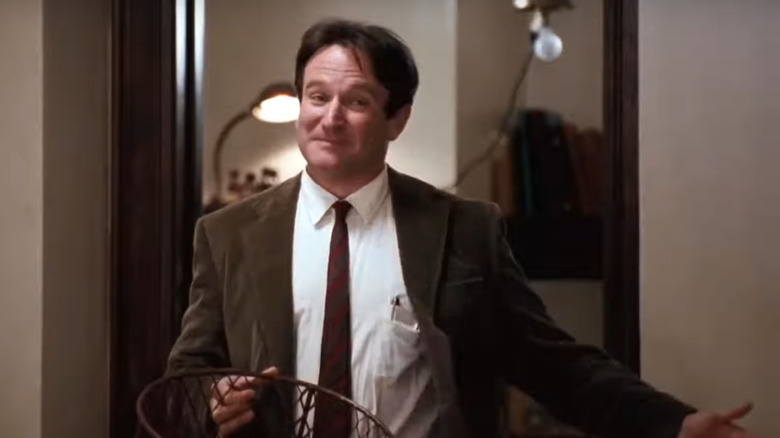 Buena Vista Pictures Distribution
Tom Schulman, the screenwriter who wrote "Dead Poets Society" and won an Oscar for Best Original Screenplay, revealed in an interview with Script to Screen that Robin Williams was initially noncommittal to the project, but Disney tried to pressure the comedian-actor by moving forward with production plans without his commitment. The film was to be shot outside of Atlanta, and they built sets and everything. "And after the first day, [Robin Williams] didn't show up," Schulman said. "They canceled the production, burned the sets. We actually had dailies of the sets burning. And I thought, 'Well that's the end of that.'"
As it turns out, the director of the film at the time, Jeff Kanew ("Revenge of the Nerds"), was not a favorite of Williams. And perhaps Kanew wasn't too cool on Williams either, as he supposedly wanted Liam Neeson in the role of the unorthodox John Keating instead of the "Mrs. Doubtfire" actor. As Schulman recalled, after Kanew left the project, another director whom Schulman refused to name got on aboard, but a dispute about the start date led to Disney kicking the new director to the curb. "And being so lucky, fortunately for me, Peter [Weir] was available," Schulman said. Apparently, that was enough to get Williams to commit to the movie.
That wasn't the only hiccup with Dead Poets Society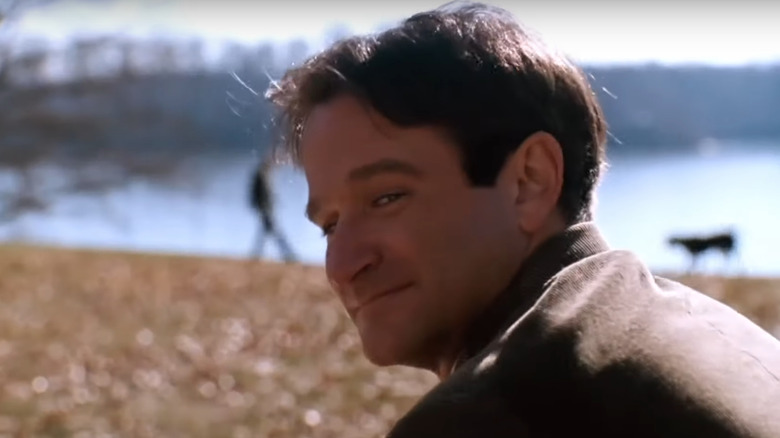 Buena Vista Pictures Distribution
Things weren't peaches and cream after Robin Williams committed himself to "Dead Poets Society." More behind-the-scenes nuggets involving the movie have come to light in past years. After the debacles with Jeff Kanew and the unnamed replacement director, Peter Weir threatened to walk away from the project if the original ending, which had Williams' character dying from Hodgkin's lymphoma, wasn't changed. On one hand, I understand that giving John Keating a terminal illness would have rationalized his infectious passion for "seize the day," but at the same time, it strips the character of his mystique. Keating is a more interesting character because "seize the day" is truly part of his belief system and not just some end-of-life epiphany.
If that wasn't enough drama, Peter Weir later hid a half-day of shooting from Disney so he could unleash Williams and allow him to put his comedy improv skills to good use out of sight of the micromanaging studio bosses. And then there's Ethan Hawke, who plays one of Williams' students and revealed that the comedian singled him out and frustrated him with his playful targeting on set. Apparently, "Dead Poets Society" was a perfect storm of chaos. And it worked.