Dead Poets Society Was A War Of Attrition Between Robin Williams And Ethan Hawke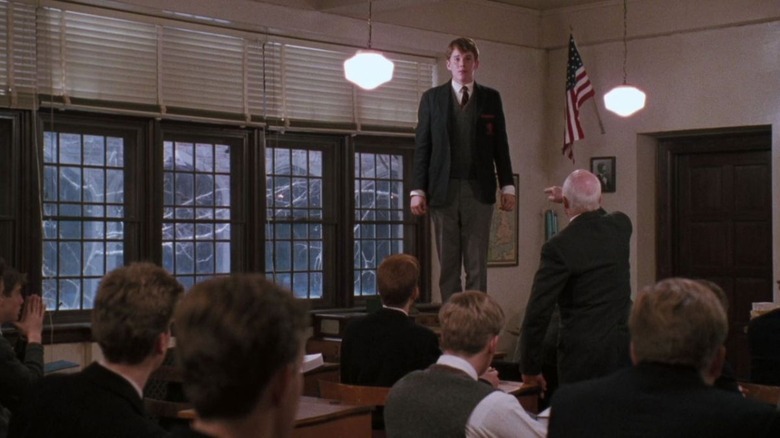 Touchstone Pictures
Ethan Hawke is one of the most renowned actors in Hollywood today, but even a storied career like his has to start somewhere. In this case, it was on the set of the 1989 coming-of-age film "Dead Poets Society," where he was subject to a little bit of friendly hazing by the film's star, Robin Williams.
"Dead Poets Society" is set at a strict all-boys preparatory school, where the boys' outlook on life is changed forever by a young English teacher, played by Williams, whose unconventional methods imbue his lessons with a passion and livelihood that the staunchly academic children are unaccustomed to. Given the stage of a classroom setting, Williams had a lot of freedom to improvise. His favorite way to have fun with the material and engage the young actors was to tease them, and Hawke quickly became his favorite victim.
Hawke's career of dramatic films like "The Northman" suggests a more gravely sincere approach to acting, while Williams is remembered for a plethora of comedic roles. The contrasting perspectives first rubbed up against each other on the set of "Dead Poets Society." The comfortable and comedic Williams made lots of jokes on set, Hawke explained on "The Graham Norton Show," while a young Hawke was trying desperately to take his role seriously. Williams loved getting laughs out of the cast and crew, but Hawke "really wanted to be in character" and refused to let even the smallest chuckle slip.
All's well that ends well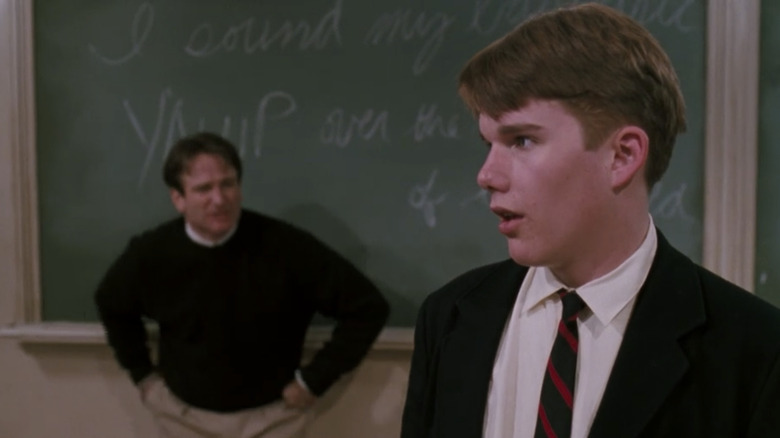 Touchstone Pictures
The resistance to his humor only incentivized Robin Williams more to target his jokes specifically at Ethan Hawke. The actor recalled that "the more I didn't laugh, the more insane he got, and would make fun of me — 'Oh, this one doesn't want to laugh!'" In turn, this would only make Hawke more frustrated and thus even more committed to maintaining a deadpan disposition. "I want to be Montgomery Clift over here, you're trying to be Zero Mostel or something," referring to the dramatic leading man of '50s titles like "A Place in the Sun" and the hilarious star of Cold War-era comedies like "The Producers" respectively.
The playful dynamic was incredibly frustrating for Hawke on set, but ultimately led to something life-changing. Hawke returned to his own high school after wrapping "Dead Poets Society," but soon received a call from a major Hollywood agent whose clients included the "Mrs. Doubtfire" and "Jumanji" star. Apparently, Hawke's commitment to his role had paid off — Robin Williams was so impressed by his inability to coax Hawke into breaking character, he recommended that his agent sign the young actor on.
Hawke recalled the agent, whom he has worked with for the duration of his career, telling him Williams had said he was "gonna be somebody." It may have been a self-fulfilling prophecy, but it proved correct. Today Hawke has a legacy to rival even the late, great Williams.