It Was Easy To Get Ethan Hawke To Strip Down And Bark For The Northman, Thanks To Willem Dafoe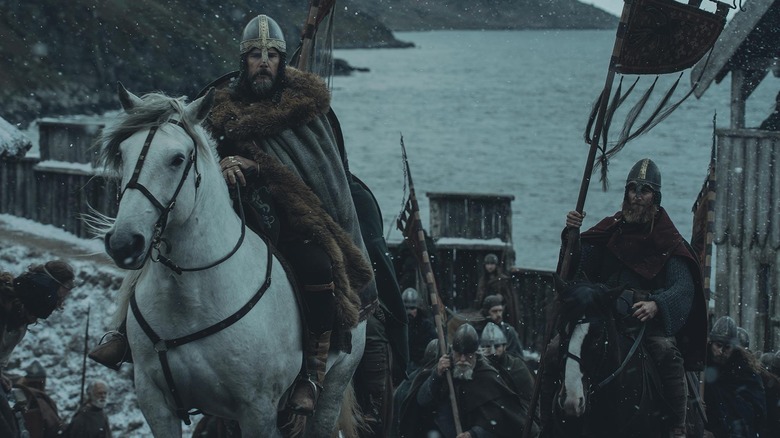 Focus Features
Early in Robert Eggers' new film "The Northman," King Aurvandill War-Raven (Ethan Hawke) and his son Amleth (Oscar Novak) enter a mysterious earthen cavern where they are led in a hallucinatory ritual wherein they are encouraged to discover their true animal nature and bring out their destined savagery as conquering Vikings. The ritual is led by Heimir the Fool (Willem Dafoe) who feeds them both a mysterious liquid and partakes himself, leading to the three of them naked on the ground, barking like dogs. 
Eggers' film is likely referencing bog myrtle, an herb that, according to an article in The Guardian, grows in the wetlands of Wales. Viking berserker warriors are known to have drunken large quantities of hallucinogens before going on pillaging raids or entering into battle. Indeed, the work "berserk" even comes from the Viking practice. "Berr serkr," literally "bear shirt," referred to the warrior who wore said garment into battle. 
Getting into the berserker mindset is a large part of "The Northman," as the character of Amleth will grow up to be a powerful, muscled Viking monster who kills without compunction, and embarks on a quest to kill his uncle Fjölnir (Claes Bang) with a mystical sword salvaged from the lap of a long-dead eight-foot-tall skeleton warrior. If you like spilled guts, death by bow-and-arrow, and people being set on fire, then "The Northman" is right up your alley. Although you may want to listen to Misþyrming albums on the way to the theater. "Söngvar elds og óreiðu" comes highly recommended. 
There is no word as to whether or not actors Hawke, Novak, or Dafoe listened to Icelandic black metal to prepare for their roles, but Hawke, as Eggers revealed in an interview with Insider, had no problems getting into character with Dafoe leading the charge.
'That's a given'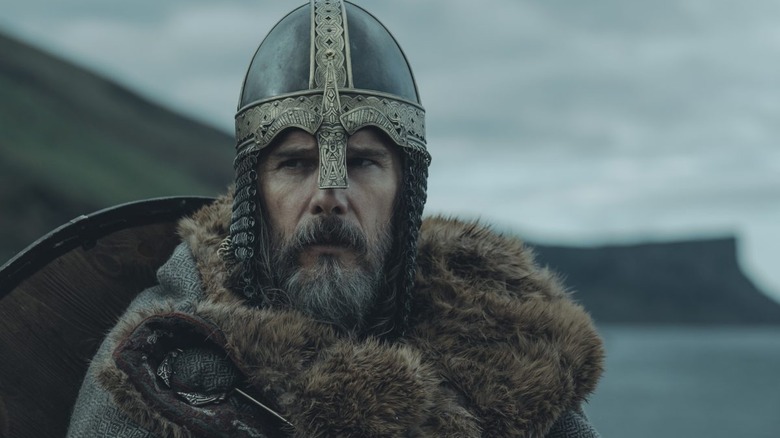 Focus Features
Eggers previously worked with Dafoe on his 2019 film "The Lighthouse," one of the best films of that year. In it, Dafoe, a wholly committed actor, endured multiple hardships during a very difficult (and very wet) shoot. With such a talented actor leading the charge — and make no mistake, Dafoe is one of the best actors of his generation — his co-stars in the scene were eager to follow his lead. In short, if Willem Dafoe is willing to do something, other actors are more likely to follow suit. 
When Insider asked Eggers about working with Hawke, particularly on the barking scene, Eggers was kind, and cited the lead Dafoe gave to Hawke: 
"He was easy to work with. Also, if you see Willem Dafoe strip down and barking like a dog you're going to do it too. That's a given."
Dafoe has endured much in his career. Not just the hardships of "The Lighthouse" — he was, in one scene, required to lay still while his co-star shoveled dirt onto his face and into his mouth — but he was literally tied to a cross for one of his more notable roles; that of Jesus in Martin Scorsese's 1988 biblical essay "The Last Temptation of Christ." Additionally, Dafoe has stripped down naked for multiple roles, leading to a well-known reputation for the distracting nature of his anatomy. With such commitment and willingness to be daring, Hawke had no problem playing along. 
We're not coal miners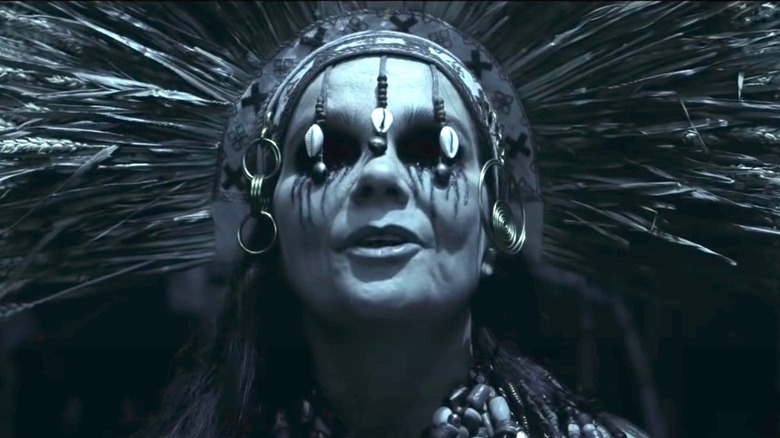 Focus Features
Eggers appears to have an uncanny ability to appeal to actors. Both Dafoe and "The Northman's" Anya Taylor-Joy have now worked with the director twice each (Taylor-Joy also appeared in "The Witch"), and Eggers convinced Icelandic art rocker Björk to return to acting, an activity she has not much engaged in over the years; Björk had previously appeared in the 1990 fable "The Juniper Tree," Lars Von Trier's harsh morality fable "Dancer in the Dark" in 2000, and the surrealist performance art film "Drawing Restraint 9," directed by her then-paramour Matthew Barney. 
Whether or not Eggers' uncanny charm had anything to do with it, Hawke seems to have a very laidback attitude toward the challenges "The Northman" presented. Eggers recalled a time at the premiere when Hawke put him in his place. 
"I remember Alex [Skarsgård] and I were at the premiere in Rome, and Ethan came up to us and was like 'Guys, guys, you got to stop bitching about how hard this movie was to shoot. You're not f***ing coal miners!'"
Working on "The Northman" was brutal, and a lot had to be curtailed because of Covid restrictions; Eggers, in the Insider interview, talked about how Taylor-Joy was supposed to chew up herbs and then place them in someone else's mouth, but was not permitted for safety reasons. But at the end of the day, Eggers and Hawke and the rest of the cast and crew made a wet, bloody, and authentic film about Viking revenge and berserker rage. The commitment was certainly admirable.