Robin Williams Worked Overtime To Create His Character For Good Morning, Vietnam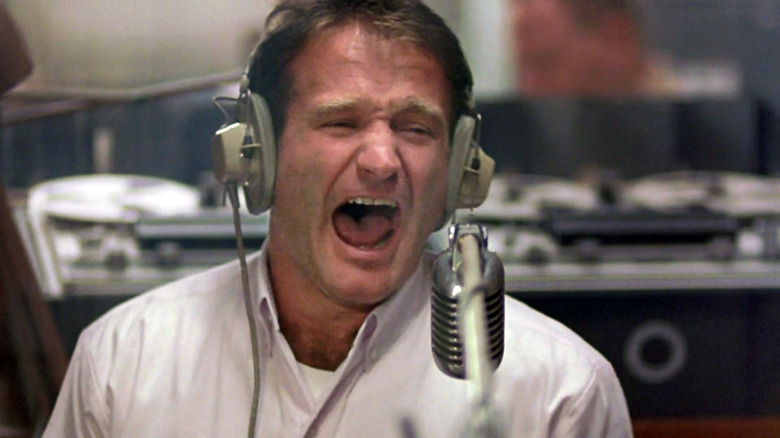 Buena Vista Pictures
The arc of Robin Williams' career has always been a fun trajectory to follow. Right out of the gate, Williams had his mainstream movie career briefly stymied by the financial disappointment and critical failure of Robert Altman's "Popeye" in 1980, only his second film. He clawed back through the 1980s, appearing in modestly successful comedy films before exploding back onto the scene in 1987 with Barry Levinson's "Good Morning, Vietnam," a biopic of American wartime DJ Adrian Cronauer. Williams played Cronauer as a very Robin Williams-like comedian who took to the Armed Forced Radio Service airwaves in 1965 Saigon to read news reports to the troops and to spin music. He took the opportunity to tell raunchy jokes, play raucous rock records, and generally be irreverent; his stuffed-shirt military superiors popped their monocles at his somewhat blue humor. 
"Good Morning, Vietnam" was a huge hit and a critical success, and Williams was nominated for an Academy Award for Best Actor. This was no accident. Williams, known for his off-the-cuff, improvisational-style standup comedy, took his role very seriously, and understood that, while Cronauer could "improvise" funny things on the air, the jokes had to be carefully selected and tested before appearing on camera; despite how spur-of-the-moment they sound, Williams' jokes were all mapped out ahead of time. 
According to the 2018 biography "Robin" by Dave Itzkoff, Williams and Levinson had to plan all those gags on a pretty strict timeline. The teaser trailer for "Good Morning, Vietnam" was, in fact, an early proof-of-concept short that the actor and director workshopped together, and was shown in theaters in the summer of 1987. The film was set to be out that Christmas. No footage had yet been shot. They had $14 million dollars. The clock was ticking. 
Crunch time
In the limited time leading up to shooting, Williams and his credited assistant (and future wife) Marsha Garces had to start researching. Williams went to Thailand (Bangkok played the part of Saigon in the movie) and, thanks to a historical consultant, began reading up on soldiers' slang in Vietnam in 1965 and immersed himself in the pop culture of the time — avoiding the embarrassment of dropping an anachronistic TV reference. Williams wrote down many notes as to what topics would be verboten: Kinks, Beatles, Top 40s, psychedelic, etc. Williams also learned some pretty crass shorthand. "Ho Chi Minh's Revenge" was, for instance, an American Army term for diarrhea. Other nicknames the military boys had developed were even less couth.  
Then, at night, he and Garces would return to their hotel room and workshop Cronauer's ranting monologues. This type of workshopping and testing material is more traditionally done on long tours and extended gigs in comedy clubs; most high-profile comedians hone their jokes and test material over the course of many months or even years before the recorded special makes their way to an audience. As there were no comedy clubs in Bangkok — and because time was at a premium — Williams simply tested out his work on Garces. Garces essentially co-authored Williams' rants in the movie. 
With a good deal of material to draw from, Williams then had to perform it. The in-booth Cronaur scenes only make up about 12 minutes of screentime in the movie, but they are the defining feature of it.
The 12 minutes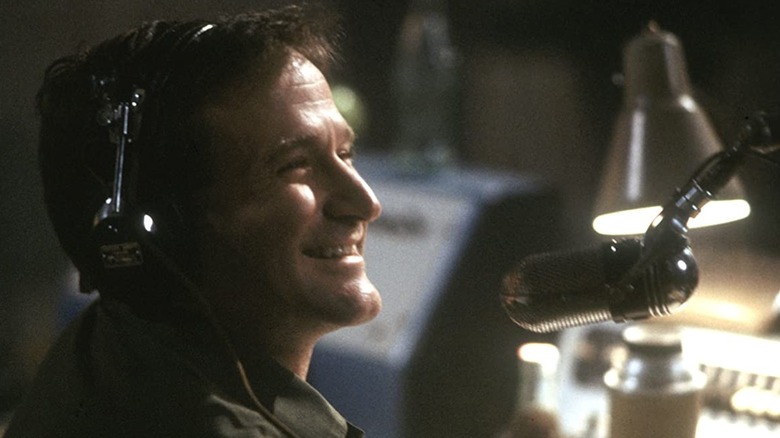 Buena Vista Pictures
The shoot of the DJ scenes in "Good Morning, Vietnam" only took a few days. Once Williams had already prepped his material, he went to a real recording booth in Bangkok, sat at a mic, and let loose. He would rant for several minutes, he and Levinson would confer, and he would re-do the rant. The bits ended up being honed tightly enough to make the final cut of the movie. At least to Levinson's eye. For Williams, one vital thing was missing: an audience. 
For Williams — a career comedian — the only sign of success was the laughter of his audience. With a small camera crew and a stern, business-minded director, Williams never got the immediate validation of a real giggle. Additionally, the camera crew were made up of British people and Thai people, some of whom didn't understand Williams' scattershot language. As a result, there was no laughter on set. As such, Williams would frequently ask for more takes or for an opportunity to re-do bits from the previous day. Levinson would typically turn him down, frustrating the actor. 
Levinson's solution to get Williams through the recording sessions was elegant, but ultimately not much of a solution. He hired an audience to listen in, with their laughter being broadcast into Williams' headphones. This was great for Williams' first takes, but the audience wouldn't laugh as hard at second takes. Naturally; they had already heard the joke. Eventually, Williams simply had to gut it out and perform to silence. 
Although perhaps not satisfying in the moment, Williams performance was brilliant, and audiences adored "Good Morning, Vietnam" — which came out on schedule. 
Williams would be nominated for Oscars again in 1990 and 1992 before winning in 1997 for "Good Will Hunting."