Watch The First Nine Minutes Of Cobra Kai Season 5 And A Sneak Preview Of Andor Right Now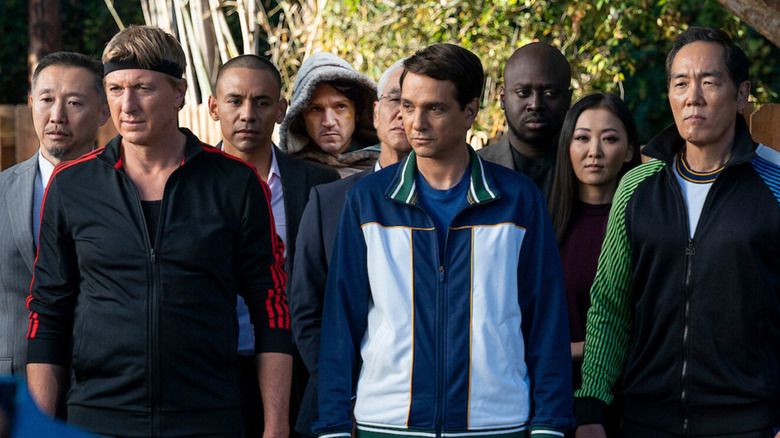 Netflix
Today's news cycle on /Film has been brought to you by the number 9. Apparently, that's the magic number for streaming services as both Netflix and Disney+ have released brand new previews for a couple of their most highly-anticipated shows that clock in at around 9 minutes each.
Ahead of the season 5 premiere of "Cobra Kai" on September 9, 2022, Netflix has unleashed the first nine minutes from the fan-favorite show for those who can hardly contain their karate-fueled excitement for one more day. Then, as part of the Disney+ Day celebrations before the weekend is dominated by D23, the Mouse House's streamer dropped a nine-minute special look at the upcoming "Andor" on their platform before the "Rogue One" prequel is released later this month. And we have the road map to point you in the right direction so you don't get lost on your way to the Valley or to a galaxy far far away.
Wax on, wax off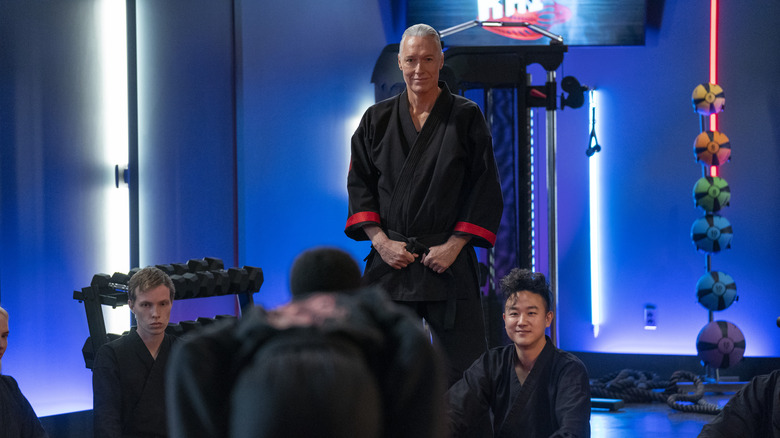 Netflix
Oh how the mighty have fallen. If you've been following the martial arts misadventures of Johnny Lawrence and Daniel LaRusso from their cinematic debut in 1984's "The Karate Kid" to the Netflix sequel series "Cobra Kai," then you know that the unthinkable happened at the end of season 4. The former All Valley Under 18 Karate Tournament Champions have been forced to shutter their dojo and the manipulative Terry Silver sits atop the mountain after leading his students to victory in the latest installment of the tournament that made Lawrence and LaRusso famous. But the frenemies played by William Zabka and Ralph Macchio aren't going to take this loss laying down.
In the clip released by Netflix, you can see how the board is being set for season 5. Cobra Kai is recruiting more than ever before while all eyes are on them. Daniel is keeping his word by shuttering the doors of Miyagi-Do Karate, but is determined to do something to stop Thomas Ian Griffith's Silver from corrupting any more kids. Although, is he right to leave his former students out of the equation? And as for Johnny, he's in Mexico with Robby (Tanner Buchanan) as they attempt to track down Miguel (Xolo Maridueña), who is in search of his biological father (and is clearly not very perceptive of his surroundings).
"Cobra Kai" season 5 premieres September 9, 2022, on Netflix.
Rebellions are built on hope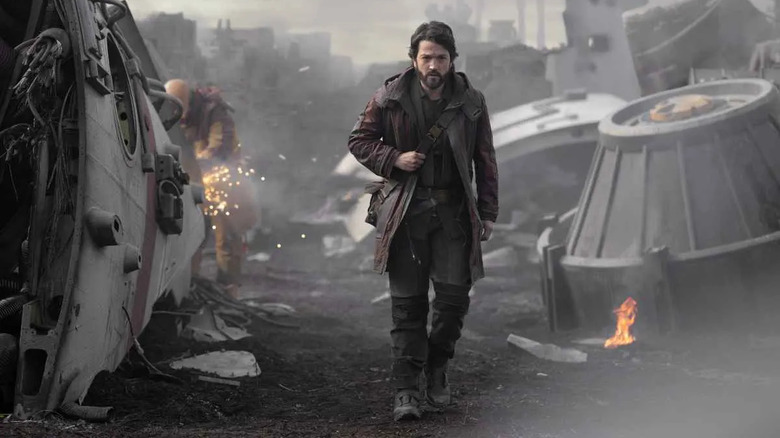 Disney+
On the other side of the streaming galaxy, "Star Wars" fans will get to see Cassian Andor's humble beginnings before he got involved with Jyn Erso, K-2SO, and the rest of the Rogue One crew once the first three episodes of "Andor" premiere on Disney+ on September 21, 2022. As part of this year's Disney+ Day, the streamer has released a special look at the series.
First announced on Twitter, this preview includes an interview with writer Tony Gilroy and star Diego Luna, behind the scenes looks at the production, and a scene between Luna's Andor and Stellan Skarsgård as Luthen Rael that essentially ignites the flame of the rebellion in the titular character. In between the new stuff, we also see a bunch of previously released material from other trailers. Although, since we were initially expecting the first two episodes to debut at the end of August, any and all updates are certainly welcome. You can watch this special look on Disney+ right now as we wait two more weeks for the series premiere.
"Andor" premieres September 21, 2022, on Disney+.