Glass Onion: A Knives Out Mystery Trailer: Benoit Blanc Is Back On The Case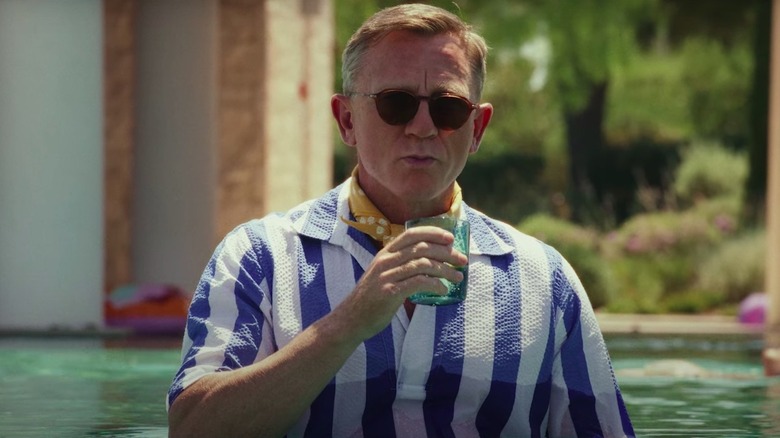 Netflix
Is that a donut hole inside of a donut hole? No! Look a little closer, and you will see the donut hole has what seems to be a hole at its center. It's actually not a donut hole but a sequel to Rian Johnson's splendid 2019 whodunnit mystery-comedy "Knives Out" titled "Glass Onion: A Knives Out Mystery." And our donut is not whole at all, but a whole franchise!
"Glass Onion" is indeed the second entry in Johnson's original property about the ongoing saga of Detective Benoit Blanc (Daniel Craig) and his bad habit of getting mixed up in murder mysteries involving wealthy jerks who all have a reason to bump one another off. This time, Benoit finds himself on a private Greek island owned by Miles Bron (Edward Norton), a tech billionaire who has invited all of his pals for a getaway trip when wouldn't you know it, one of them turns up dead. Sounds like a case for our favorite sleuth of vague Southern origins.
The rights to Johnson's "Knives Out" sequel were scooped up by Netflix in a massive deal that includes a second sequel back in 2021. Hoping to recoup its $469 million investment, Netflix is rolling out the red carpet for "Glass Onion" by holding its world premiere at the Toronto International Film Festival on September 10, 2022, prior to its theatrical run two months later. Take a look at the movie's first trailer below.
Watch the Glass Onion trailer
If you suspected the director of "Looper" and "Star Wars: The Last Jedi" had something a little more ambitious in mind than a paint-by-numbers sequel to "Knives Out," you were right. Craig is the only actor from that film returning for the sequel, making "Glass Onion" almost as much of an original story as its predecessor. it's also identical by design to the approach Agatha Christie famously took with her many Hercule Poirot novels, with the author's writing once again serving as a source of inspiration (along with films like "The Last of Sheila," the celebrated 1973 neo-noir written by Stephen Sondheim and Norman Bates himself, Anthony Perkins).
Joining Craig and Norton in the "Glass Onion" cast is an all-star team of actors to rival that of the "Knives Out" ensemble, including Ethan Hawke, Kathryn Hahn, Janelle Monáe, Dave Bautista, Leslie Odom Jr., Kate Hudson, Jessica Henwick, and Madelyn Cline. Johnson has also warned the film's plot is "a roller coaster and not a crossword puzzle," so don't get too cocky if you managed to put all the puzzle pieces together before Benoit did last time. There may yet prove to be a hole at the center of the donut hole at the center of the donut hole in this case.
"Glass Onion: A Knives Out Mystery" begins streaming on December 23, 2022, on Netflix.