How The Success Of Black Panther Led To The Making Of The Woman King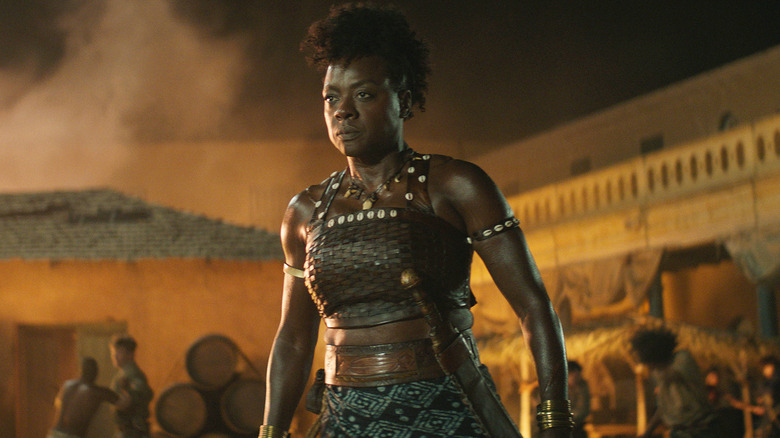 Sony Pictures Releasing
"The Woman King" explores the real-life history behind the Agojie, an all-female warrior unit (also known as the Dahomey Amazons) who protected the West African kingdom of Dahomey in the 18th and 19th centuries. That it's taken Hollywood this long to make an epic action movie about the Agojie in the vein of "Braveheart" would come as a shock if it wasn't for, you know, the film industry's long, long track record of ignoring real-world history stories about anyone other than cis-het white people.
That "The Woman King" is coming out four years after Ryan Coogler's smash-hit "Black Panther" and two months before his sequel, "Black Panther: Wakanda Forever," is, needless to say, no accident either. The genesis of "The Woman King" dates back to 2015 when Maria Bello, who shares story credit with the movie's script writer Dana Stevens, learned about the Agojie during a trip to the West African nation of Benin. It would change homes from STX to Sony's TriStar label in 2017, under the watchful eye of TriStar's VP at the time, Nicole Brown.
In an interview with The Hollywood Reporter about the behind-the-scenes battle to make "The Woman King," Brown admitted she was nervous when she learned "Black Panther" was moving forward. Ultimately, the massive success of the Marvel Cinematic Universe film only hardened her determination to see "The Woman King" cross the finish line:
"When I heard ['Black Panther'] was happening, I got a little nervous. Like, 'Oh no, did we not move fast enough?' And then when I saw it, it only emboldened me more to make sure we made this movie. There's absolutely room for both stories. That's a comic book, fantasy experience, and this is inspired by real life. This is real people and a real part of our history."
'They changed culture'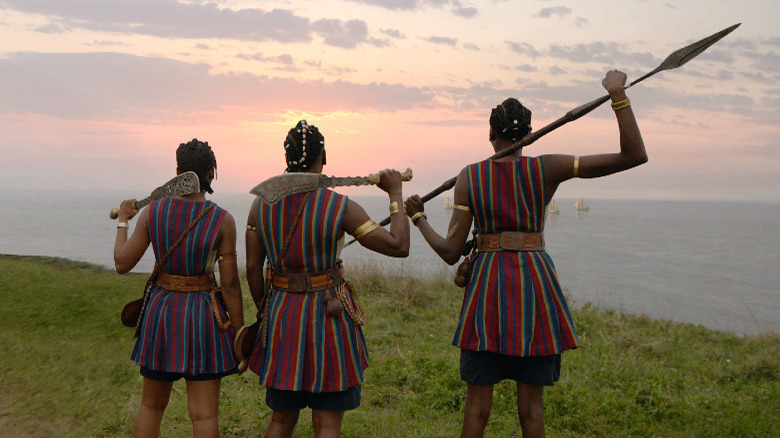 Sony Pictures Releasing
Viola Davis stars in "The Woman King" as the Agojie general Nanisca, who trains a group of fighters that includes Nawi, a young recruit once set to be played by Lupita Nyong'o. And while the character would eventually be rewritten as a younger person (as portrayed by "The Underground Railroad" breakout star Thuso Mbedu), Nyong'o would instead go on to star in "Black Panther" opposite Danai Gurira as Okoye, the head of a unit of Wakandan warriors — the Dora Milaje — directly inspired by the real-life Agojie.
"The Woman King" director Gina Prince-Bythewood ("Love & Basketball," "The Old Guard") was more than happy to discuss the film's ties to "Black Panther" with THR, stating she sees them as complimentary movies:
"I love the fact that we are in a time when we both exist, it's a beautiful thing. Their success absolutely had a hand in us finally getting a green light. They changed culture."
With "Black Panther" having opened the door to major studio releases anchored by not just mainly Black casts but also Black actors with darker skin tones, "The Woman King" aims to go even further in tackling challenge material. That includes the fact the Dahomey Kingdom garnered much of its wealth from selling its African prisoners of war into enslavement by Euro-American traders. Prince-Bythewood assured her film confronts this reality head-on:
"When I came aboard, those were some of the first conversations. But it was, 'We're going to tell the truth. We're not going to shy away from anything.' But also we're telling a part of the story which is about overcoming and fighting for what's right. And I think we got it right."
"The Woman King" premieres at the Toronto International Film Festival on September 9, 2022, and it arrives in theaters everywhere just one week later.