Paul Thomas Anderson Thought Punch-Drunk Love Was Headed For Disaster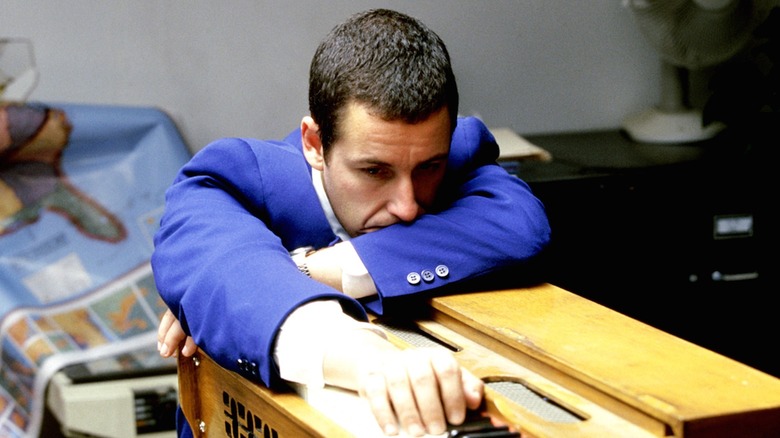 Sony Pictures Releasing
Paul Thomas Anderson is a filmmaking prodigy. His second film, "Boogie Nights," is a triumph in the same vein as "Citizen Kane" or "Jaws," a work made by a young artist with the confidence and skill of a much older one (PTA was 26 when he directed it). However, just because Anderson makes filmmaking look easy doesn't mean it always is. According to the man himself, one of his more challenging projects was "Punch-Drunk Love."
Instead of an ensemble like "Boogie Nights" or "Magnolia," "Punch-Drunk Love" zeroed in on a single character, much like Anderson's debut feature, "Hard Eight." While his more recent films have epic, multi-hour running times, "Punch-Drunk Love" runs a tight 95 minutes. It was also his first movie unconcerned with father-son relationships; instead, the film is a love story.
Why did he make such a big left turn? According to Anderson, "I felt like I'd become pretty good to a certain extent at my job. I wanted to scare myself." Speaking about the making of "Punch-Drunk Love" years later, it sounds like PTA may have scared himself too much.
He makes me laugh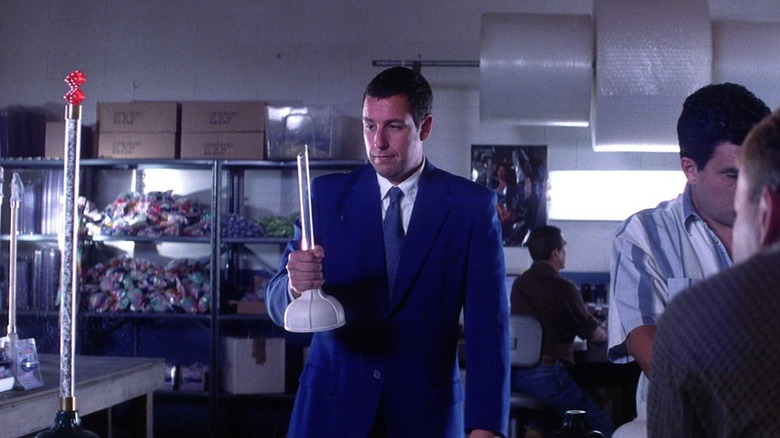 Sony Pictures Releasing
Compared to many of his fellow auteurs, Anderson has a soft spot for lowbrow entertainment. He's a fan of Marvel movies, recommending "Shang-Chi" and "Titane" in the same breath. He has also said what turned him off from film school was a professor declaring, "If anyone is here to write 'Terminator 2,' just get out," (Anderson: "'Terminator 2' is a pretty awesome movie").
He's also Adam Sandler's number one fan, with a particular love for "Big Daddy." "Punch-Drunk Love" was a meeting of his two desires: to work with Sandler and to make a 90-minute romantic comedy. Anderson still looked to Sandler's comedy work when writing his "Punch-Drunk Love" character Barry Egan, a lonely, socially awkward man with anger management trouble. The director recalled to Roger Ebert a Sandler "Saturday Night Live" sketch that was especially influential:
"There's this moment when he's doing this talk show called 'The Denise Show,' about his ex-girlfriend who's left him, and his father calls up and says, 'What are you doing; you're embarrassing the family.' And Adam goes into this fit of rage, screaming at his father, and honest to God I saw this moment where it appears as if the whites of his eyes turn black and they roll back in his head. It was like, he just lost his mind."
An early scene in "Punch-Drunk Love," where Barry breaks a glass door at his sister's birthday party, is rather reminiscent of this sketch.
Early shooting troubles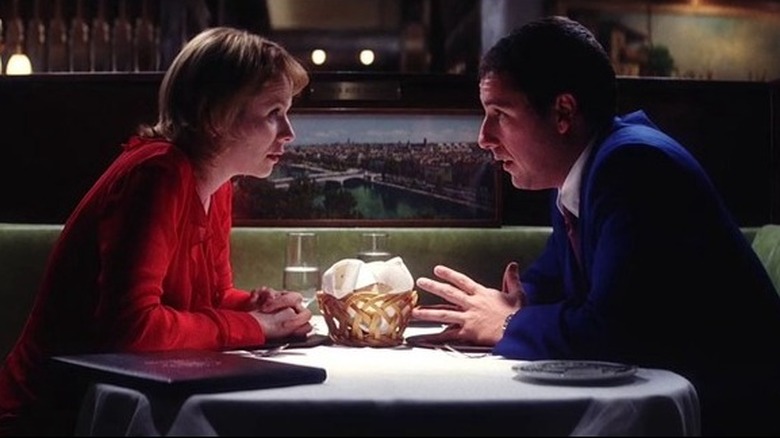 Sony Pictures Releasing
With three previous features under his belt, PTA had trouble breaking out of that previous rhythm. He recalled to the LA Times in 2002: "We scrapped the first two weeks of shooting because I was still making the same movie. I had to educate myself on how to keep it simple." At a 2011 Directors Guild of America panel (alongside Francis Ford Coppola, Catherine Hardwicke, and David O. Russell), PTA echoed this:
"I was just trying to get through every day [making 'Punch-Drunk Love']. It started to feel — it was horrible for the first three weeks. Just felt terrible, like I didn't know... none of it looked good, none of it looked right, and [we] stopped and started again."
According to Anderson, the best thing that happened to "Punch-Drunk Love" was Sandler and Emily Watson's packed schedules (prompted by a Hollywood strike that ultimately didn't happen). This stretched production out over a year-and-a-half and gave its director time to get into a groove. Speaking with Coppola at the DGA panel, PTA remembered:
"Just with some distance, it felt good. And then I edited it together, and I thought, "I think I made a film that every single person is gonna see, and it's gonna make like 500 billion dollars, you know? I finally did it!' And no one saw it, and people didn't like it."
While "Punch-Drunk Love" did fall short of making back its $25 million budget, it was a critical darling. During the DGA panel, Coppola said it was like nothing he'd ever seen before. Even when tackling similar subjects, PTA makes each film unique. His next romantic comedy, 2017's "Phantom Thread," couldn't be more different than "Punch-Drunk Love."