By Casting Martin Sheen In Badlands, Terrence Malick Might Have Saved His Career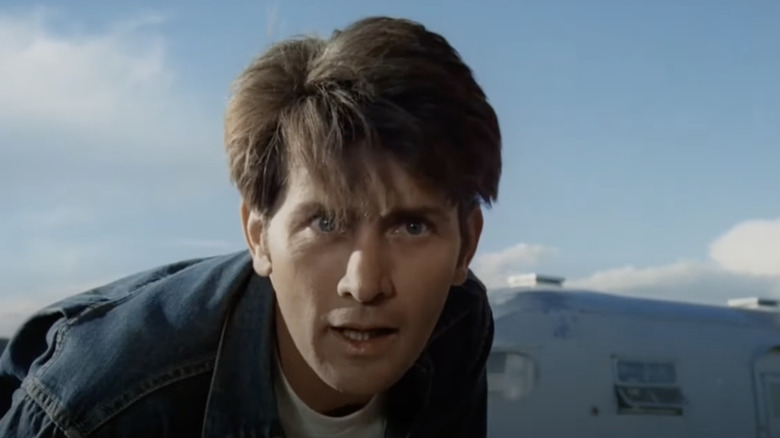 Warner Bros.
Terrence Malick's directorial debut, "Badlands," is a classic American film that also provided Martin Sheen with one of his first major roles. The movie came out six years before Sheen's performance in the era-defining "Apocalypse Now," and in the same way that Sheen took over at the last minute for Harvey Keitel in that movie, he wasn't necessarily Malick's first choice to play garbage-man-turned-spree-killer Kit Carruthers in "Badlands." However, by taking a chance on an actor he deemed too old for the part, Malick may have saved Sheen's career.
At the beginning of "Badlands," Kit sees 15-year-old Holly Sargis (Sissy Spacek) baton-twirling in her front yard, and it's not long before he's courting her and eventually running off with her to become public enemies like Bonnie and Clyde. You can tell he has a high opinion of himself; in a rare interview with Sight & Sound magazine, Malick once said that Kit views himself "as a subject of incredible interest to himself and to future generations." Sheen's work would be of interest to future movie and TV viewers, too, but first the struggling actor had to be convinced that the role was worth his time — and then he had to land the part.
Sheen had the right look for Kit, and casting director Dianne Crittenden was in his corner. In GQ's oral history of "Badlands," Sheen recalled being at a hotel on Sunset Boulevard in Los Angeles to do a reading for a haberdashery commercial when Crittenden flagged him down and convinced him to give Malick's script a gander. "We were looking for a James Dean character, basically," Crittenden said. "Somebody confident and a bit narcissistic, and Marty Sheen came to mind, but Terry didn't think that would fly. He thought he was too old."
'Just like James Dean'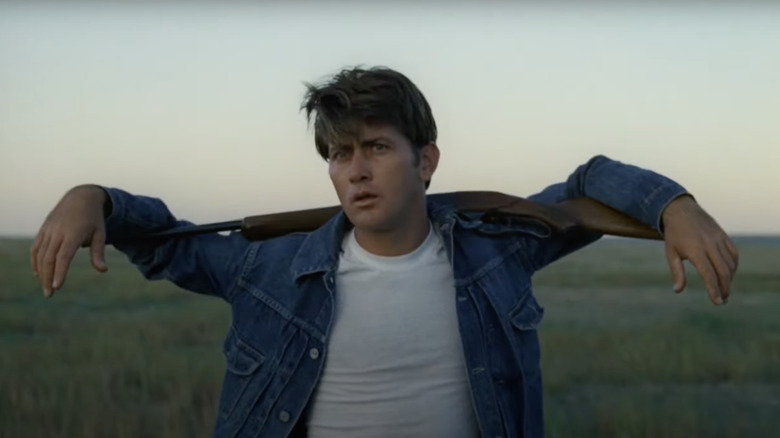 Warner Bros.
The James Dean connection is one "Badlands" itself draws early on when Holly is narrating, and Kit walks up on her house. In voiceover, she says, "He was handsomer than anybody I'd ever met. He looked just like James Dean." Kit is a greaser, similar to Dean's character in "Rebel Without a Cause;" as he and Holly stroll through her neighborhood, his white shirt is literally stained with grease. Later in the movie, we see Kit with a rifle slung over his shoulders in a pose that deliberately evokes Dean's character in "Giant."
After sitting on the curb outside the hotel in L.A., reading Malick's "Badlands" script, Sheen realized it was "brilliant." Crittenden had him "comb his hair like Dean," who was famous for his pompadour or "quiff," and then sent him into the audition without saying his name "so Terry would have no idea who it was." Malick was impressed and soon got over his initial reluctance about Sheen's age, calling the actor up to offer him the part. Sheen knew already that he was involved in something special and that he was on his way:
"It hit me that I was going to play the role of my life. I had been a professional actor since I was eighteen. I was thirty-one, I had four children, I was struggling, doing a lot of television—a lot of bad, silly work just to make ends meet—and I wasn't having any luck in features to speak of, and here was the part of my life."
Without "Badlands," Sheen might never have made it to "The West Wing." Kit Carruthers is a role that would open doors for him, paying off 13 years of hard work with a plum role in an essential New Hollywood film.