Emma D'Arcy Threw Together A Slapdash Audition For House Of The Dragon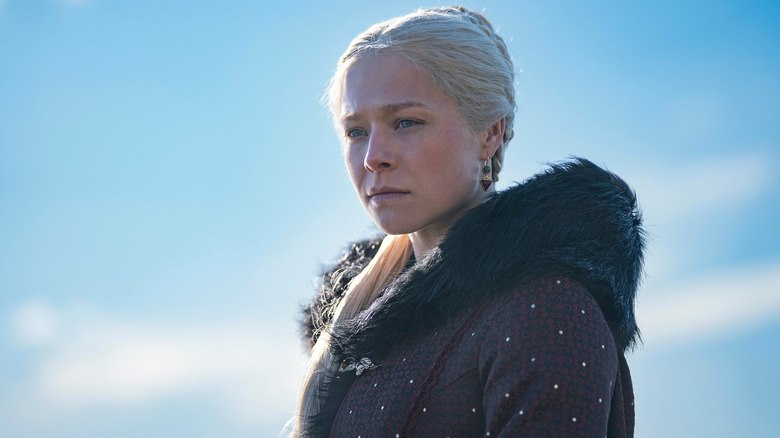 Ollie Upton/HBO
Spoilers for the first two episodes of "House of the Dragon."
The premiere episode of "House of the Dragon" broke viewing records with the biggest premiere in HBO history, and viewership for the second episode only increased. It appears that even fans who were angry about the final season of "Game of Thrones" were willing to come back to see what the prequel series has in store. "House of the Dragon" is set almost 200 years before the events of the original series, based on the works of author George R.R. Martin. 
It's the story of the Targaryens who ruled Westeros at this time, and the battle for the Iron Throne. One of the contenders is Rhaenyra Targaryen, the daughter of King Viserys (Paddy Considine). She's in competition both with her uncle Daemon (Matt Smith), and any potential heirs from her father's upcoming marriage to her best friend Alicent Hightower (Emily Carey). 
Rhaenyra is played in the first half of the season by Milly Alcock, but once the show has a 10-year time jump, the role will be taken over by Emma D'Arcy. (Olivia Cooke will take over for Emily Carey). D'Arcy spoke to Entertainment Weekly about what their audition was like, and the DIY project that they and their partner had to do to help secure D'Arcy the role.
It's all about the wigs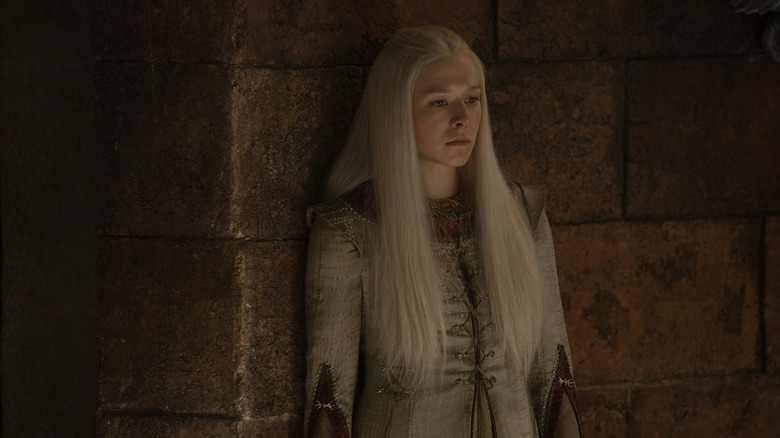 Ollie Upton/HBO
The Targaryens are known for their distinctive long, platinum hair, so obviously the producers wanted to see what the character would look like. D'Arcy currently (and at the time of the audition) has very short hair with buzzed sides. 
Auditions for the series took place during the pandemic, which made an already fairly common audition technique — the self-tape — a necessity. Often actors will tape themselves on their phones or with a home camera and send it in for consideration. Before the pandemic, it was often a first step in the process, with in-person meetings after that, but as we all know, COVID changed the way a whole lot of things were done. 
D'Arcy told EW that they had to come up with a "very speedy audition tape" for a series that they thought was a "Game of Thrones rip-off." They recorded themselves on a phone (which the outlet says was "propped up against a bag of chips") and sent it in. There were several more self-tapes, and then a "virtual conversation" with showrunners Ryan Condal and Miguel Sapochnik (who just announced that he is leaving the series). They asked if D'Arcy had a wig, and since stores were closed, the actor had to figure it out by themselves. 
Hot glue and leftover extensions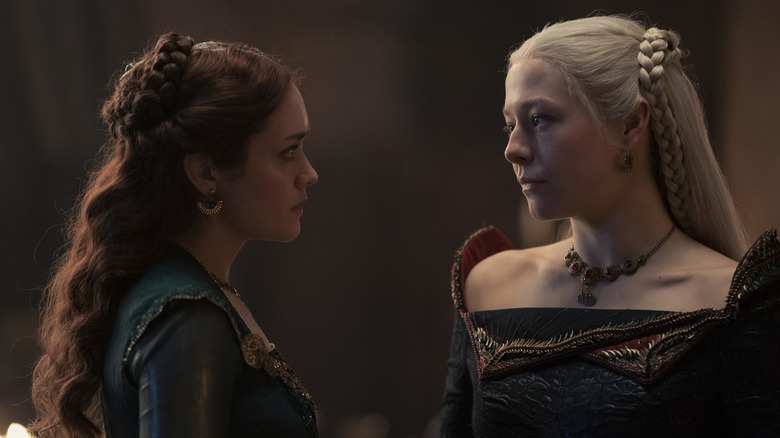 Ollie Upton/HBO
Darcy explained what they did to make it work. They said:
"All I had were some hair extensions left over from a job. No way of attaching them to me, no idea how to do that. For 24 hours, me and my partner just tried — I can't put more emphasis behind that word. My hair was about as long as it is now. We hot glued these hair extensions to these wig grips. We would send photos to Miguel, and we thought we'd cracked it."
That didn't quite work for Sapochnik, who asked them to try again, leading D'Arcy's partner to spend "an hour and a half before we taped anything," doing D'Arcy's extensions for each submission. 
That is an insane amount of work, but as mentioned above, the Targaryen hair is a big part of the recognizability for the ruling family. Not only would viewers look for a connection to the "Game of Thrones" Targaryen, Daenerys (Emilia Clarke), but D'Arcy would have to match Rhaenyra's extended family members, and the younger version, played by Alcock. Obviously, the trouble they went to was worth it, because we'll be seeing D'Arcy in the role beginning halfway through the first season. 
"House of the Dragon" is currently airing on HBO and HBO Max. A second season has already been confirmed.