House Of The Dragon Season 2 Ordered By HBO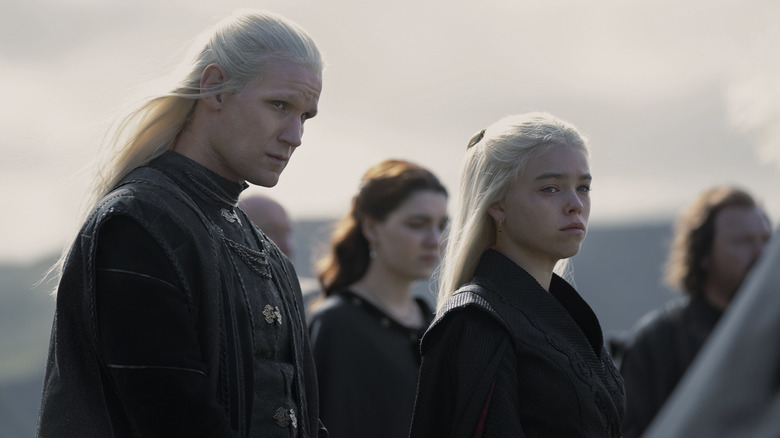 HBO
Well, the people have spoken and made their wishes abundantly clear: more silly wigs, more violence, and more incest!
After months of online handwringing over whether audiences would even want to tune in to a "Game of Thrones" spin-off/prequel after the original series quite infamously self-imploded over its final few episodes, it would seem dragon fever has officially swept the globe once again — with fire and blood, of course. "House of the Dragon" may have only just premiered on HBO to rave reviews, but the network is already giving its enthusiastic support to telling more stories about the troubled Targaryen family of dragon riders.
Today, HBO has announced that season 2 of "House of the Dragon" has officially been given the green light, touting the impressively high viewer turnout (over 20 million strong!) for last week's premiere episode alone, which goes down as "the largest audience for any new original series in HBO history." It quickly became clear that, once presented with solid evidence of continued audience interest, HBO likely wouldn't waste any time moving forward with more "House of the Dragon" and, in all likelihood, many of the other various spin-offs currently in development.
In the immediate future, however, fans will be thrilled to know the epic story about the Targaryen civil war will, in fact, require multiple seasons to fully tell to completion. And now, our watch begins ... again!
HBO renews House of the Dragon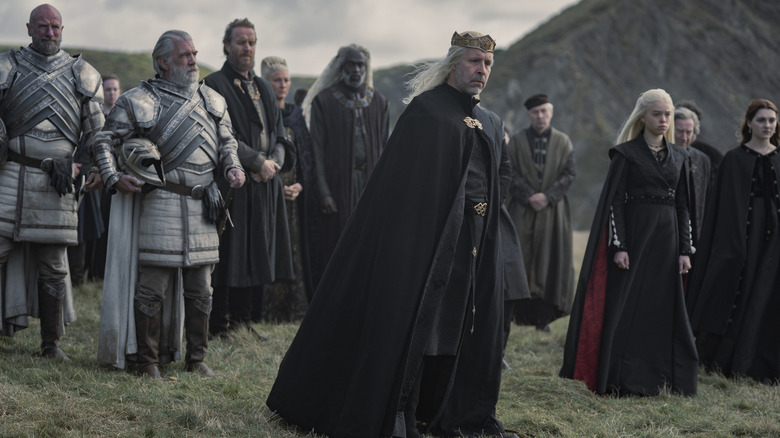 HBO
Congratulations to co-creator and original author George R.R. Martin for yet another thing to distract him from writing "The Winds of Winter." HBO clearly remains pleased with his and co-creator/co-showrunner Ryan Condal's work on the series, along with co-showrunner Miguel Sapochnik. After only one episode, which managed to pick up where "Game of Thrones" left off and become appointment viewing (as this viral clip shows), HBO is doubling down on the dragons. In a tweet from the series' official Twitter account, HBO unveiled a fancy new graphic to accompany the big news.
Fire reigns. #HouseoftheDragon has been renewed for Season 2. pic.twitter.com/6CxhzC7SKv

— House of the Dragon (@HouseofDragon) August 26, 2022
Executive Vice President of HBO Programming Francesca Orsi had this to say about the announcement:
"We are beyond proud of what the entire 'House of the Dragon' team has accomplished with season 1. Our phenomenal cast and crew undertook a massive challenge and exceeded all expectations, delivering a show that has already established itself as must-see-TV. A huge thank you to George, Ryan, and Miguel for leading us on this journey. We couldn't be more excited to continue bringing to life the epic saga of House Targaryen with season 2."
Based on Martin's "Fire & Blood" novel, "House of the Dragon" details the drama and court intrigue of House Targaryen a few hundred years before the events of "Game of Thrones." Starring Paddy Considine, Matt Smith, Olivia Cooke, Milly Alcock, Emma D'Arcy, Steve Toussaint, Eve Best, Fabien Frankel, Sonoya Mizuno, Rhys Ifans, and many more, viewers can expect (some of) them to return for season 2.
In the meantime, new episodes of "House of the Dragon" season 1 air on HBO every Sunday night.