Christian Bale's Mom Gave Him Some Extreme Advice Going Into Velvet Goldmine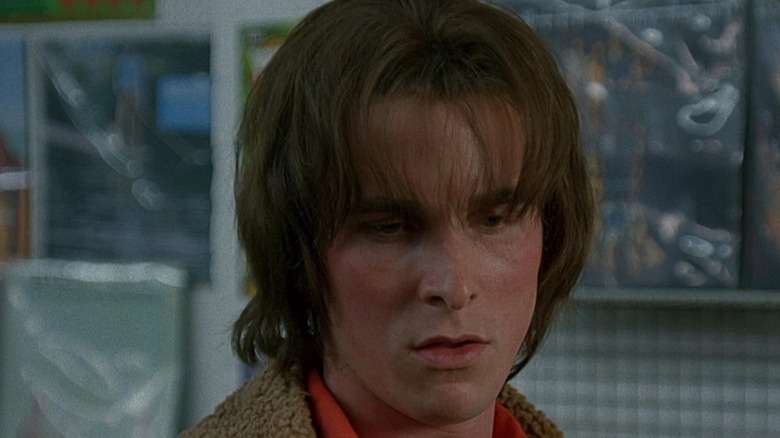 Miramax
Christian Bale is known for disappearing into his roles and "Velvet Goldmine" was no exception. Written and directed by Todd Haynes, the 1998 movie was named for David Bowie's "Ziggy Stardust" era B-side. Haynes is no stranger to music movies, having begun his career with the 1987 controversial short film, "Superstar: The Karen Carpenter Story." He also helmed the incredible "I'm Not There" in 2007, which explored the various phases of Bob Dylan's career through a host of different actors. Haynes also made the excellent recent documentary about my all-time favorite band, "The Velvet Underground."
"Velvet Goldmine" chronicles the life of pop star Brian Slade (Jonathan Rhys Meyers), a Bowie-esque figure, as well as his love affair with the Iggy Pop-inspired Curt Wild (Ewan McGregor). Their performances are swoon-worthy — Meyers and McGregor both did their own singing in the movie. Plus, the film's fictional bands included members of Radiohead, Suede, Sonic Youth, and more. Then there's that amazing soundtrack: There are artists of the era, such as Roxy Music, T. Rex, Lou Reed, and Brian Eno, but also '90s musicians, like Pulp, Placebo, and Teenage Fanclub. Haynes did attempt to gain the rights to Bowie's music for "Velvet Goldmine," but the musician politely refused because he had plans of his own for such a story at the time.
Bale's role in the film is a pivotal one as well. As a reporter named Arthur Stuart, he tries to unravel the mystery of what happened to Slade by interviewing his friends and colleagues, piecing together the artist's life in flashbacks à la "Citizen Kane". All three actors are top-notch in the film, but when preparing for the part, Bale got some unconventional advice from his mother. 
A steady diet of sex, drugs, and rock'n'roll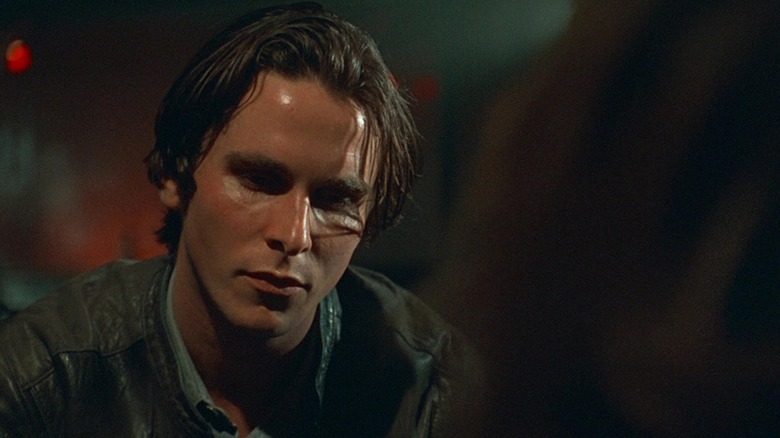 Miramax
One of the most famous examples of Christian Bale transforming himself for a role is the 2004 movie, "The Machinist," for which he lost a whopping 63 pounds. His diet for that film consisted of a single apple and a can of tuna a day, plus whisky and cigarettes. When speaking to GQ, Bale was asked about what he did for "Velvet Goldmine," since he'd lost quite a bit of weight for that movie as well. He explained:
"Yes, although I didn't do the rakish rock-star thing all that successfully, I have to admit. For 'Velvet Goldmine' I started running very early in the morning before any breakfast, but it didn't seem to be having much impact on my waistline. My mum came down to stay with me in London during filming and said, 'Listen, why don't you just try to do what rock stars did back then. They weren't up running on an orange at 6am! Their diet was sex, drugs and rock'n'roll!' What a diet for a mother to prescribe, right?"
When asked if he had taken his mom's advice for "Velvet Goldmine," Bale didn't directly answer, simply saying, "Let's just say it was certainly a fun movie to be involved in!" That fun is infectious. "Velvet Goldmine" is a wild ride that successfully emulates the glam rock it so lovingly pays tribute to. It's beautiful, chaotic, and also delightfully over-the-top. Much like the movie's disclaimer states, this film should absolutely be played at maximum volume.