Moonage Daydream Review: A David Bowie Doc As Extravagant, Radiant, Otherworldly As The Legend Himself [Cannes]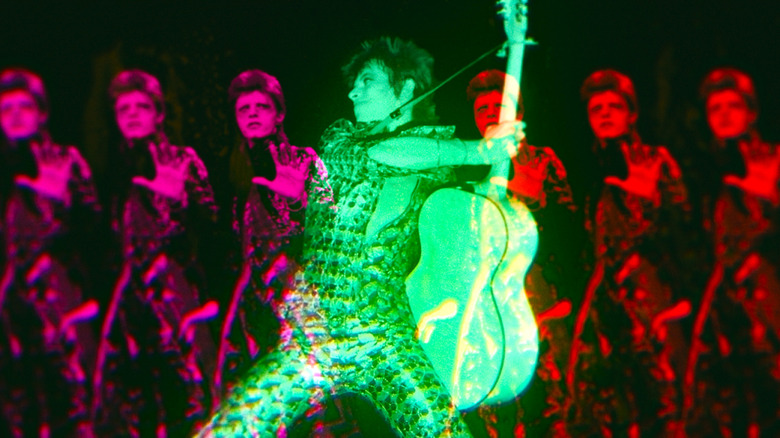 Neon
Brett Morgen's latest music documentary, "Moonage Daydream," starts with David Bowie's disembodied voice talking about the complexity of time while letters start appearing on screen, out of order, until they spell out "BOWIE." It's appropriate that a film about a person as enigmatic and otherworldly as David Bowie would get a movie with the same title reveal treatment as Ridley Scott's "Alien."
This makes perfect sense when considering how "Moonage Daydream" centers not on David Jones, the man who became an artist, but on David Bowie the rock star that became an ethereal being beyond human comprehension. Indeed, the first thing you need to know about this film is that there it features very little in terms of personal anecdotes or childhood stories about the man behind the makeup. Instead, Brett Morgan ("Kurt Cobain: Montage of Heck") is more interested in Bowie the androgynous, bisexual alien who helped make it okay to be weird, who never stopped reimagining his artistic process. The artist who embraced life with love and curiosity.
A raw portrayal of an artist like no other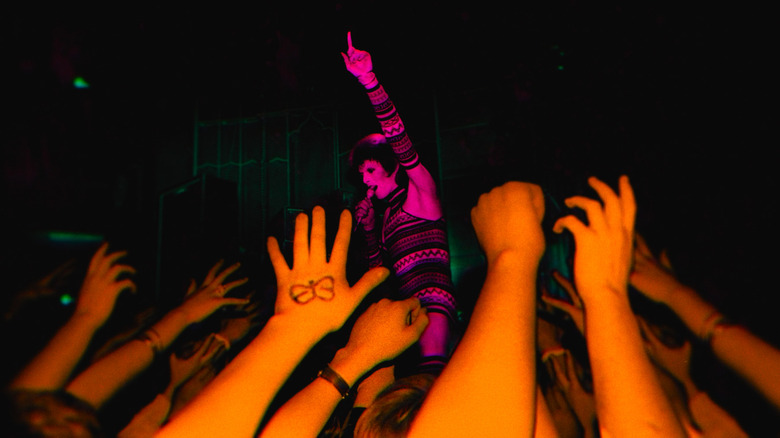 Neon
For one, we see very little of Bowie's personal life. His wife Iman is barely in the film, and there is no mention of his previous marriage or his children. Known stories or facts like his Berlin Wall concert are not brought up, his film roles are given very quick mentions, and not a single controversy is mentioned. There are no talking heads, but the film uses archival footage from various interviews throughout the years — mostly the '70s — where Bowie waxed poetic about art, change, and growth. The best and most profound parts of "Moonage Daydream" are when we just get to hear Bowie share great quotes about his creative process, how he loved to challenge himself by traveling to unknown places to grow as an artist, and how he learned to embrace life and be curious about everything.
"All people, no matter who they are, all wish they'd appreciated life more," he says, and if there is one thing that becomes clear from this documentary, is that Bowie did appreciate life, perhaps more than most of us. Hearing Bowie talk about the life of adventure he had, and how he always tried to make every single day special, it's hard not to feel guilty and motivated to do better after watching this film at a film festival with little sleep, where staying in bed sounds like the most tempting indecent proposal. 
Of course, this is more than just a series of old interview clips, as Morgan's stream of consciousness documentary mixes footage from concerts, with clips from the art that inspired Bowie, from "Metropolis," to "The Cabinet of Dr. Caligari" and "Fantasia." "Moonage Daydream" uses animation and examples from Bowie's private projects like paintings, short films, and more, in order to paint an eclectic, frenetic, fascinating picture of how its subject's mind worked and the myriad of sources of inspiration that lived in his brain. The result is a movie that does teach you more about Bowie than any standard documentary about his life could.
A rocking concert film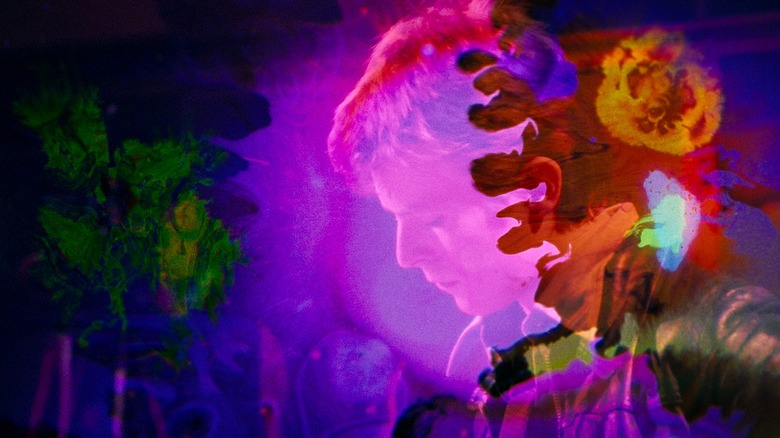 Neon
Then there's the real star of the movie: the music. Like Peter Jackson's "The Beatles: Get Back" docu-series, "Moonage Daydream" is a true gift to fans who never got to see Bowie play live. The documentary remasters old concert footage into crisp, vivid recollections of Bowie's stardom, his relationship with the ardent screaming fans that challenge the idea that Beatlemania died in the '70s, and one of the best concert experiences you can have this year. Music producer Tony Visconti and music editor John Warhust bring Bowie's music to a new dimension and take advantage of modern theatrical audio capabilities to give us the closest we'll get to a new Bowie show.
Early in the documentary, Dick Cavett asks in an archival clip, "Who is he, what is he, where did he come from?" as he explains the enigmatic mystery of Bowie's Ziggy Stardust persona. By the time "Moonage Daydream" rolls credits and "Starman" blasts from the speakers, we have our answer: he was a superstar, yes, but he was also just a man who loved to experience life at its fullest. May we all try to be a little bit more like Bowie in our lives.
/Film rating: 9 out of 10
"Moonage Daydream" premiered as part of the Cannes Film Festival 2022.