Studio Execs Had A Ridiculous Request For Billy Eichner's Billy On The Street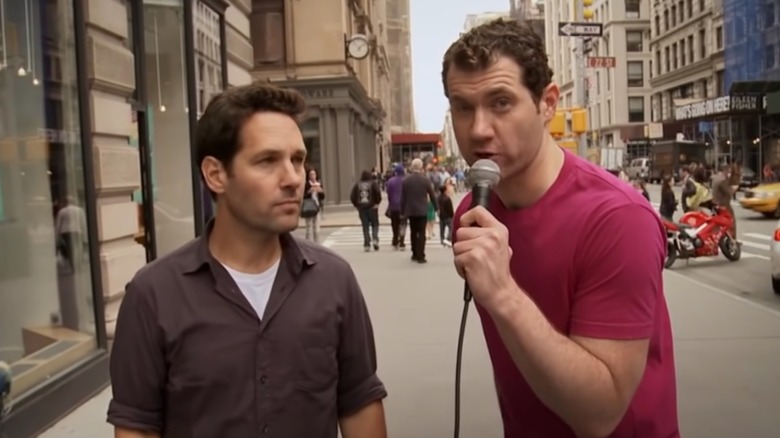 TruTV
If you visit New York, there are certain tourist attractions you've got to see including the Statue of Liberty, Central Park, Broadway, and more. But if you were lucky, there was also an era in which you might see another classic part of the NYC life in action: Billy Eichner, running with a gaggle of lesbians or comedically accosting strangers about whether or not they'd sleep with Paul Rudd for a dollar. The blunt, high-energy antics of "Billy on the Street" have been delighting viewers for over a decade now, but apparently, in the show's early days, it faced some ridiculous pushback from a network executive who didn't get it.
In an interview with Variety, Eichner talked about his popular comedy game show series (which is currently semi-retired), revealing that when the show was first aired on Fuse, one executive thought the show's theme song "sounded too gay." In case you've forgotten, "Billy on the Street" starts with a wonderful, upbeat jingle that ends, "he's making dreams come true, Billy on the Street!"
The intro has gone through some changes as the show has switched networks and formats, sometimes featuring an animated version of Eichner and other times, as in the YouTube-friendly TruTV years, mostly disappearing altogether. But in general, it's a delightful bit of music that's synonymous with Eichner's show, and it perfectly captures the comedic discordance between its intrepid quiz host premise and his character's wild, raucous attitude. But Eichner says the Fuse executive tried to get rid of the jingle.
A hip-hop version of Billy on the Street?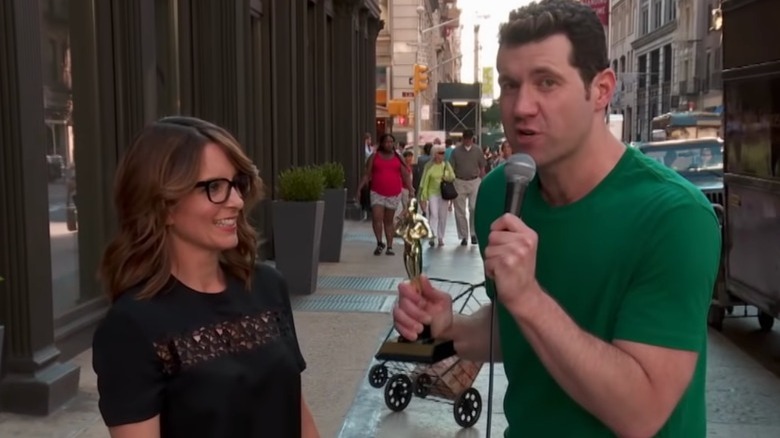 TruTV
"I remember him telling me, 'We need to open with a hip-hop song so the show feels relevant," Eichner tells Variety. "I was like, 'That makes absolutely no sense.'" It definitely doesn't make sense, especially given that Eichner is gay, the show is gay, and the theme song, like all theme songs, doesn't have any inherent sexuality. It's a bizarre request that would have led to a show with a very different vibe, one that I doubt would feel authentic to Eichner's comedy.
For his part, the performer is pretty frank about exactly how much this person's opinion didn't matter. "That was an out-of-touch person who was desperate to feel important," he told Variety. "There was a reason he worked at a very obscure cable network." The comedy game show aired on Fuse, which was then a cable TV music channel, from 2011 to 2014 before moving to TruTV, Netflix, and Funny or Die. Many of its best bits can be found on YouTube, like that hard-hitting exploration of who's into Paul Rudd, can be found on YouTube.
While Eichner doesn't rule out doing more "Billy on the Street," especially for special occasions, he told Rolling Stone he won't go back to half-hour episodes of the show, which he points out isn't super COVID-friendly. He also explained that he's been screaming at NYC strangers for much longer than we've been watching him do it, saying, "People don't realize but the first 'Billy on the Street'-style video I made was for my live show in September of 2004. It predates YouTube!" 
Next up, the actor can be seen in the gay rom-com "Bros," which he co-wrote. "Bros" hits theaters September 30, 2022.