Greg Daniels' Original Plan For Upload Sounds Like A Completely Different Show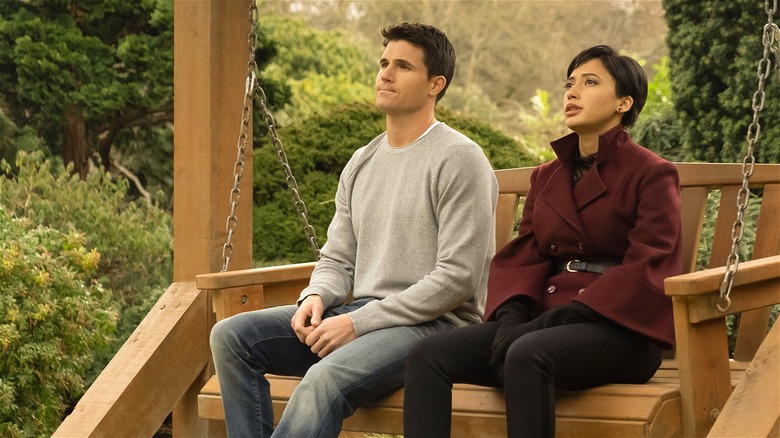 Prime Video
Prime Video's "Upload" poses an interesting premise about the future. The sci-fi comedy-drama is set in the year 2033, wherein humans can, you guessed it, "upload" their consciousness to a virtual afterlife. After gifted programmer Nathan Brown (Robbie Amell) dies suspiciously, he is uploaded to the swanky Lakeview, where he finds himself under the control of his girlfriend, Ingrid (Allegra Edwards), who is alive. There's also Nora (Andy Allo), Lakeview's customer service rep., who grows close to Nathan and has reason to believe he was murdered. There's subtle romantic angst that builds up as the show progresses, while the characters live in a world that is increasingly alienated from what it truly means to be human.
"Upload" is the kind of high-concept sci-fi show that does not take itself too seriously. There's humor, a healthy dose of cynicism, and moments that paint the characters in an endearing light. However, series creator Greg Daniels, who wrote for "The Simpsons" and co-created "Parks and Recreation" with Michael Schur, had a completely different idea for "Upload" before the current iteration of the comedy-drama was conceived. Per Daniels, Nathan's character had a markedly different backstory based on someone he knew in real life, and even this version underwent a lot of changes. Here's how this idea evolved.
The many versions of Nathan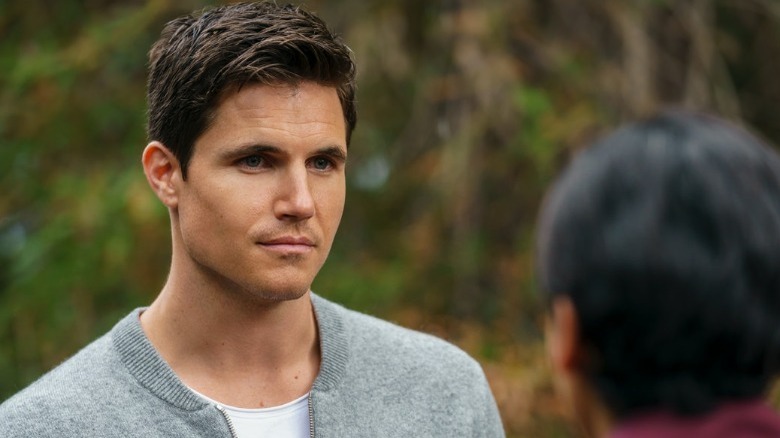 Prime Video
Season 2 of "Upload" ended with a cliffhanger, having premiered in March this year. The show was quickly renewed for a third season, which is currently in the works and will hopefully further develop the Nathan/Nora dynamic that lies at the heart of the series. While Daniels is pretty confident about the direction that "Upload" is set to take henceforth, he wasn't quite sure what the show would be like for the longest time.
In an interview with Collider, Daniels said that he can "barely remember" what his initial thoughts about "Upload" were, as the script underwent massive changes, especially when it came to Nathan's characterization:
"In my first draft, I modeled Nathan after my barber, who's a Persian American guy from Westwood who's very good-looking and easy with the ladies. He had a whole backstory where he was Persian American, but with the different rewrites, a lot changed. And then, I had a draft where I thought maybe Nathan would be played by Hannibal Buress. I had a whole rewrite for Hannibal, which is funny to think about. There are a lot of different versions in my head, but now that it's actually been produced, I can barely remember them."
Amell's rendition of Nathan ultimately shaped the character in ways that strengthened the themes of the show. "Upload" offers tongue-in-cheek commentary about the ridiculousness of late-stage capitalism, where the super-rich like Nathan can live forever while economically disenfranchised folks struggle to make a living keeping the rich alive. While it would have been fun to see Hannibal Buress take on a character like Nathan, it would most likely be a completely different show. Amell nails what Nathan is supposed to stand for while imbuing the character with considerable levity and depth in the process.