Upload Season 2 Trailer: The Digital Afterlife Gets An Upgrade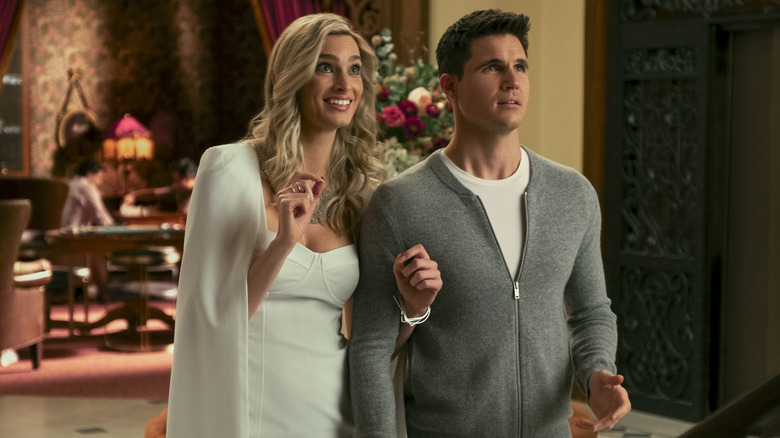 Prime Video
Babies, bicep enlargement, and love triangles, oh my! Prime Video's sci-fi rom-com "Upload" is returning with lots of new special features in the digital afterlife, and you can see them for yourself in the new season 2 trailer.
In case you missed out on this wonderful ride the first time around, you still have a few weeks to catch up before the new season arrives. The very lovely and extremely bingeable "Upload" hits the sweet spot between comfort food and nightmare fuel, which may not sound possible, but believe me, the premise says it all: the series is set in a technologically advanced future where hologram phones, 3D food printers, and automated grocery stores have become the norm. But the most disturbing development by far is the fact that people can be "uploaded" into a virtual afterlife following their death. And because capitalism doesn't end with death, the digital afterlife experience is wholly dependent on how much money you can pay for things like rooms, comforts, and ya know... the ability to remain conscious.
Season 1 introduced Nathan (Robbie Amell), a 27-year-old computer engineering grad who dies via a tragic accident or a mysterious murder — this is one of the show's big questions. Afterward, his wealthy girlfriend Ingrid's (Allegra Edwards) family pays for Nathan's uploaded afterlife, but he soon finds himself falling in love with his (living) customer service angel Nora (Andy Allo). As you can imagine, a messy love triangle ensues with lots of crazy hijinks and cute flirting. If that's not enough to get you hooked, then consider this: the series comes from Emmy-winning writer Greg Daniels, a chief creative force behind hugely popular comedies like "The Office," "Parks and Recreation," and most recently "Space Force." Now Daniels is steering us into a second season of "Upload" with more laughs, messy romance, and terrifying sci-fi developments.
Upload Season 2 Trailer
As if the concept of a digital afterlife isn't unnerving enough, "Upload" is back with special features like digital babies! Trust me, it's worse than it sounds. Imagine the terrifying creature from "Twilight: Breaking Dawn – Part 2" but instead of growing up to be Mackenzie Foy, you're trapped with it for all eternity. That's the reality that Ingrid is staring in the face now that she's decided to join Nathan in Lakeview. Unbeknownst to her, he still yearns for Nora. The bombshell finale ended with Nathan torn between two loves — Nora admitted her feelings just as Ingrid revealed she uploaded herself into the afterlife to be with him. Before he could think things through, Nathan used up his data and ended up frozen — either the perfect out for the very awkward moment or exactly the kind of disaster bound to kickstart a chaotic second season. Based on the trailer, it's definitely the latter.
As for Nora, she has some troubles of the heart to work through — but she's also grappling with her job situation after spending time with an anti-tech rebel group before returning to Horizen, the company that manages the digital afterlife for those who can afford it. Both the romantic and dramatic stakes are upped for this second season. And although season 3 has yet to be confirmed, the promise of more "Upload" looms on our horizon.
Season 2 of "Upload" is set to premiere on Amazon Prime Video on March 11, 2022. You can read the synopsis below.
In Upload Season Two, Nathan is at a crossroads in his (after) life... his ex-girlfriend Ingrid has unexpectedly arrived to Lakeview hoping to strengthen their relationship, but his heart still secretly yearns for his customer service angel Nora. Meanwhile Nora is off the grid and involved with the anti-tech rebel group "The Ludds." Season Two is packed with new near-future concepts, including Lakeview's newest in-app digital baby program called, "prototykes," and other satirical glimpses of the technological advances and headaches to come.