Greg Daniels' Simpsons History Comes In Handy On The Set Of Upload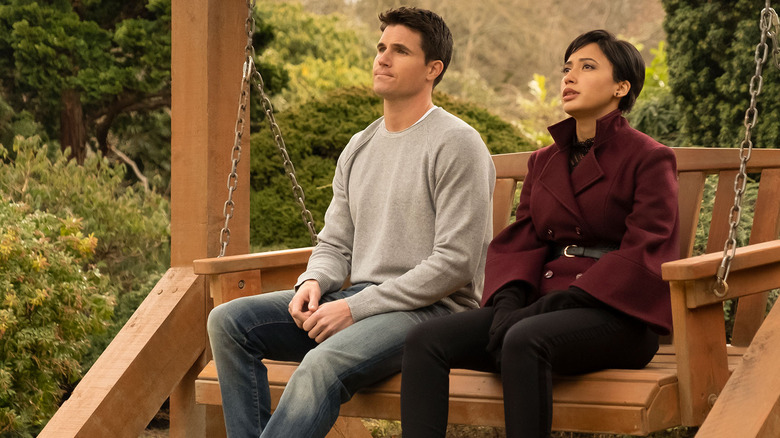 Prime Video
After a self-driving car goes rogue, an app developer finds himself on the verge of death, with no choice but to upload himself into a digital afterlife where his consciousness will live on in a luxurious digital reality known as Lakeview. In case this isn't ringing any bells, you might want to check out "Upload," a clever satire that somehow doubles as a heartwarming romantic comedy series. The series stars Robbie Amell as Nathan and Andy Allo as Nora, the app developer and customer service rep that fall in love despite being separated by life and death.
Set in a technologically advanced future, the series is packed with hilarious commentary on the horrors of modern technology. So yeah, it's not exactly what you might expect from a half-hour rom-com, but once you learn that it comes from the mind of Greg Daniels, everything starts falling into place. Many of the funniest, off-kilter comedies of the past two decades have benefitted from the touch of Daniels' direct influence as a writer, creator, or producer — including everything from "Saturday Night Live" to "The Office," "Parks And Rec," "King Of The Hill," and "The Simpsons."
Most recently, Daniels was the creative force behind two streaming hits: Netflix's "Space Force" and Prime Video's "Upload." With nearly four decades of experience in the scripted comedy business, it's no mystery why these shows arrived so well-formed and quick-witted: Daniels has plenty of experience to draw on.
Working with Greg Daniels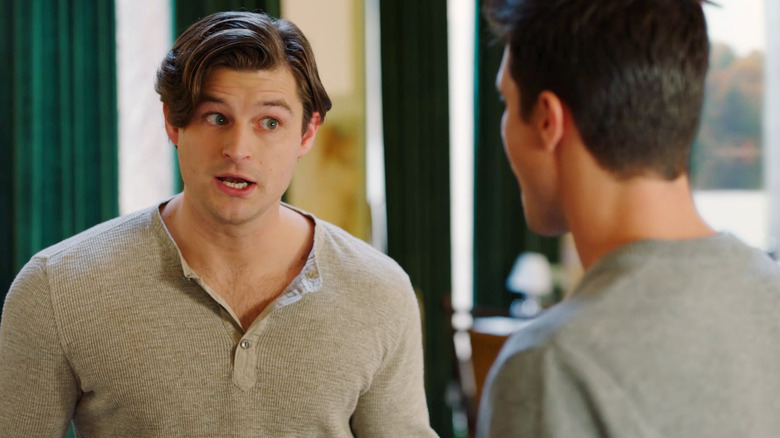 Prime Video
For "Upload" actor Kevin Bigley, working with Greg Daniels has been nothing short of a dream come true. Bigley plays Luke Crossley, the jovial and wildly immature war vet that Nathan befriends after being uploaded into Lakeview. Pretty much everyone is fair game as a source of comedy in "Upload," but if there's anyone most likely to make you chuckle in a given scene, it's Luke. Bigley's character is constantly doing the most ridiculous things possible, making the most of his afterlife by pestering his own customer service angel, behaving like a child, and dragging Nathan into trouble he didn't ask for. All of which means that Bigley gets some of the funniest moments in the show.
While chatting with Forbes in 2020, Bigley recalled one of his earliest moments on set with Daniels, where he got to see his comedic genius in action. It happened when they were filming the pilot, when Nathan first arrives in Lakeview, starts exploring the amenities, and realizes that in this virtual world, food will disappear the second Lakeview's breakfast hours close.
"My character runs onto the scene, and he's just missed breakfast, so he's screaming," Bigley explained. "I was running on and stopping in front of the food and screaming." Then came a note from Daniels: he suggested that instead of starting the scream when he got to the food, Bigley should start making the sound off-camera as he approached. Just like that, the scene clicked into place. Bigley credits this to his familiarity with "The Simpsons, " which Daniels had written eight episodes of. "I knew exactly what he meant," Bigley shared, "it's what Homer's doing with his scream anytime he's running into the camera."
A comedy dream come true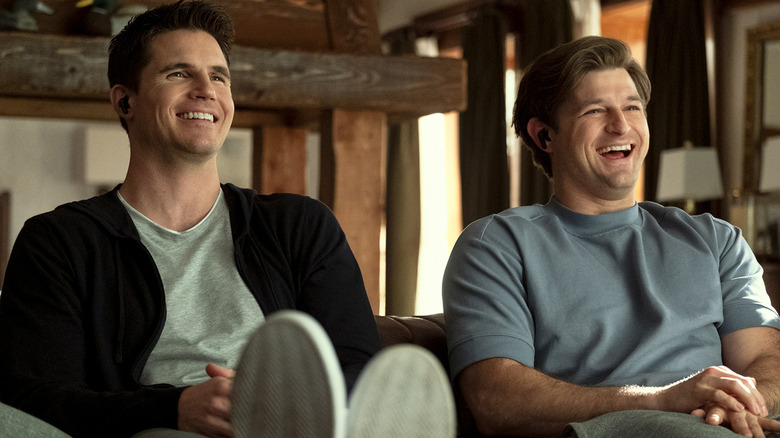 Prime Video
Overall, Bigley sees working with Greg Daniels as a wonderful opportunity to learn from his experience and comedic perspective. "I definitely tried to cherish it as much as possible," he shared, "and I think 'cherish' is the right word. It's pretty cool getting notes from a guy who had a hand in so many of my favorite comedic moments. He created and directed comedy pillars that defined what you think is funny. I could go on and on."
Luckily for Bigley, and anyone who's enjoyed a single episode of a Greg Daniels comedy, there's plenty more where that came from: "Upload" is two seasons in, with a third on the way.
The first two seasons of "Upload" are available to stream on Prime Video.