Oculus Was A Particularly Tough Horror Movie For Mike Flanagan To Pitch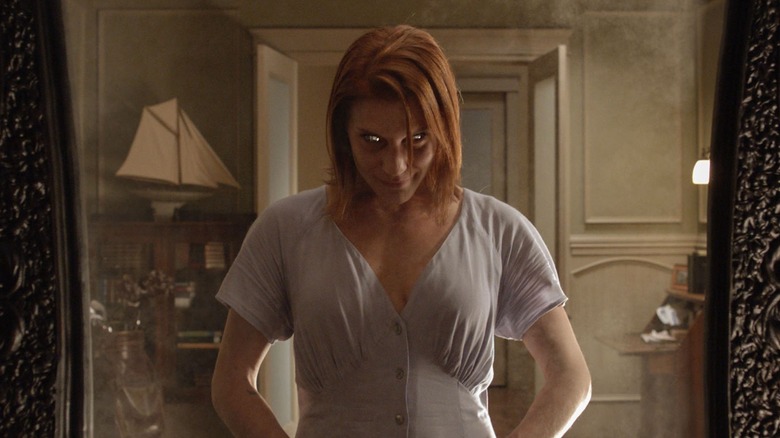 Relativity Media
Mike Flanagan has a gift for creating emotionally-resonant horror dramas that reveal something essential about the human condition. The creator of "The Haunting of Hill House" and "The Haunting of Bly Manor" shot to fame with the aid of several horror entries throughout the years. Be it his hauntingly surreal "Gerald's Game" or his dark, intriguing "Doctor Sleep," Flanagan's body of work has exemplified that horror does not have to be overly reliant on jump scares to be effective. The horror director is currently on a steady path toward releasing two highly-anticipated Netflix series, namely "The Midnight Club" and "The Fall of the House of Usher."
Back in 2005, Flanagan directed a horror short named "Oculus: Chapter 3 – The Man with the Plan," in which a young man named Tim is driven insane after he interacts with a cursed mirror. While this premise was interesting enough, it was too one-dimensional to be stretched into a full-length feature. Although Flanagan toyed with the idea of an anthology film with interconnected tales about the haunted mirror, he eventually decided to expand the short's scope on a grander scale. The result was 2013's "Oculus," which put forth a tragic tale about a family torn apart due to a demonic mirror that is near-indestructible.
"Oculus" was Flanagan's first tryst with mainstream success, as his film received critical acclaim after it premiered at the Toronto International Film Festival and became a box office success. However, it was particularly difficult for Flanagan to pitch a movie about a haunted mirror, as studios were hesitant to move forward with a plot that was driven by a seemingly ordinary, cursed artifact alone. Let us look into the challenges that Flanagan faced while pitching "Oculus," and the factors that worked in the film's favor.
'Well, what's scary about a mirror?'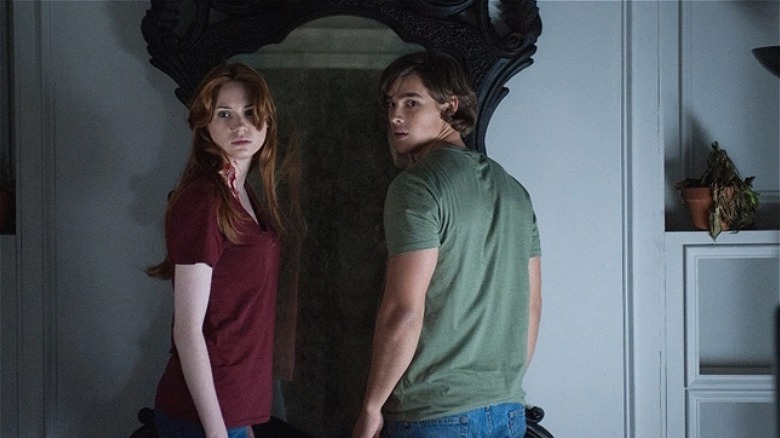 Relativity Media
The idea of haunted objects/cursed artifacts is not new to the horror genre; it has been used in several movies in varying capacities. "Oculus" presents the mirror as the sole source of terror. There were no Anabelle-esque cursed dolls in Flanagan's film, nor any kind of spine-chilling lore that justifies the mirror's ability to do what it does. The mirror simply exists, inducing hallucinations in people who interact with it — and this is one of the many reasons why "Oculus" works well as a horror film.
In an interview about the film's success right after its TIFF premiere, Flanagan explained that it was "incredibly hard to pitch a movie about a mirror." The standard reaction to the film's premise was utter disbelief that an everyday object like a mirror could be scary, and Flanagan explains why "Oculus" works within this framework:
"There's nothing inherently scary about a mirror itself, but what would make the movie scary was what happens to the people who are interacting with it and how they experience reality."
In "Oculus," the mirror alters the behavior of the characters, leading them to commit heinous acts they have no recollection of. Alan (Rory Cochrane) is seduced by a ghostly presence, while his wife Marie (Katee Sackhoff) is haunted by visions of her body decaying. Things go horribly wrong when 12-year-old Tim is forced to shoot his own father after the latter attacks him while under the control of the mirror's dark forces. A psychologically damaged Tim and his sister, Kaylie (Karen Gillan), return to their home years later, and the mirror strikes again. Thus, the true horror of the cursed mirror lies in the fact that it can manipulate people's realities and heighten their paranoia in ways that cannot be overcome.
When everyday objects are diabolical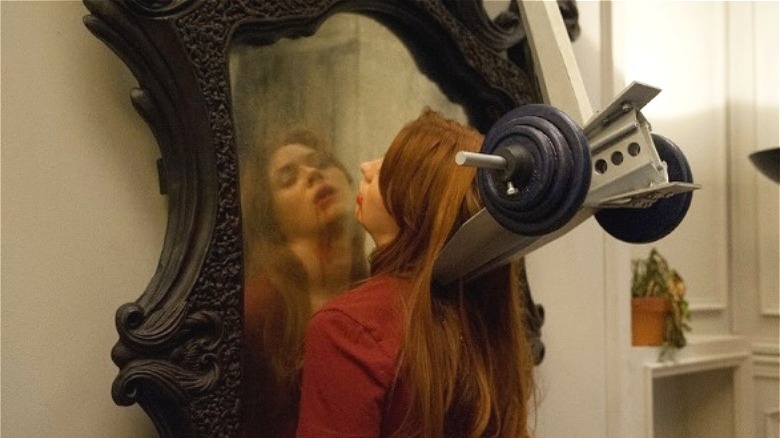 Relativity Media
In the same interview, Flanagan clarified that he understands why mirrors are "successful garnishes" in classic horror films, citing John Carpenter's "Prince of Darkness" as an example. While "Prince of Darkness" uses a mirror as a portal to another realm for the Anti-God, "Oculus" presents the mirror as a dark force which usurps lives for the sake of it. There is no need to kickstart events by chanting "Candyman" five times while staring at yourself — all you have to do is use the mirror, as one does in everyday life. Flanagan went on to explain the appeal of using a universal object (which is usually deemed safe) to induce terror in his film:
"We build entire relationships and visions of ourselves through what we see in a mirror, and that's really fascinating when you introduce your monster into a comfortable place. Everything we think about the way we look is literally backwards, and we never question that when we look into a mirror. That was what really excited me: to play with distorted reality. A mirror is a great way to do a story like that, but it's really, really hard to talk people into."
As Flanagan's focus is always his characters, the crux of "Oculus" is the way in which the family is affected by the mirror's influence. A ton of factors contribute to the individual hauntings. While Marie is terrified of aging and losing agency as a partner, Alan's innermost desires are actualized when he "meets" Marisol. "Oculus" also navigates childhood trauma and how hauntings can be driven by grief and loss, which are recurring tropes in his "Haunting" series. In the end, "Oculus" does a solid job of injecting the ordinary with otherworldly terror in a way that Flanagan does best.