A Blast From The Past: Who Is Amanda's Cousin In Cobra Kai?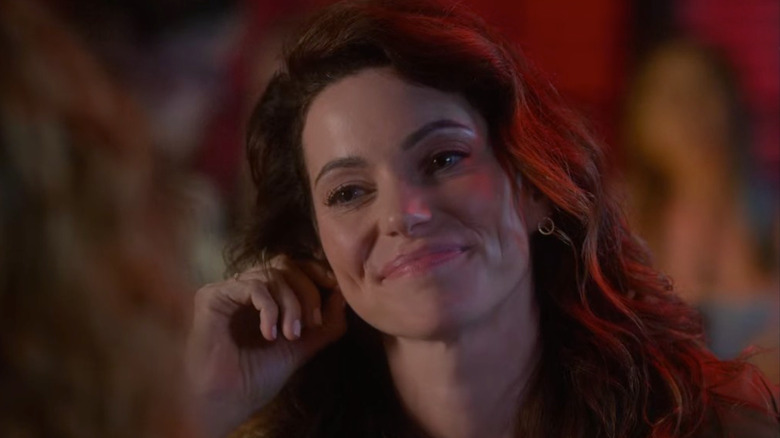 Netflix
Major spoilers ahead for "Cobra Kai" season 5.
"Cobra Kai" season 5 is finally here, and it's been a rough road for Daniel (Ralph Macchio) and Amanda LaRusso (Courtney Henggeler). Daniel's obsession with Cobra Kai and the evil Terry Silver (Thomas Ian Griffith) has caused friction between the couple before, but in season 5, episode 5, "Extreme Measures," it made her leave with the kids to visit her mother in Ohio. While Amanda is there, she meets up with her cousin Jessica. Does the name sound familiar to you? In the scene, Jessica reveals that she knows Terry Silver, and that he is absolutely as bad as Daniel has been saying. Plus, Jessica was the person who introduced Amanda to Daniel in the first place. 
Yes, Amanda's cousin is Jessica Andrews, played by Robyn Lively, and she starred with Ralph Macchio in "The Karate Kid Part III." Let's break down who Jessica Andrews is, and how she fits into the "Karate Kid" universe.
A blast from the past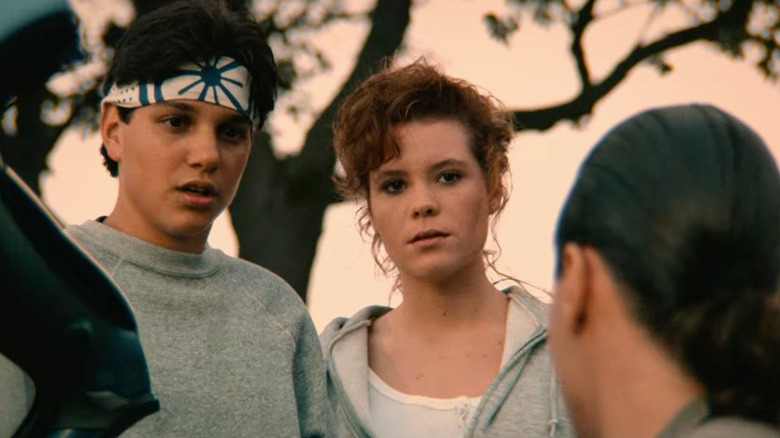 Columbia Pictures
It's entirely possible that you either missed seeing "The Karate Kid Part III," or you've blocked it from your memory, so here's the deal. After returning from Okinawa with Mr. Miyagi (Noriyuki "Pat" Morita), he and Daniel find themselves without a place to live while their building is renovated. Daniel uses his entire college fund to buy Mr. Miyagi a bonsai store (just stay with me, because logic is not a part of this film) across the street from a pottery store. Working at that store is Jessica Andrews, a girl from Ohio who moved across the country after her boyfriend cheated on her. Daniel asks her out, but she refuses, telling him she and her boyfriend are going to try to reconcile, and she's moving back home shortly. 
They decide to be friends instead, and she makes pots in her shop for Mr. Miyagi's bonsai trees. In the meantime, Daniel's old enemy, the sensei of Cobra Kai from the first film, John Kreese (Martin Kove) calls his old Vietnam buddy Terry Silver to help him get revenge on Miyagi Do. After sending Kreese to Tahiti, Silver pretends to be another sensei and says he can teach Daniel some things Mr. Miyagi can't. What he really does is manipulate Daniel into becoming more violent, so he rejects the teachings of Mr. Miyagi. Silver uses all sorts of tricks to get him to rely on anger and enter the tournament, where Silver and his hired ringer Mike Barnes (Sean Kanan, also in "Cobra Kai" season 5) will take him down and restore the reputation of the Cobra Kai dojo. 
Dirty tricks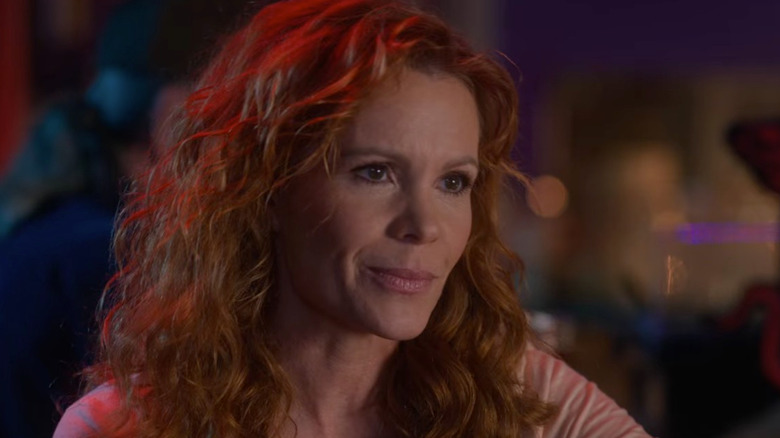 Netflix
Silver uses all sorts of underhanded ways to get to Daniel, and some of them involve Jessica. She's a mountain climber, something she conveniently has to teach Daniel to do, so he can retrieve a special bonsai tree that Mr. Miyagi had planted on the side of a canyon, because of course he did. She also becomes the target of Silver's goons, who assault her, beat Daniel, and break the special bonsai, after trying to make them fall down the cliff. 
Later, when they're out dancing together to celebrate her last night in town, a man hits on Jessica, leading Daniel to break his nose. Of course, that was a set up by Silver. Jessica is angry, but forgives Daniel later before she leaves for Ohio. A few years later, as we learn in "Cobra Kai," she introduced her cousin Amanda to Daniel and the rest is history.
If you wondered why Jessica wasn't a new love interest for Daniel, there was a really good reason. On the podcast Below the Belt, Lively spoke about how she was 16 at the time the film was shot, and Macchio was 27. They changed the script to keep it platonic, which ended up working out very well for the "Cobra Kai" storyline.
A few fun moments in the "Cobra Kai" episode that call us back to the film:
• Jessica comes in with "10 pounds of mac and cheese" for Daniel, since he spoke about loving it in the film.
• She mentions just getting back from "climbing in the gorge," calling back to her mountain climbing pastime.
• The girl Jessica's boyfriend cheated on her with is Elizabeth Anne Rooney, the woman who comes over at the bar in "Cobra Kai" to annoy both Jessica and Amanda. 
"Cobra Kai" seasons 1-5 are streaming on Netflix.