Kevin Smith Is Apparently Making A Sequel To One Of His Strangest Films [Exclusive]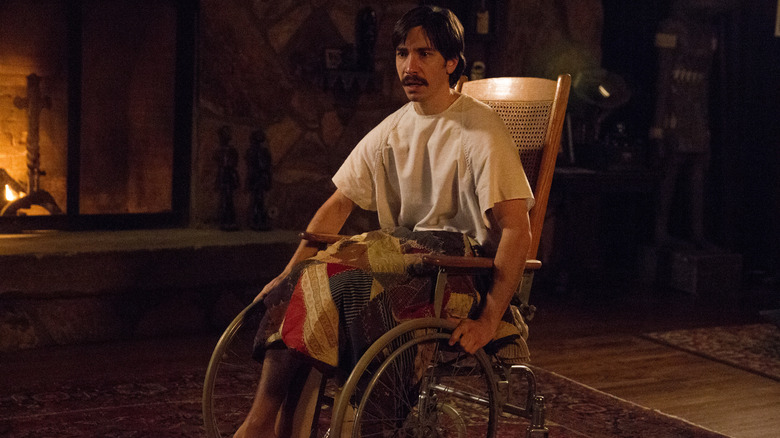 A24
Say what you will about Kevin Smith but ever since his heart attack a handful of years ago, the filmmaker behind "Clerks" has done precisely what he wants to do, and it's hard not to respect it — especially since Smith is making pretty cheap movies like "Jay and Silent Bob Reboot" that aren't putting studios at risk in any way. But Smith may be getting ready to do something truly unexpected as he is apparently aiming to make "Tusk 2" a reality. Yes, it appears Smith is at least toying with the idea of making a sequel to his 2014 walrus horror movie. This is not a joke.
Our very own Lex Briscuso recently spoke with Justin Long, who starred in "Tusk," about his upcoming film "Barbarian." During the conversation, Long revealed that Smith is actually toying with the idea of a sequel. "You'll be happy to hear, Kevin [Smith] just announ– I mean, I guess they're talking about it. They're doing 'Tusk 2,' I think," Long said. Long doubled down, saying the following:
"He texted us all the other day, Haley [Joel Osment] and Genesis [Rodriguez], and he told us that he wanted to do it, and I thought it was a joke. And then I realized he was being serious. And then one of the [other] interviewers said, 'Yeah, he said the same to me.'"
So there we have it. This is apparently something that Smith is actually kicking around in earnest. He may be saying #WalrusYes again, despite the fact that the director has made a lot of jokes at his own expense about his "dopey walrus movie" in the years since its release.
But why?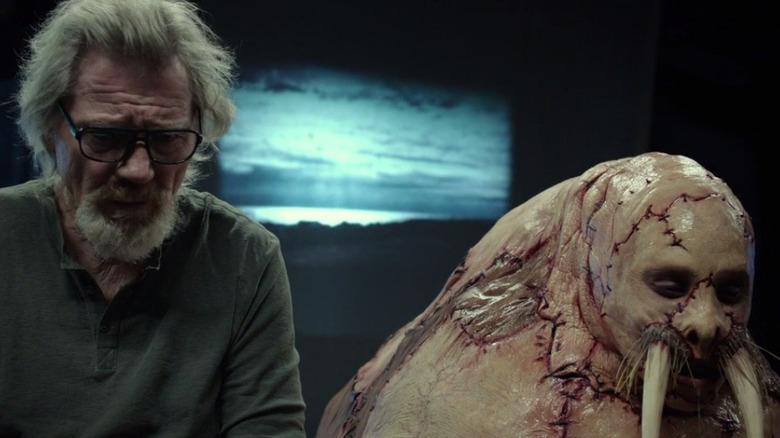 A24
Now, the real question is why would Smith do such a thing? "Tusk" was very much a departure for Smith, serving as a pretty much straightforward, utterly bizarre body horror movie with bits of comedic relief. It was one that proved to be critically divisive and made a mere $1.8 million at the box office. But hey, "Clerks III" is only getting made because "Jay and Silent Bob Reboot" sold so many Blu-rays. So maybe Smith's fans similarly purchased a great many copies of "Tusk?"
Regardless, it doesn't seem like something that is being demanded commercially. That said, Smith had explained in the past that he does, indeed, have a story. Speaking on Twitch in 2020, the filmmaker laid out his story idea, which would see Long's character taking over the Michael Parks role from the original.
"There's a version of Tusk 2 that you do where... you cut to the present, and somebody else gets sucked into the spider's web. The house, you hear stories, and when you get to the house, the new Howard Howe is Wallace, who has gotten out of the walrus trappings and stuff and is obviously disturbed by his entire ordeal and is now doing it to others. So there's a way to do Tusk 2 where Justin becomes Michael Parks's character. Wallace becomes, sort of, the new Howard Howe."
So there we have it. Smith has a story and, as Long tells it, this is something he is very much considering. We know that he is gearing up to film "The 4:30 Movie" after "Clerks III" is off the books. Beyond that? We may be getting a wildly unexpected sequel.
"Barbarian" is set to hit theaters on September 9.