Clerks III Got Made Because Lionsgate Sold So Many Jay And Silent Bob Reboot Blu-Rays [Comic-Con]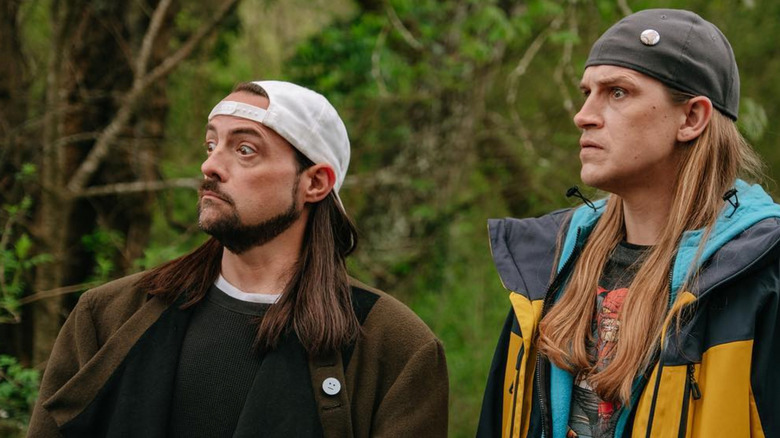 Lionsgate
Kevin Smith returned to Hall H at San Diego Comic-Con 2022 to bring his career full circle with a presentation for the upcoming "Clerks III." This will not only complete the trilogy that began with Smith's feature film debut, but it also represents a very personal tale: It will see Randall making a film after having a heart attack, which is based on Smith's own real-life near-brush with death. But Smith had been trying to get the film made for a decade in various iterations. So how is it that things finally clicked into place now? As it turns out, it's all thanks to Blu-ray and DVD sales. Yes, really.
During the panel, Smith took a moment to acknowledge that the film is only happening because of his fans. Specifically, he pointed out that Lionsgate, the studio making "Clerks III," had the home video rights to 2019's "Jay and Silent Bob Reboot." Apparently, that worked out quite well for them.
"Lionsgate still makes DVDs and Blu-rays and s***. They sold DVDs and Blu-rays of 'Jay and Silent Bob Reboot.' And, apparently, sold enough to reach out to us and say, 'We sold so many f*****g DVDs and Blu-rays that if you ever want to make more of this Jay and Silent Bob bulls****, as long as it's under this pricepoint, f*** it, have a go at it and s***. The only reason we got to do that is because bought hardware, kids. Thank you for that."
The value of secondary revenue streams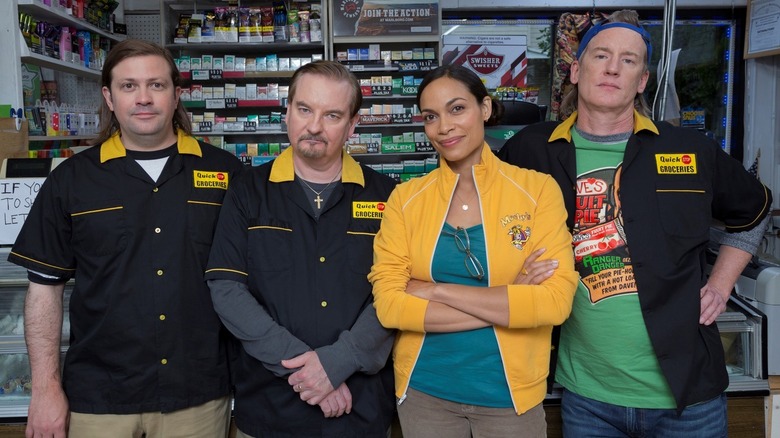 Lionsgate
It is worth pointing out that Saban Films had theatrical distribution of the film, so Lionsgate was basing its decision purely on what they saw from home video sales. It is also worth mentioning that Kevin Smith tends to make relatively cheap films, which certainly helps. Still, in an era when Blu-ray sales are said to be drying up and the industry at large is looking for other revenue streams to help make up the difference, this is a fascinating story. The fact that a sequel got the green light because of physical media sales in the 2020s is downright strange, if not unwelcome.
From a business perspective, Lionsgate has been playing a smart game by making deals with other streaming services to license its content, while also doing well with mid-budget movies such as "John Wick," a market many other studios had been ignoring. It appears as though they also have a well-functioning home video business that provided a unique business opportunity. If Smith's fans will turn out well enough in terms of buying physical media to justify making a lower-budget movie on its own, whatever is made from theatrical distribution and streaming can, in theory, becoming icing on the cake. In an era where few things feel certain, this feels like good business and, beyond that, it's just downright fascinating.
"Clerks III" is set to hit theaters this fall.